Back in November 2022, Christoph Hohenberger co-founder of Retorio took part in a podcast discussing how video AI is bringing in objectivity to hiring and training across organizations.
If you haven't listened to the podcast yet, do not worry - we will give a debrief of what was discussed and the most important insights of the podcast.
Topics covered in the podcast:
How to make hiring more objective
The Big 5 personality traits
The need for a systematic approach to quickly get through discovery with candidates
Internal vs external perceptions and what impacts work performance most
Authenticity - consistency in the way you communicate
3 questions you can ask to better understand candidate expectations
Where job ads fall short
The hiring tech stack used in Seed/Series A


At Retorio, one of the main focuses of our platform is to help companies transform their company cultures by applying the provided insights paired with artificial intelligence.
As Christoph mentions in the podcast: "Artificial intelligence is our enabler". With Retorio's platform, AI helps you understand people's behaviors in certain situations, especially in the context of a workplace to meet business needs.
Retorio provides AI-powered video analysis services that can help companies assess and analyze their current culture, identify areas for improvement, and develop strategies to change it. Our platform can analyze nonverbal communication, personality traits, and other factors to help organizations better understand their employees and create a more inclusive and effective culture.
Additionally, Retorio also provides training programs to help companies develop the skills and strategies needed to create lasting cultural change with a core focus on human behavior.
Therefore, if you want to train people with the goal of changing your company culture to become more customer-centric, Retorio allows for your organization to achieve this through training where employees go through virtual role plays in training to prepare them for any real-life situation in the workplace. This preps everyone to be able to show up as the best version of themselves, and be part of a successful customer-facing team.
Important note: "How can you as an organization align your employee's skills, with what the organization has to offer?"
Christoph Hohenberger also shares his thoughts on the way companies perceive their own culture. It is, however, "not always felt that way by the employees and the staff". There is always a difference between the internal or perceived company culture through the eyes of the staff versus the external culture that is presented.
The same can also be applied in the hiring process because it is vital to know the values that your candidates will be bringing to the team which will determine whether they are the right people for the job role.
This can be achieved through training where employees go through virtual role plays in training to prepare them for any real-life situation in the workplace. This preps everyone to be able to show up as the best version of themselves, and be part of a successful customer-facing team.
It is also essential to know the motivators of your employees, and learn more about how they make decisions that will impact the workplace. The key aspect is getting to know all of your employees on a deeper level in order to create a positive work environment where everyone feels seen and understood.
Therefore, when facing a new candidate, the company and recruiter can either try to change the individual or try to adapt to that individual's needs. Those are the gaps that are often times not met or taken in by the company. Identifying the gaps and seeing what your organization can do to cater to them, will not only help improve the candidate's experience, but it shows your employees that your company is flexible in getting to know each individual's driver to be motivated and engaged in their work.
One thing to think about? - "What can you do as an organization to cater to those gaps and make sure that the person gets motivated in that workplace later on."
One other important aspect discussed was how "everyone wants to put everybody in a box". For example, there is the over-assumption that engineers tend to be highly introverted, and salespeople are extroverts. However, with Retorio's platform, the technology is trained to analyze and cover numerous types of people, eliminating the limitation around typical personality types, and focusing more on the motivational factors of an introverted/extroverted person for example.
Moving onto the coaching that Retorio's platform provides, authenticity is an important part of it. Placing employees into different real-life situations allows for intense skill development that takes place in a safe space.
It gives employees an opportunity to see how they are currently being perceived in different real-life situations and allows Retorio's training platform to be a mirror to the individual's strengths and areas of improvement through real-time, confidential feedback.
When it comes to hiring, transparency is key. This podcast goes into further detail about how vital it is for the company to share to candidates what it is like to work at the company in the most transparent and informative way possible. This allows for recruiters to know what the candidate is seeking in terms of company culture, whether it matches what the company has to offer, and how the company could improve as well.
It can be challenging, as a recruiter, to be unbiased about how you perceive a candidate from first glance. Another common issue is the stereotyping of what a particular candidate should look like and how they should behave to be the "ideal fit" for the job role. However, the ideal image that recruiters have may not always be true and can lead to bad hires.
Theres more! Want to listen to the entire podcast? Click the link here to get the full scoop!
If you want to are ready to start implementing AI and into your hiring process and get the best candidates within minutes? Click on the button below to try it out!
FAQ
1. Why should recruiters use a video interview platform?
Using a video interview platform simply makes your job as a recruiter so much easier and enjoyable. A video interview platform allows for recruiters to quickly and effectively score potentially top-performing candidates in a short amount of time, and getting more useful insights into the candidates's personality, behavior and workplace habits that will ensure success and motivation in the long-run. It saves the recruiter time, energy, and effort that can be saved and placed into getting the know their candidates on a deeper level.
2. How does Retorio's video interview work?
Retorio's video interview provides candidates with questions that they should answer for recruiters to receive an analysis.
Retorio employs a system of artificial intelligence (AI) that supports human intuition through the form of a video. The technology used is based on popular and well-researched personality scales also known as the Big5 Personality model which has proven to be a solid and reliable predictor of personality and job performance.
In order to calculate a predicted perceived personality, Retorio's AI platform quantifies the behavior of the participants in the assessment that include their facial expressions, gesture, language, and voice to derive a perceived personality prediction. This means that Retorio's AI forecast how candidates and their behavior will be perceived by a representative group of people and whether they fit your selected target profile.
Click on the video below to hear a little bit more about Retorio's behavioral intelligence platform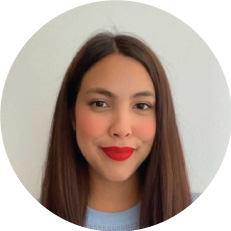 Anna Schosser
I create engaging and informative content about the importance of artificial intelligence and video-based AI technology for recruitment. I discuss cutting-edge AI developments and new technology with storytelling skills.