Cost cutting, decreasing budgets, cost reductions, lowering cost bases… the daily headlines aren't failing to underscore the growing economic concerns worldwide, and it's likely that you've heard these words being thrown around increasingly over the last couple of years. One thing is for sure: cost reduction strategies are at the forefront of many managers' minds.
So when prices for commodities are hitting record highs, and central banks are aggressively raising rates to curb inflation, it's no surprise that cutting costs remain a hot strategic priority for companies globally.
But this doesn't mean cutting all parts of a company equally.
It means targeting resources where they can earn the best return, rather than just cutting costs.
In this article, we go through just how can why companies need to rethink strategy and cost and spend money where the returns are the greatest.
What's in this post?
What is a cost reduction strategy?
So what are cost reduction strategies? And can they really help your company grow?
Cost reduction strategies are initiatives placed by your organization to cut down overall costs and increase their bottom line.

Especially in a business volatile environment such as now, when companies are struggling to maintain a competitive edge with limited budgets, it becomes more important than ever for managers to reframe growth, and reconsider where they are getting the highest returns from their investments.
This starts with resource reallocation.

This way, cost reduction strategies can actually improve productivity within companies while still lowering costs.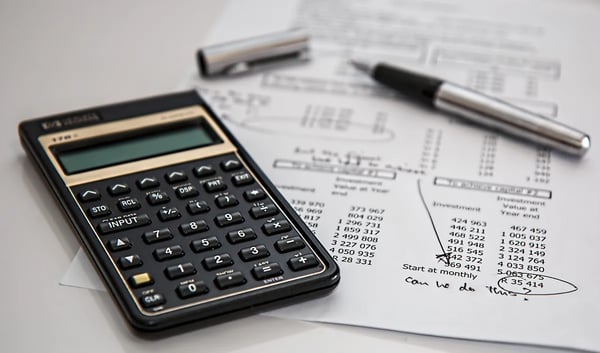 Cost reduction strategy examples
Reducing employee churn (HR)
Despite being an issue that is often overlooked, the cost of employee churn is a topic that organizations need to address, no matter the size of the company. When overlooked, employee churn may have serious implications for your business.
With Employee Benefit News reporting that it costs employers 33% of a worker's annual salary to hire a replacement if that worker leaves, it's no secret that the great resignation is disrupting businesses everywhere.
Not only does this cause monetary loss, but having high employee churn also results in indirect costs such as the knowledge lost when a worker leaves, the time spent finding a replacement, as well as the time that the new hires would need to become get the foundational level of knowledge.
To reduce employee turnover, organizations should:
Recognize and reward employees
Foster a culture of continuous learning (via learning and development plans)
Encourage a healthy work-life balance for employees
Training employees efficiently (learning and development, L&D)
When companies are racing to cut costs within departments, the learning and development (L&D) sector is certainly no exception. It's no surprise that companies want to train their most important asset (their talent) and thus spend significant sums doing so.
In fact, according to Training Magazine's 2021 report, the average company in the U.S. spent $1,071 per employee per year on training costs.
| | |
| --- | --- |
| Company size | Average training budget |
| Large | 17.5 million USD |
| Mid-size | 1.3 million USD |
| Small | 341.505 USD |
Despite the current volatile environment causing many managers and leaders to reconsider the financial situation of their departments and organizations, simply chopping training budgets could leave businesses in a very shaky situation.
In fact, during challenging times, employees need to perform at their absolute best, and one of the ways that companies achieve that is by ensuring that their people are well trained and motivated to perform at their peak.
So how can an organization train its people and reduce costs, without compromising on training quality?
Decreased L&D budget doesn't simply mean switching from two annual training workshops to one. Nor does it mean opting for online training methods that may compromise engagement. Top L&D leaders of today are turning to new, innovative training methods to upskill their employees, namely A.I. training solutions.
A.I. as a cost-cutting strategy in training
What if we told you there is a way to improve learning and training quality, make it more sustainable and accessible to your teams globally, and actually measure its impact on your team's behavior, all whilst cutting training costs?
Top L&D leaders of today are achieving precisely this. By incorporating A.I. into their L&D strategies, they are increasing the quality of their training at a time when budgets are tight.
So how can A.I. save your company costs while increasing training quality?
Accessibility: By using A.I. to train your employees, no one misses out on training. Everyone has equal access, no matter where they are in the world.
Effectiveness: With A.I., training can be personalized to the trainee's specific needs. Trainees can feel like they're training with their own personal coach, who gives them tailored feedback.
Quality assurance: L&D leaders should be able to truly see the results of their training investments on their people's behavior, and only spend costs where they will get the maximum returns. With A.I. training, companies can measure training effectiveness precisely.
It's time to reimagine the basic tenets of training and reassess training ROI. Today's Winning companies ensure their training investments reflect key business performance metrics that consider training accessibility, effectiveness, sustainability, and quality assurance.
What does AI training look like for the participants?
Take a look at this infographic and find out what benefits AI training holds for them.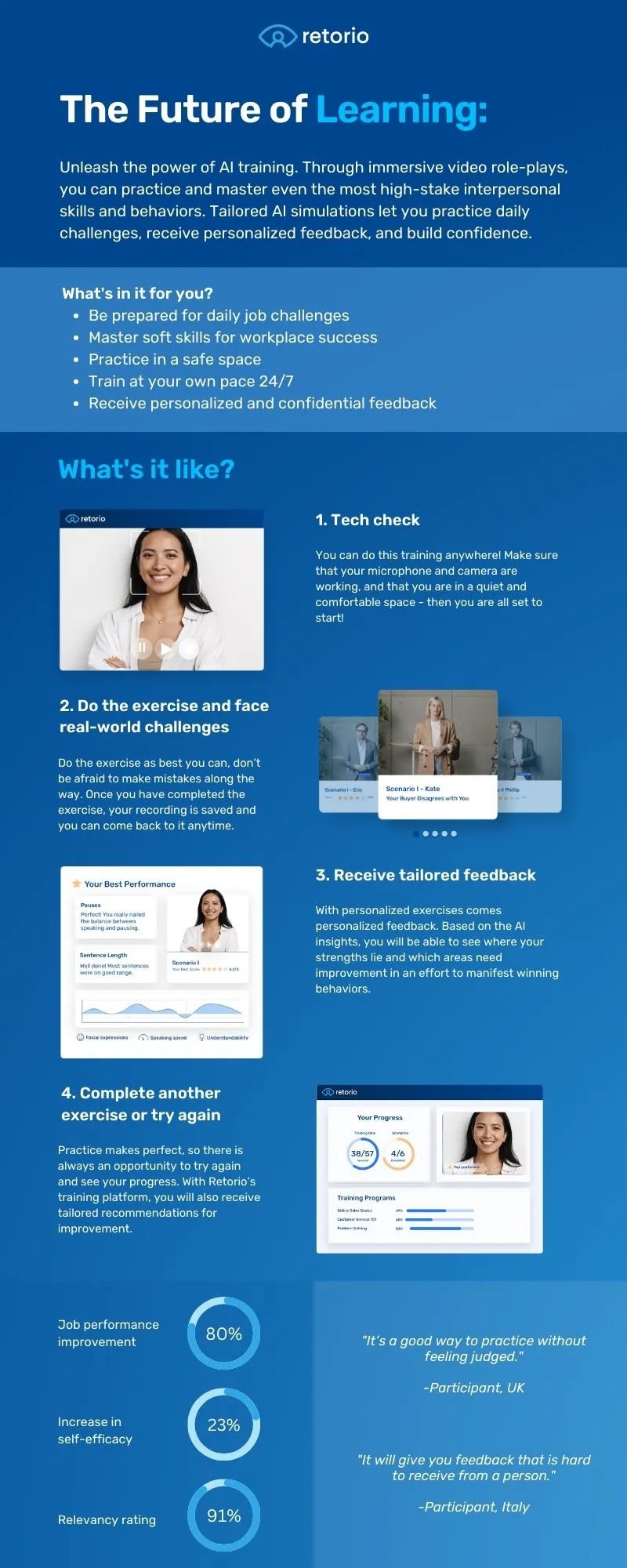 Want to see how much you could save by incorporating A.I. into your training strategy? See for yourself!
FAQ
How to implement a
cost reduction strategy?
Many organizations struggle to cut costs effectively, due to the fact that they don't stick, or end up putting companies in unstable situations. This is why it's crucial to take the time to reconsider strategy, costs, where to reduce them, and how these align.
As this article has covered, it's not simply about cutting equal costs amongst departments. It's about spending money where the returns are the greatest. This starts by checking your R.O.I. for training investments.
What is cost reduction in sales?
With sales being the engine that drives revenue, it's no surprise that managers are reluctant to cut costs in this department. However, as unsteady economic trends seem to stay, organizations are forced to take every opportunity to cut costs.
Sales managers can cut costs by:
Making sure their sales reps are being trained with training programs that are scalable (and thus not investing in traditional sales training workshops that require flying in trainers).
Making sure sales reps are being continuously recognized and rewarded.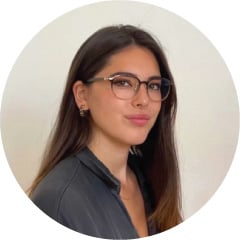 Briah Handa-Oakley
Conducting in-depth content strategy at the intersection between artificial intelligence and L&D. I cover emerging technology and the latest advancements in AI technology and ultimately fuse technical knowledge with storytelling skills.