We understand the needs of human resources. That's why we created Retorio.
We also know the hesitation in integrating artificial intelligence in talent recruitment and management. Common misconceptions around our technology are ready to be cleared, giving you the freedom to freely try out what we've built. Companies like BMW and Personio trust us to get it right.
"You're not fully GDPR compliant"
Happy to report we've waded through the deep (very deep) waters of GDPR and have come out the other side. We're fully compliant with all GDPR regulations and laws. We did this because we value data privacy and want to extend this technology for those who feel the same.
"Candidates may not want to use Retorio"
True—which is great! Retorio remains optional for candidates. They can simply upload a video of themselves answering questions and opt out of Retorio. We show companies how they can share the benefits Retorio can give their candidates, especially precious feedback on their interview.
"Is there scientific validity to Retorio?
Yes! Retorio's technology "stands on the shoulders of giants" in that it comes from peer-reviewed, scientific literature and extensive modeling and testing. For the past few years, we've worked on adhering to the scientific community's standards.
"It's magic!"
Not quite. Though we do believe human ingenuity is pretty magical.
"Integration is difficult"
Advanced technology does not mean a complicated set-up. Retorio works on ATS systems, but also we have a simple plug-in for companies and candidates. Simply type in app.retorio.com, enter your email address, set up a password, and you're ready to check out our platform!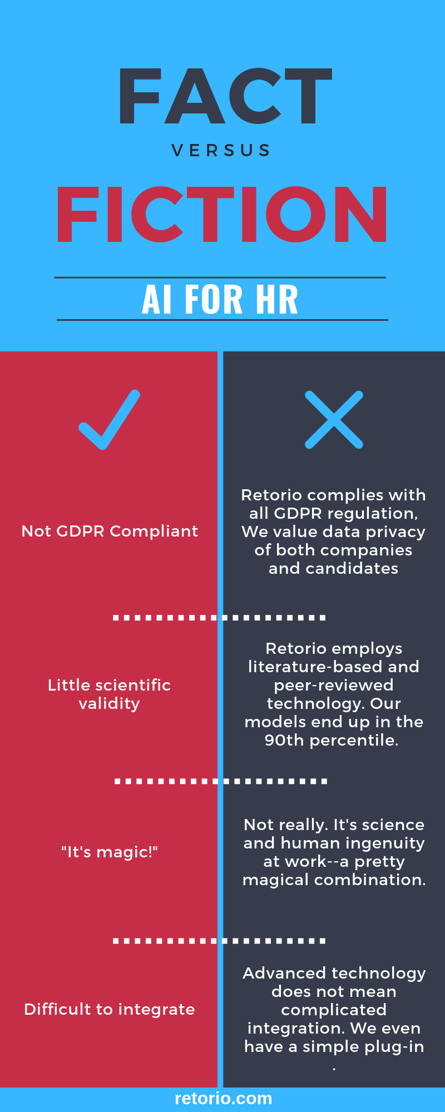 Companies, like BMW, leverage Retorio's deep tech to support their own recruitment teams. Our video-based AI was featured in TechCrunch andSüddeutsche Zeitung .


Popular Posts You May Like: