Data protection laws in Europe are among the strongest in the world. In recent years, European data authorities have taken increasingly aggressive action against Big Tech.
If you care about data protection and data privacy, then you'll want the most rigorous regulations. Therefore considering a European firm for talent management is the natural outcome. Hiring and recruiting and training employees is a priority for time-crunched organizations. This is especially important for flexible working conditions. Technology and personalization are now powered through the fuel of data.
How hiring managers, executives, and companies treat their candidate and employee data is crucial. Much has been made of the "Brussels Effect": countries all over the world seem to be following the EU's lead in enacting comprehensive data protection regimes modelled off the EU's General Data Protection Regulation (GDPR).
What is GDPR?


GDPR is a set of regulations that are made to give EU citizens more rights when it comes to controlling their personal data. It provides more regulation on data for both personal and professional purposes. By simplifying laws, EU citizens can benefit from the digital economy.
GDPR is innovative in how it addresses the real-life challenges everyone faces: from personal data and consent to security. It's a mandate for Europe to keep abreast with the rapidly evovling technology world.
Why should you look for GDPR compliant-company?


In case you haven't noticed, data lies in every facet of our lives. Our digital identities are now our in-person identities. Those revolve around data. You use data to gain Amazon recommendations, open bank accounts, and find new alerts on social media. Data is especially crucial in the era of COVID-19. Data collection and analysis is at the forefront of our day-to-day lives.

What is GDPR compliance?
"GDPR applies to any organisation operating within the EU, as well as any organisations outside of the EU which offer goods or services to customers or businesses in the EU.
Under the terms of GDPR, not only do organisations have to ensure that personal data is gathered legally and under strict conditions, but those who collect and manage it are obliged to protect it from misuse and exploitation, as well as to respect the rights of data owners - or face penalties for not doing so.
The types of data considered personal under the existing legislation include name, address, and photos. GDPR extends the definition of personal data so that something like an IP address can be personal data. It also includes sensitive personal data such as genetic data, and biometric data which could be processed to uniquely identify an individual."
GDPR was created to reflect the values of the European Union (EU). Governments felt tighter regulations around data harvesting needed to exist, particularly for large tech companies like Google and Facebook.
What are EU values?
Pulled from the official site of the European Union, EU values are summarized as "The EU values are common to the EU countries in a society in which inclusion, tolerance, justice, solidarity and non-discrimination prevail. These values are an integral part of our European way of life:"
Human dignity
Freedom
Democracy
Equality
Rule of law
Human rights
Retorio, like many other European companies, pride themselves on being a EU principles-driven organization. Data privacy and data protection are integrated into how we build our user experience.
Our candidate-focused principles are inspired by EU values. These values directly translate into how we work with our candidates and companies
Voluntariness
Participants are informed that using Retorio is absolutely voluntary and that there are other alternative application options (e.g. uploading a cover letter) and that there is no risk of disadvantages in the event of non-participation. The voluntariness of the participation is also guaranteed by the fact that the participant can stop and delete the recording at any time or delete the completed recording at any time (as long as it has not yet been sent to the company).


Fairness
Retorio is designed to debias hiring decisions which mostly are based on people's origin, gender, religion or belief, disability, or sexual identity. Thus, Retorio can exclude discrimination to a degree that is almost impossible to achieve for humans - promoting objectivity and diversity in hiring decisions.Retorio is designed to debias hiring decisions which mostly are based on people's origin, gender, religion or belief, disability, or sexual identity. Thus, Retorio can exclude discrimination to a degree that is almost impossible to achieve for humans - promoting objectivity and diversity in hiring decisions.


Anonymity
Retorio anonymizes and encodes all user data in advance to guarantee that an identification of your applicants and employees is not possible.
Support
Retorio was designed to support recruiters with recommendations. Automated individual decisions about whether or not an application should be considered are not possible. For example, Retorio allows recruiters to sort applications according to various criteria (similar to the sort function in existing application tracking systems), but the human still has the authority to make decisions.
Flexibility
We want to be adaptable to and respectful of candidates' time schedule and resources. Participants using Retorio can easily access and upload videos from their mobile device independent of time and location. Furthermore, time consuming preparation of motivational letter and CV are omitted from the process.
Transparency
Retorio believes in providing feedback and making hiring decisions transparent. The scientific foundation of Retorio's software stands as warrantor for the ultimate goal of sustained candidate and employer satisfaction enabled by optimal objective fit.
Continuous improvement
We are committed to continuous improvement rather than unattained perfection. Retorio works relentlessly on mending bugs, collecting data and increasing accuracy.
Data privacy is an important challenge for thoughtful organizations; keeping candidate privacy safe during the hiring and recruitment process and along other points is crucial. Carefully considering which companies to trust stems from values.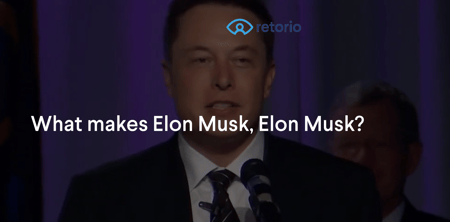 Retorio is a video-based behavioral assessment powered by AI. It uses facial expression, language, gesture, and voice to create a Big 5 Personality profile.
Leading companies leverage Retorio's AI to support their own talent management teams. Our video-based AI was featured in TechCrunch and Süddeutsche Zeitung .


Popular Posts You May Like: