How often do you sit at your desk trying to come up with questions you are going to ask your candidates during a video interview? Questions that will give you a deeper insight into who the candidates are, what they have to offer, or questions that will show you whether they would be a good fit for your company's culture?
Probably quite often, but we got you.
Of course, there are numerous questions available that will give you all the information you need from candidates, but we understand that as a recruiter, your time is precious and you would want your interview sessions to be productive. Therefore, coming up with questions that allow the candidates and you to connect and expand whilst providing insightful details for you is crucial.
What's In This Post?
What is a Video Interview?
A video interview is also a pre-recorded interview where candidates are given a question or more to answer and are allowed to record themselves answering a certain number of times before submitting their final response for the recruiters to watch. Even though you may not be seeing the candidate live, a video interview still provides a paramount first impression of who the candidate is and if they fit with the job position.
Through video interviews, recruiters and hiring managers will be able to review the candidate's response at their convenience and get a deeper insight into the analysis of the candidate. This method is faster and more efficient than the traditional screening methods because it saves time on live interviews and shows you more aspects of the applicants than a live interview can.
Nonetheless, the purpose of having a video interview given out to candidates is for recruiters to get a solid first impression of who the candidate is, and what their personality and behavior are like before moving on to the next step. You can also read more about why you should use an AI video recruitment platform here.
In modern recruiting, a video interview can also be analyzed using AI (Artificial Intelligence) technology that screens for ideal candidates that match the job's target profile, and the company culture. Recruiters will get an overview of all the candidates and can immediately see which candidates are more suitable for the job role.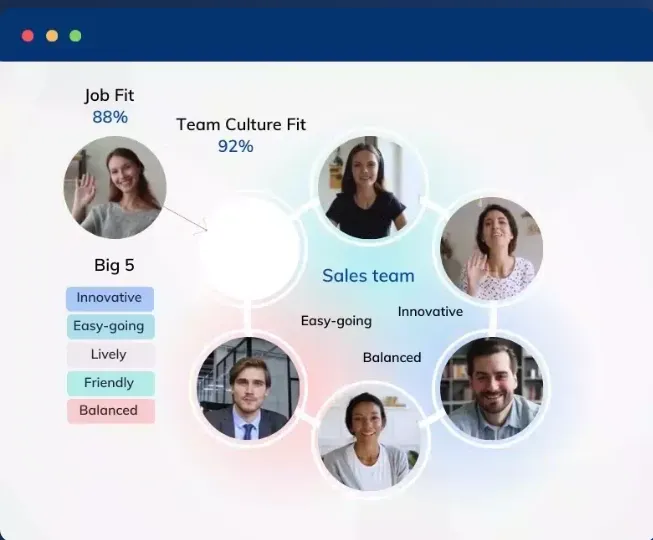 How Should I Prepare a Video Interview?
As a recruiter, the goal of a video interview is to get a good first impression of your candidates. Therefore, since you will not be connected with the candidate, you will only be seeing a recording of them answering the questions you provided. Therefore, here are some things to keep in mind when preparing a video interview for candidates.
Make sure that your video interview software and the link work. Therefore, you should always test your video interview beforehand to ensure that it works smoothly and that the questions are clear for the candidates to read and understand. You can do so by holding a few test interviews within your team
Once that is all set up, notify your candidates of the video interview as soon as possible. Give them clear instructions on how they should go about the video interview in case some candidates are new to this approach: what equipment they may need, good internet access, a quiet space, etc.
If there are any steps that the candidates should complete before or after the video interview, the video interview should also inform them of this so it is clear to the candidates.
While you are preparing for a video interview, you should also keep in mind that your video interview should provide a positive candidate experience for them. With Retorio's behavioral intelligence platform, the video interview process allows candidates to bring their personalities to light. They will also get a chance to receive feedback on their video interview to see how they are being perceived and what they can improve on.
The questions that you ask the candidates are also what is going to give you more insight into who they are. So, what are some questions that you would want to ask the candidate to get to know them better, and what answers could you be expecting?
Examples of Video Interview Questions
When building questions you can ask your candidates, it is important to ask questions that cater more to the candidate's personality and working style behavior rather than focusing purely on their job experiences and skillsets. However, through an AI video interview, the analysis of the video interview will not depend on the candidates' answers. Therefore, these questions are purely for you!
The questions should be short and simple; easy for the candidate to understand. The questions should also give you a personal insight into the candidate's personality and get a first impression, despite the fact of whether this final recording is their first attempt or not.
💡 Here are some ideas:
| | |
| --- | --- |
| Why are you interested in this position? | This gives you a sneak peek into what motivates the candidate in this particular job role and perhaps more about how invested they are in working for your company. |
| What is your ideal work environment? | This question will give you insight into how your candidate works, and in what type of environment they will thrive. It will also give you a better overview of whether their ideal work environment aligns with your company's culture. |
| What are your biggest strengths and weaknesses? | Asking candidates about what they think their strengths and weaknesses allow you to already get the first scoop on their skills and characteristics. |
| What do you know about our company? | This question will show you how much research the candidate has done, and about their general knowledge regarding your company. |
| Tell me a little bit about yourself | As simple as this question may seem, it can give you a little observation into the personality and interests of the candidate. This also helps you determine whether the candidate is a good fit for your company |
You could also ask more common behavioral questions such as "Give an example of how you handled a problem in a workplace in the past" so you can also get more insight into the candidates' behavior and problem-solving skills.
Of course, there are many more questions that you could ask, and it depends entirely on which areas you are interested in hearing about, but remember - a video interview's purpose is to also show you who the candidates truly are, what they have to offer, and
How Many Questions Do I Ask In a Video Interview?
The number of questions depends entirely on how much information you as a recruiter want to know before potentially meeting the candidates for a face-to-face interview.
However, the typical number of questions in a video interview range between five to ten questions. You also want to make sure that the video interview does not go on for too long. The video interview should take the candidate around 30 minutes, give and take.
To learn more about how you can use AI to your advantage, click on the button below!
FAQ
1. Why use video interviews?
Video interviews allow recruiters to save time in screening several candidates at the same time, therefore reducing the time that recruiters spend on in-person interviews. Through a video interview, recruiters will then know which candidates can move on to the next step for a face-to-face interview rather than having the same interview repetitively. It also increases the collaboration that recruiters have with the candidates and gives recruiters much more flexibility in being able to view the interviews whenever they like and to watch as many times as they wish.
With AI video interviews, the recruiters will gain further insight into the candidate's personality and behavior without having to ask too many questions themselves. It provides a clear and concise overview, saving both the candidates and the recruiters time.
2. How does Retorio's video interview work?
Retorio's video interview provides candidates with questions that they should answer for recruiters to receive an analysis.
Retorio employs a system of artificial intelligence (AI) that supports human intuition through the form of a video. The technology used is based on popular and well-researched personality scales also known as the Big5 Personality model which has proven to be a solid and reliable predictor of personality and job performance.
In order to calculate a predicted perceived personality, Retorio's AI platform quantifies the behavior of the participants in the assessment that include their facial expressions, gesture, language, and voice to derive a perceived personality prediction. This means that Retorio's AI forecast how candidates and their behavior will be perceived by a representative group of people and whether they fit your selected target profile.
Click on the video below to hear a little bit more about Retorio's behavioral intelligence platform.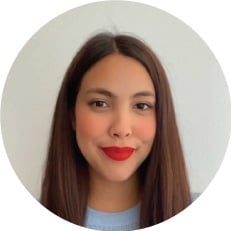 Anna Schosser
I create engaging and informative content about the importance of artificial intelligence and video-based AI technology for recruitment. I discuss cutting-edge AI developments and new technology with storytelling skills.