How to write an email template for scheduling an interview – with AI. The following How-To guidelines serve as an anchor to assist recruiters in crafting invitation emails for video interviews. While a lot of automation and ATS systems are already in place, the magic, human touch remains in high-demand.
For instance, the first, invitation email for a candidate truly counts: it informs a candidate about a company's culture and care. Email composition become even more complex--and interesting-- when new technologies are incorporated place, like AI video software. Some candidates may be new to these new technologies and thus have only limited knowledge about what to expect. Therefore, it is important to
Clarify why now, or "Why this new technology?"
Explain how the technology exactly works
Emphasize positive outcomes and address possible concerns


Existing research on technology shows following those steps increase the willingness to use it[1,2]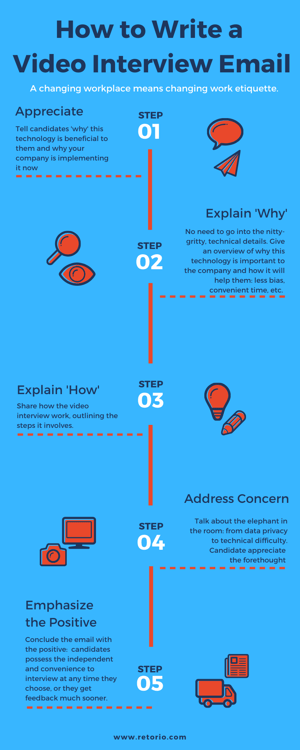 To create a coherent and positive framework, use these 6 steps when inviting candidates to a video interview
Acknowledge and appreciate the applicant's time to apply
Explain why a video interview is necessary
Explain how the video interview works
Address possible concerns
Appeal to the benefits
Debrief
How to write an email template for scheduling a (AI) video interview?
How an email template for a video interview may look like:
Hi [Candidate Name],
Thank you for taking the time to apply for the position as [Position Name].
We're big believers in equal-access and seeing people for who they are and what they bring to the table, not their test scores. That's why we'd like to invite you to a video interview.
This is how it works: As any interviewer would do, we try to understand what makes you unique. However, we recognize that we bring our own biases and preconceived notions (we don't mean to, promise) a an interviewer. So we're doing something about it: all you have to do is answer these short, predefined questions.
You don't need special equipment

Try as many takes as you'd like, multiple attempts are fine

You don't have to download anything
By conducting a video interview you're showing us that a fair recruiting process matters to you. Additionally, you'll be able to receive faster feedback from us. Also don't worry about writing a cover letter---these questions help us get to know you in a more personal way.
[Link to the video interview]
Looking forward to hearing from you,
All the best
[Your Name]
ABOUT RETORIO
Customer-centric companies like Happycar leverage Retorio to support their own talent management teams. Retorio's video-based AI was featured in TechCrunch, Spiegel, ARD, BBC and Süddeutsche Zeitung.
References:
[1] Hoff, K. A., & Bashir, M. (2015). Trust in automation: Integrating empirical evidence on factors that influence trust. Human Factors: The Journal of the Human Factors and Ergonomics Society, 57(3), 407–434.
[2] Hohenberger, C., Lee, C., & Coughlin, J. F. (2019). Acceptance of robo‐advisors: Effects of financial experience, affective reactions, and self‐enhancement motives. Financial Planning Review.