Reinforcing a healthy company culture, retaining skilled employees, attracting top talent, and bridging skills gaps… the rewards of adopting a successful learning and development (L&D) strategy are boundless.
Companies around the world are working harder than ever to improve their L&D strategies in order to gain a competitive edge in this constantly evolving business landscape.
So what exactly is an excellent L&D strategy? How are HR professionals in top companies implementing L&D into the organization? Why is it more important than ever?
In this article, we're going to be giving you a run-on of the learning and development basics, and how an organization can enhance its L&D strategy and leverage the benefits today.
What's in this post?
What is learning and development (aka L&D)

What do L&D teams do?

L&D's role in cultivating a growth mindset

How to implement a strong L&D strategy
What is Learning and Development (aka. L&D)
The L&D function in an organization is responsible for developing and enhancing arguably a company's most important intangible asset - its human capital.
From 1918, when the first training-related article was published, to the 60s, where learning theories were developed, until today, L&D is a constantly evolving function.
Particularly after the global Corona Virus pandemic, which changed the working landscape as we knew it, L&D is predicted to be in the strategic driver's seat as a change maker. The post-pandemic work environment has already seen a rapid acceleration of automation and economic uncertainty caused by the division of labor between humans and machines.
Such drastic changes that are happening right now signal how important it is to be adopting learning and development (L&D) strategies to cultivate a culture of continuous learning.
In a 2021 LinkedIn report on workplace learning, 66% of L&D pros globally agreed that Learning and Development is focused on rebuilding or reshaping organizations this year. Furthermore, 64% agreed that L&D shifted from a "nice to have" to a "need to have" function in 2021.
What do L&D teams do?
With companies globally shifting their priorities to sequence importance on implementing stronger L&D strategies, organizations are also recognizing that implementing successful L&D strategies starts with investing in the L&D pros themselves.
L&D's role in cultivating a growth mindset
A human's strongest motive is to grow. Our brains have phenomenal capacities to acquire and retain new knowledge; from the day we began school, we've been on a road to learning, and our brains have been adapting to new information throughout our life - and that shouldn't stop once we begin to work in a company.
In fact, Harvard researchers strongly believe that organizations that deliberately develop every single person in their company will prosper.
How to implement a strong L&D strategy
With the surge in hybrid work models catalyzed by the pandemic, more and more organizations are replacing traditional meetings and interviews with Zoom calls and video interviews.
As a result, the business world has seen a steep rise in e-learning platforms, as well as artificial intelligence (AI).
These platforms are creating new dimensions and redefining the way we knew work - and now it's taking over the L&D scene.
So why are HR managers using AI training platforms, as opposed to e-learning platforms? Here are just two reasons:
Scalability: In the competitive business environment, it is becoming more and more crucial to shorten the learning circle for new employees, catch on to new trends in training, and automate repetitive administrative tasks to focus on the parts that really matter. AI-powered training platforms allow HR managers to collect data and identify success patterns in their teams, track performance and have a holistic view of company performance, all in one platform.
AI data: Artificial intelligence has been a game-changer in multiple industries, from the self-steering cars in the automotive industry and website chatbots to disease mapping in medicine. Being able to access huge datasets has been incredibly transformative, to say the least - and the HR scene has already been reaping the rewards of AI with recruitment. Now, HR managers are realizing that AI's power of pattern recognition and insight generation can help them with their L&D strategies.
The opportunity to train staff anytime, anywhere in an interactive way with immediate feedback on a single platform has captured the interest of thousands globally, who have implemented AI training platforms such as Retorio into their L&D strategy.
Want to know how Mark from Proper, used Retorio's AI data to spot success patterns within his sales team? Click here to read the article!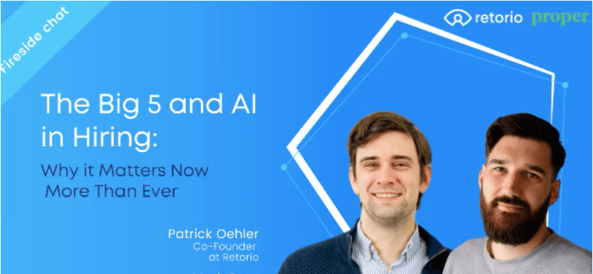 Want to try out Retorio's AI and see how it can change the game for your organizations L&D strategy? Click the button below!
Posts You May Like:

The 5 Facets of of Every Organisation with Strong Company Culture
Artificial Intelligence - The Secret to Effective Recruiting?
The Cost of a Toxic Culture and How to Fix It