While you might already be tired of hearing this inflationary word --I'm not saying it just yet-- the ongoing pandemia is certainly affecting all angles of our daily and professional lives.
Be it the way we learn --taking online classes for university or school--, communicate --transferring our social time to face calls or whatsapp messages-- or work --switching to home office and conference calls.
In this strenuous scenario, refraining from progress and optimism is not an option. On the contrary, we have to give our best to find ways of collaborating with the virus. Maybe even use it for our purposes --as it certainly offers a huge chance of digital transformation.
The coronavirus --ok, now I said it-- will certainly affect your recruiting strategy during the weeks and maybe even months to follow. It will also affect the way you're working as a team in your company altogether.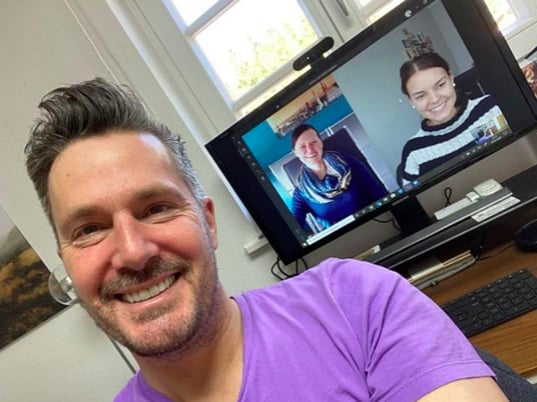 Zealaxx team working from remote locations
Consequently, hiring teams have to adapt. In-person interviews may not be an option right now, but filling vacancies is still game on. Maybe even more important: finding remote employees.
Thus, the current challenge: getting to know candidates quickly—and remotely.
In fact, 16% of companies already are fully remote and 40% are hybrids-- with highest numbers in IT, financial services and customer support. Zapier, founded in 2011, shows an example of a fully remote working company.
But hiring remote employees — if it's for a single role or a full workforce — needs a different approach. One, where it's often useful resorting to digital tools like video interviews and other.
Remote hiring will face your talent acquisition teams with both opportunity and challenge. On one hand, you will find a larger candidate pool as geographical proximity is not a requisite; on the other hand, collaborating virtually might complicate cultivating a company culture. To navigate this changing working environment successfully, follow these remote work steps:
1. Sourcing right
Online advertising on platforms like LinkedIn might have proven effective for previous job positions. However, sourcing for remote jobs requires that you go where remote candidates are looking specifically for such:
Additionally, it will pay off getting listed in facebook groups for remote working communities or startup directories to increase your chances of a bracing candidate pool.
2. Communicate specific requirements for remote work
As you can imagine, hiring for a remote team means hiring for a certain set of character traits and skills necessary to fulfill remote work requirements. When you hear your neighbors moaning about home office these days, this might be due either to a lack of relevant traits from their side or a non-existent remote working culture in their company.
Critical traits and skills for working remotely are especially strong organizational, communication and collaboration skills, as well as a good time management, self-discipline and accountability.
If a candidate doesn't display such to a certain degree, it's basically a lost game already.
Assessing such traits in advance to employment is especially important as they can -unlike technical skills as video compatibility- not be trained or changed from the core.
Thus, aspects you definitely should include in your job description are:
Your remote work policy: are you working "remote first", "remote-friendly" or mixed remote? Do employees need to be approachable within a certain time of the day? What does your communication culture entail?
Logistic requirements: living and working within a specific timezone? Are there also regular in-person meetings that need to be attended?
Your company's remote story: help your candidates understand why exactly you prefer working remotely as a team or company.
Pre-employment tests (see below), offer a great way of testing for such skills.
In addition to defining the ideal "remote employee", you can give your candidates a chance to find out for themselves whether they're apt for such a way of working. Give them an inside look into how exactly you work remotely. This can be an exemplary calendar or task overview, an introduction to the communication tools you use (like zoom, slack or TeamViewer) or one of your employees depicting their typical workday in a short video (e.g. via loom).
Whichever means you chose, apart from highlighting the benefits of remote work --like being able to travel or stay with their family-- candidates should have a realistic picture of the job. This holds especially, if they are new to the field of remote working.
3. Define requirements for your job position
Apart from assessing remote-specific requirements above, you will have to specify your job profile, company culture and team composition --just like in hiring for a non-remote position. You can easily do so by interviewing team members:
What skills make you succeed in this position?
What character traits/ communication skills are most important in working with your team members?
Or ask your hiring manager to indicate on a Job Profiler whether a trait is relevant for the position at hand. And fundamentally, what core values constitute your company culture. Are you an innovative company or cultivating stability? Does your company highly value attention to details? Are you striving for outcome or team orientation?
Profiles for the job, tasks and culture at hand can then be created to be matched with existing candidates. Assessing the candidate-job fit will consequently be the next step in your remote work hiring process.
4. Assessing fit for remote working: pre-employment video Interview
The challenge in identifying and finding the most qualified candidates is significant. Eighty percent of US Fortune 500 companies and over 75% of the Times Top 100 companies in the UK use psychometric tests. And there's a good reason for that:
Personality stands as a key predictor for on-the-job behavior. Thus, assessing personality properly should be a top priority. Extensive research has shown that observer ratings of personality --compared to self-assessment-- provide substantial validity in predicting overall job achievement. And like most everything else nowadays, personality assessments have moved from paper and pencil to the digital world and can be most commonly found in the form of online tests. The same holds for personality assessment via video interview.
Retorio, for instance, provides an artificial intelligence tool which uses Big Five criteria, facial expression recognition (FER), language, and voice analysis, gesture analysis, and a large database of information to analyze personality traits through pre-recorded candidate interview videos. Consequently, Retorio's remote, AI-powered video personality assessment delivers you the flexibility to find great talent working from home and the freedom to analyze all your candidates within minutes.
When you're hiring remotely, you will in most cases be faced with external factors like long distances or --in the recent corona scenario-- an extensive curfew. In other cases, you might just prefer a video assessment of your candidates' personality to a personal one as it holds many advantages like:
Being more valid than other pre-employment tests [correcting for bias due to single observer effects or social factors like gender, ethnicity and age]
being moreover cost and time effective [economizing on staff and journey-costs]
Beyond that, video is increasingly being used in the job context. Using a medium that your candidates will mostly use in the workplace --when working remotely-- makes them at ease and also forecasts how well they can communicate on video.
5. Communicate Candidate friendly
Along the remote hiring process it will be crucial that you communicate with your candidates and provide them with the best candidate experience possible. Most importantly in order to:
Along all these steps, you manage the candidates' image of and overall experience with your company, thus affecting whether they apply for future positions or how they talk about your company to friends and family (or on platforms like kununu.com or glassdoor). As remote work can already pose a challenge in terms of personal contact and commitment, it's even more important that you reach out to your candidates actively --not leaving them guessing about their application status.
A detailed email template for each of the steps can be found on our website [following the links above].
Thus, by implementing valuable remote work tips and using Retorio's Big 5 model to pre-screen external candidates and learn about their values and strengths, you will defend your priority surf spot on the next wave of Hiring 2.0.
Companies, like BMW, leverage Retorio's AI to support their own talent management teams. Our video-based AI was featured in TechCrunch and Süddeutsche Zeitung .
Popular Posts You May Like: