Technologies are changing and advancing faster than they ever did before; business models are evolving, and so are the skills needed within a workforce that helps them flourish and prosper. Factor in the great resignation that is seeing record breaking numbers of employees calling it quits on their jobs, and we have an economy experiencing a skills shortage, and companies struggling to find the right skills that will drive their businesses forward.
In fact, a Deloitte study found that 71% of CEO's anticipate that skills shortage and labor shortage will be 2022's biggest business disrupter, costing companies of every size and industry trillions of dollars by the end of the decade.

The bottom line is that companies need to address skill shortages now before it's too late.
What's in this post?
What is a skills shortage?
The global workforce never stops evolving. But with recent trends in the economic landscape, and pandemics disrupting almost every aspect of work-life the way we knew it, companies are faced with the prospect of having to reduce costs, and many are simply awaiting for this volatility to pass over before making their next move. This means that minding skills gaps are not top of priority for many, and aren't ready to equip themselves with the workforce skills they will need most, ending in a skills shortage.
Is there a shortage of skilled workers?
Just in the UK alone, over 50% of businesses are experiencing a skills shortage. It's safe to say that skills shortage is indeed posing a threat to the growth of companies, and it's not just in the UK. In the McKinsey survey on the future workforce needs, almost 9 out of 10 managers and executives globally reported that their companies either currently face a skills shortage, or expect skill shortages to develop within the next 5 years.
Furthermore, according to a Department for Education's Skills Needs Survey in 2019 already, there were around 210,000 ​'skills shortage vacancies' (SSVs), which was more than double the figure from 8 years ago.
Why is there a shortage of skilled workers?

Uncertainty and volatility in the shaky post pandemic business landscape, as well as increasing demands have all played part into the skills shortage we are witnessing today. But much of the shortage can be tracked down to a simple demography, that being low birth rates after the baby boomer generation. As the baby boomers slowly but surely move out of the workforce by 2030, this means that the next generation will not have had the time or training to fill in these positions.
"Governments and organizations must make talent strategy a key priority and take steps now to educate, train, and upskill their existing workforces," - Yannick Binvel, president of Korn Ferry's Global Industrial Markets practice.
Skills shortage list: Top 5 Skilled Occupation Shortages Australia & UK
| | |
| --- | --- |
| Skills shortage list Australia | Skills shortage list UK |
| Chief Executive or Managing Directors | Health services and public health managers and directors |
| Construction Project Managers | Residential, day and domiciliary care managers and proprietors |
| Accountants | Chemical scientists – nuclear industry |
| Management Accountants | Biological scientists and biochemists |
Countries facing the greatest skill shortages
Skills shortage as a % of firms with 10 or more employees in selected countries. Source: Manpower Talent Shortage Survey via OECD.
Japan, 80%

India, 64%

Brazil, 63%

Turkey, 63%

Mexico, 44%
Tackling skills shortage by addressing skill gaps
"Continuously buying in skills through new hires and temporary workers certainly seems appealing for senior leaders responding to recent upheaval, but this approach to acquiring talent can prove expensive and unsustainable." - Viren Patel, corporate director at the Open University
Mounting financial pressures resulting from the Covid-19 pandemic indeed may make those quick-fix approaches to skill shortages appealing, such as buying in temporary workers and fresh hires to fill in open positions.
But it's times like this when employers should take a more sustainable approach to skills shortage.
Using the limited budget and taking the longer-term, strategic approach to talent management solutions may require managers to bite the bullet, but in times of crisis, making sure your current talent have the ability to learn and improve continuously is particularly imperative. When companies increase investment in skills development and learning and development (L&D) activities, new ways of working and enhance employee and organizational effectiveness will be supported in a sustainable manner.
Developing a sustainable L&D model to address skills shortage
For organizations who want to adapt to achieve a competitive edge in this new business world, it becomes imperative to address those looming skill shortages, and not just respond to the crisis with short term solutions that provide short term gains (and often, long term pains).
So how can organizations achieve this? Through curating sustainable training plans, reconsidering employee development strategies, and adapting overall L&D courses.
By up-skilling employees and bridging skill gaps, companies are ultimately enhancing arguably their most important intangible asset for the long run, its human capital, and the rewards of adopting a successful learning and development (L&D) strategy are boundless.
To read more about why it's time to create an L&D plan now, read our article here.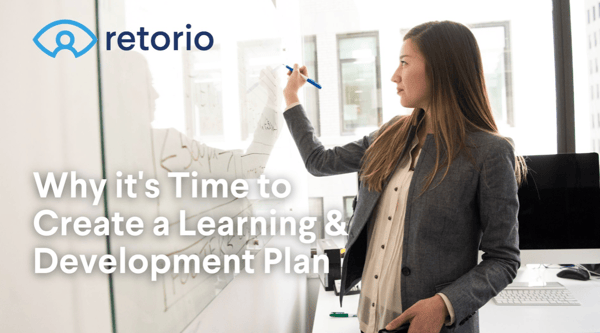 For companies introducing skilling initiatives, it's best to start with an iterative, agile approach. By considering which skills are most important in the business landscape now, it allows companies to address acute, short-term needs while keeping spending modest and laying the foundation for a culture of learning.
For instance, especially in the post pandemic world, where social and emotional skills are high in demand, we are witnessing a skill demand shift that requires companies to address empathy and interpersonal skills in the workforce. Organizations should focus on developing their talents' soft skills, before getting ready to scale the learning program.
In fact, many organizations are already reaping the rewards of doing so globally. For one of Germany's largest automotive companies, who use Retorio's AI powered video training platform, they're currently developing the skills within their salesforce, by training them using Retorio's video simulation. Not only is this platform powered by AI, meaning their trainees can develop their skills in an interactive training environment, but L&D leaders have been able to scale this training across their global outlets, as sales reps can train on the go with Retorio.

Want to try out Retorio's AI-powered training platform out for yourself? Click below!
FAQ's
1. How to overcome skills shortage?
In this volatile and unpredictable business landscape, a skills shortage is almost inevitable. That's exactly why it is becoming increasingly crucial for companies and L&D leaders to take action before it's too late. How? By addressing the skills shortage through re-skilling, and essentially closing those skill gaps. And surveys find companies who are focussing on employee training and L&D efforts are seeing their efforts pay off.
2. What are the skills shortages in the UK?
The UK is currently facing a skills shortage. In fact, the Office for National Statistics (ONS) recently reported that official vacancies in the UK were at a record high of 1.2 million. One thing is apparent - companies are seriously struggling to fill roles in the UK. The top skill shortages currently in the UK are: Health services and public health managers and directors and nurses, residential, day and domiciliary care managers and proprietors, chemical scientists in the nuclear industry, and biological scientists and biochemists.