The future of work has arrived ahead of schedule – in 2021 we started to realise that the pandemic normal, that 2020 threw at us, was indeed not a temporary shift. As Europe heads into its fourth wave of the Covid-19 pandemic, the world is learning that the sudden and extraordinary circumstances are, in fact, here to last.
Chances are high that you've experienced a virtual interview yourself or know someone in the HR scene who had to switch to welcoming new employees remotely.
Indeed, talent management was a sector that took a significant blow as a result of the pandemic, and we are all aware that the face of recruitment essentially changed overnight.
As the world around us changes, it's ultimately up to companies to understand the changes and adapt, in order to succeed in the new environment.
So what exactly does 2022 have in store for us? What has changed, and what are the key trends that companies need to look out for, in order to gain a competitive edge in the new business world?
In this blog, we share a sneak peek into what companies need to look out for going into 2022 -- for the full insights, click here to check out our latest whitepaper, where we share in full detail what these new trends to look out for are.
What's in this post?
Hybrid Workplace - the New Norm
The shift to hybrid work is impacting the work experience at all levels, no matter the size of a company. CEO's around the world are realising that Covid-19 lockdown measures are no longer a matter of riding out the storm, and waiting till things get back to pre-pandemic ways is in fact futile and unsustainable for their companies.
As a result, some companies have opted to continue with the work-from-home (WFH) model; other companies have adopted the hybrid work ecosystem - benefitting those employees who do not have a proper workspace in their own homes or are too distracted in their own homes.
Culture Checks - More Important Than Ever
One of the biggest challenges when adopting a hybrid work model is, inevitably, cultivating organizational culture and a sense of belonging in a time where online-based communication replaced most face-to-face interactions.
We all are aware that the culture a company sustains can be a major competitive advantage - it essentially sets the tone for how employees work together and interact with each other. In fact, according to the largest study of employee engagement and performance data to date, of 2.7 million employees across 96 countries, companies in the top quartile of employee engagement are 23% more profitable than those in the bottom quartile.
So it's safe to say that sustaining organizational culture is an aspect that should constantly evolve as external factors change regularly in order to maintain a company's productivity, innovation and overall performance.
Sustaining Company Culture Before it's Too Late
So, how can companies maintain a strong culture in a hybrid environment? Well, a good start is to implement culture checks (before it's too late!). An organisation's culture is often ignored unless the workplace becomes toxic.
But when the culture which an organization cultivates essentially sets expectations for how new employees will behave and communicate, waiting until employees feel unengaged and unmotivated can lead to big losses in an organizations time and money.
Furthermore, when new employees walk into an organization without a team feeling that lacks engagement, it risks the retention of new employees or cultivating an unmotivated work environment.
That's how companies that are aware of the detrimental consequences of ignoring culture checks are staying one step ahead of their competitors by fostering regular culture checks and reaping the greatest competitive advantages from having sustainable cultures.

Enter Artificial Intelligence
Chances are high that you've already had some kind of experience with artificial intelligence, not just in the talent management scene – take for instance 24/7 customer support worldwide via AI chatbots, machine learning aiding medical doctors diagnosing diseases from imaging data and disease mapping, cars self-steering and self-parking. Indeed, 2021 was a year that witnessed a mega-trend in machine learning and artificial intelligence.
Today, companies are able to reveal their true corporate cultures with artificial intelligence and enable data-driven talent decisions. For instance, AI platforms such as Retorio make it possible to capture your own team on video and learn what makes your people and culture special.
By comparing the traits and behaviours of your top performers with those at the bottom, employers are able to understand their team's performance and find out why some people in your organization thrive, while others don't. Furthermore, this allows for employers to benchmark candidates against their best people and predict how well possible candidates will fit into your team.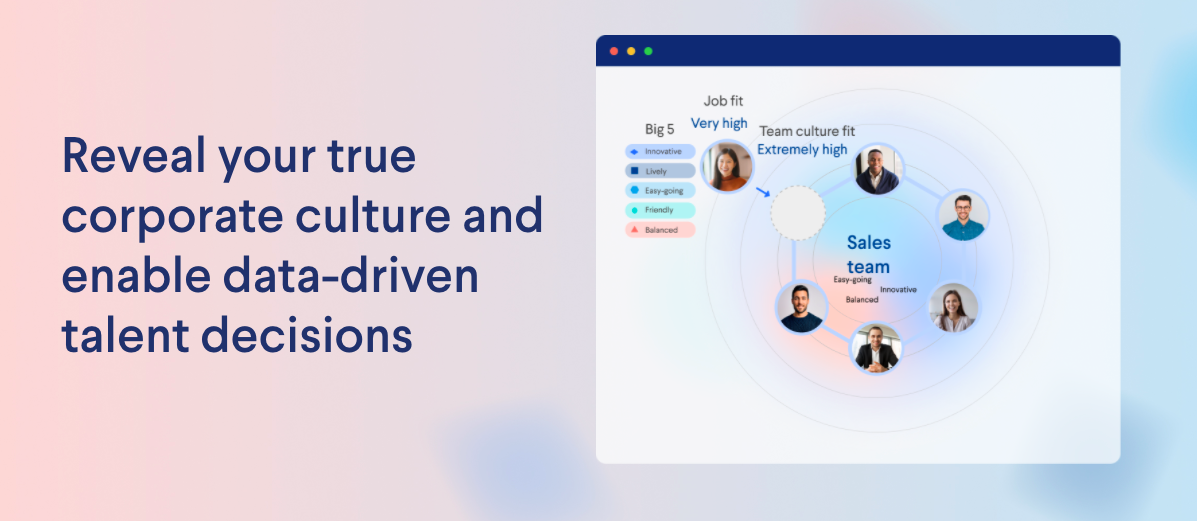 So, want to learn how artificial intelligence can be used to check your company's culture, and inform your next hiring decisions? Click below to book a demo now!
ABOUT RETORIO
Companies like Happycar, leverage Retorio's AI to support their own talent management teams. Our video-based AI was featured in TechCrunch and Süddeutsche Zeitung.
Posts You May Like: