Corporate training has come a long way in the past decade.
From traditional classroom-style sessions to online and mobile learning, the way companies train their employees has evolved significantly.
The growth of video coaching, in particular, in the realm of corporate learning and development (L&D) has been remarkable, and many organizations recognize its potential to provide convenient and effective learning opportunities to their employees.
In 2019 already, 57% of L&D professionals said that they are planning to use video-based coaching in their learning programs, while 25% reported that they are already using it. Since then, this number saw a steep rise. As of 2020, already 74% of companies reported using a video coaching platform as a part of their training routine.

In this blog, we explore the changing landscape of corporate training and discuss how companies can keep up with the latest trends to remain competitive in their respective industries, and what we can expect from the future of corporate training.

What's In This Post?
What is a Video Coaching Platform?
First things first. What exactly is a video coaching platform?
A video coaching platform is an online learning tool that uses video technology to facilitate coaching sessions between learners and coaches or trainers, providing a platform for personalized and interactive learning experiences.
It often includes features such as video recording, feedback and analytics tools, and collaboration options, enabling learners to access coaching and training anytime and from anywhere, while receiving personalized feedback and support from their coaches or peers.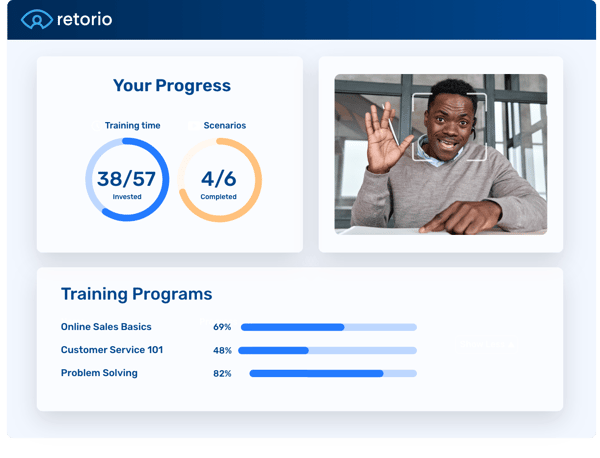 Retorio's Behavioral Intelligence platform, for instance, is one way that companies worldwide apply to their L&D processes for effective and scalable employee training.
Companies globally are already reaping the benefits of implementing Retorio's AI-powered video coaching platform into their L&D strategies, including the leading German international shipping and container transportation company, Hapag-Lloyd.
By implementing Retorio's video coaching platform, Hapag-Lloyd...
created learner-relevant training paths that achieved 80% acceptance amongst its trainees.

2 out of 3 trainees saw an immediate improvement in job performance
"This is a game changer as it enables learning in a truly interactive way and personalizes it to the individual learner too. It complements and strengthens our learning initiatives."

- Hanjörg Beger, Managing Director HR Hapag-Lloyd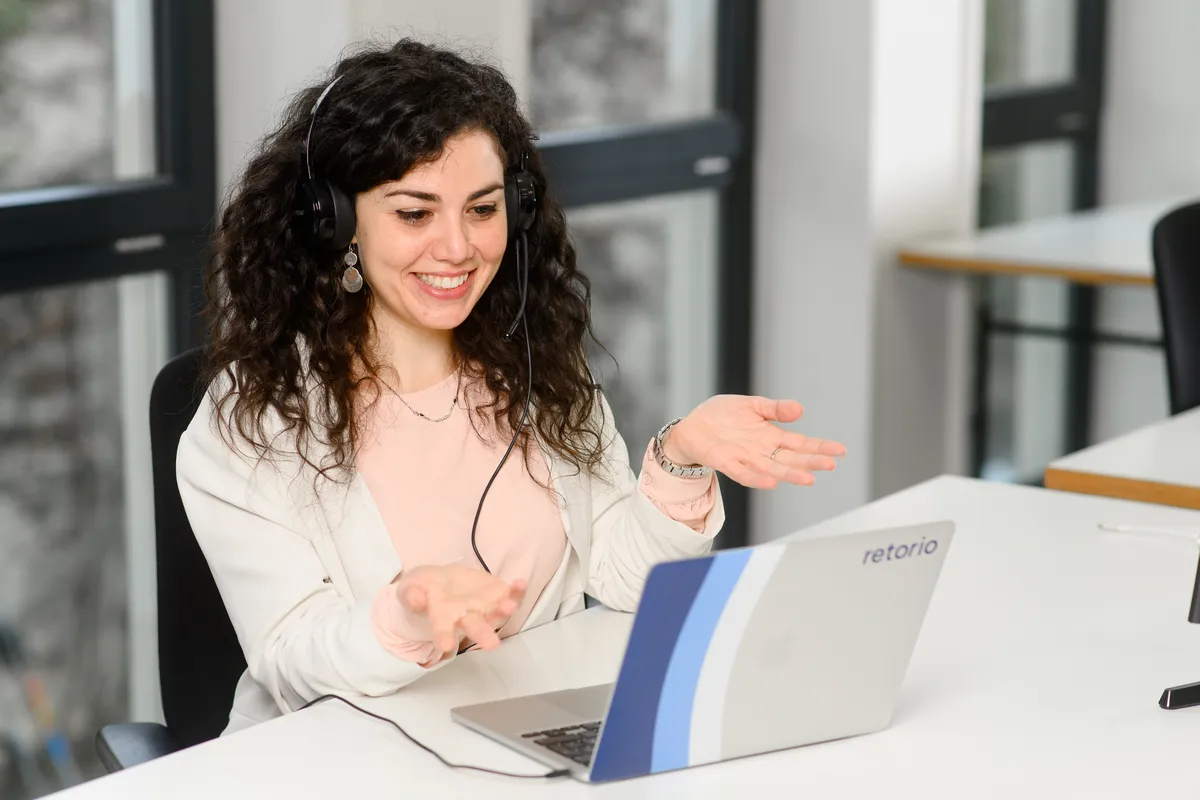 Read the full story of how Retorio's video coaching platform creates personalized learner experiences and transforms the Hapag-Lloyd Sales Academy here!

Why does a Video Coaching Platform Work so Well?
A lot of companies have already transitioned to video training solutions, providing their L&D departments with new capabilities and new opportunities to scale their learning, as well as providing 24/7 education access to their employees so that they can continuously upskill.
Traditional, lecture-style training methods

Video coaching platforms

Lacks interaction and fails to engage employees in a meaningful way.

Engages learners by providing a dynamic and interactive learning experience that fosters a sense of connection with the material.

No individualized attention, meaning no

personalized feedback and no chances to identify specific areas of improvement for growth.

Provides real-time, personalized feedback.

Unscalable and unsustainable.

Globally scalable - trainees can access training wherever, whenever.

Skills are trained in an isolated context, which makes it difficult for learners to retain information.

Interactive content that engages trainees, helping them retain information.
To stay competitive in the digital age, it is crucial for leaders of L&D functions to transform their approach by developing a learning strategy that is in line with the business strategy and enabling the necessary capabilities for success. By doing so, they can create comprehensive curricula that utilize various learning methods and technologies. In addition, companies that invest in innovative L&D programs, remain agile, and develop their human talent are likely to be the most effective.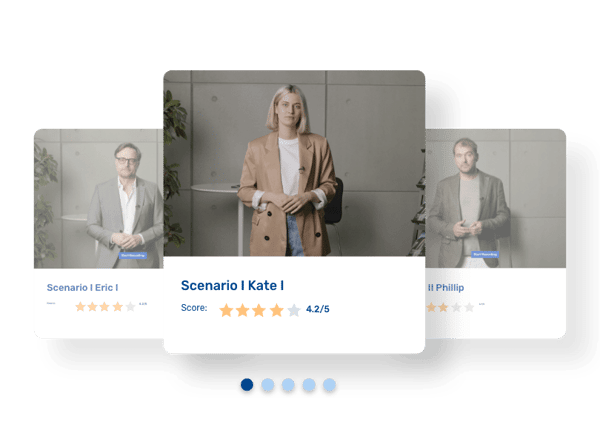 Want to try out Retoro's AI-powered video coaching platform for yourself, and see what it could do for you? Click below to try it for free today!
FAQ
1. Is there a video coaching platform for teachers?
In general, video coaching is a great way for anyone to train their skills, including teachers. Like in other industries, teachers require constant training to stay up to date with the latest developments in education and to continually improve their skills and effectiveness as educators. Video coaching or a video coaching platform is a great way for teachers to upskill and keep up with new research and best practices, which they can do in the comfort of their own home or at school, any time they like.
An online video coaching platform, like Retorio, can help teachers practice and update their skill sets, to meet their professional development requirements.
2. What are the benefits of using video coaching platforms?
Video coaching platforms make it easy for HR teams to deliver training materials efficiently and effectively while giving employees the opportunity to receive constructive feedback from their supervisors or mentors. Additionally, these platforms can be used as an engagement tool for remote teams that may feel disconnected from their coworkers due to distance or lack of face-to-face interaction. By providing a virtual platform for communication, companies can create more meaningful connections between employees that will lead to improved morale and productivity.
Finally, these platforms are cost-effective solutions that reduce travel expenses associated with in-person meetings while still allowing companies to keep up with the ever-changing needs of their workforce. By leveraging technology in this way, organizations can save time and money while still providing engaging experiences for their employees.
3. What is a v
ideo sales coaching platform?
Like any video coaching platform, a video sales coaching platform is a training platform (often using video simulations and/or AI) specifically tailored to train and upskill sales representatives.
For instance, Retorio's behavioral intelligence platform offers video sales coaching to companies worldwide to train sales reps' soft skills.
Click here to read the 5 tips for sales training success here.
4. What is an all-in-one coaching platform?
An all-in-one coaching platform provides organizations with a convenient, cost-effective, scalable, and engaging way to train and upskill their employees. Organizations that switch to all-in-one coaching platforms are able to connect from anywhere with an internet connection and train, no matter which time zone they are in. They provide different types of multimedia to enhance the coaching experience, such as role-playing. They are also cost-effective, as companies no longer need to rent an office or meeting space, or fly in coaches and organize annual workshops, which can be time-consuming and expensive. All-in-one coaching platforms allow organizations to keep their costs low, which proving engaging, effective, and sustainable learning opportunities for their talents.
Posts you may also like:
The #1 Soft Skills Training Course for your Sales Teams
Why AI is the Secret Weapon for Learning and Development (L&D)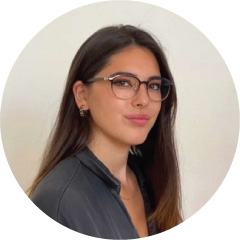 Briah Handa Oakley
I work as part of the marketing team at Retorio, conducting in-depth content strategy at the intersection between artificial intelligence and L&D. I cover emerging technology and the latest advancements in AI technology and ultimately fuse technical knowledge with storytelling skills.