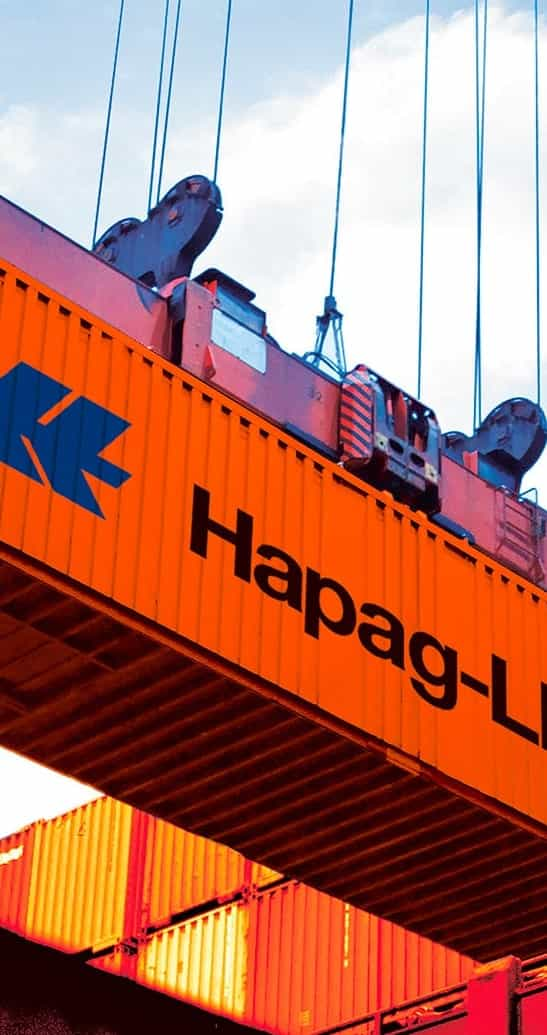 Hapag-Lloyd
Artificial intelligence transforms the Hapag-Lloyd Sales Academy,
creating personalized learner experiences
Hapag-Lloyd
Artificial intelligence transforms the Hapag-Lloyd Sales Academy,
creating personalized learner experiences
About Hapag-Lloyd
With around 14,100 employees spread across 137 countries, and a fleet of 253 modern container ships, Hapag-Lloyd is one of the world's leading liner shipping companies and operators in the Transatlantic, Middle East, Latin America and Intra-America trades.
Executive Summary
For global logistics company, Hapag-Lloyd, 'service quality' is the key differentiator for winning within logistics. To succeed in the volatile business climate, where customer expectations are on the rise, and generate real value to customers, the business value of quality needs to become a strategic focus for companies.
The Hapag-Lloyd Academy - a several million dollar mission to create an involved, interested and oriented learner through world-class learner experience is charged to support this mission. Ensuring global quality is about considering customer touchpoints, but also the customer end-to-end journey. This is where immersive learning that evokes or replicates substantial aspects of the real world in a fully interactive fashion becomes a game changer in training the necessary soft-skills.
By building a world where humane technology supports people to experience their learning with a bigger purpose, Retorio's interactive training platform helps learning become more attractive and effective. Hapag-Lloyd can ultimately offer engaged learning paths that focus on closing the skill gaps through personalized, inclusive growth, whilst certifying the highest quality across their global workforce.
Challenge
Ensuring global quality & highest service standards across a global workforce

Establishing an effective, engaged learning program that is scalable & personalized
Solution
Implement Retorio's AI-powered training platform at the Hapag-Lloyd Academy, immersing the learner in virtual video role-play simulations built to reflect relevant, job situations for an engaged, personalized learner experience that drives behavior change
Achievements
Increased learning experience through engaged learning

Personalized learning at scale

Increased learning and development effectiveness
The German international shipping and container transportation company has always had a mission to certify the highest service quality across their workforce, and create an involved, interested and oriented learner through a world-class learner experience.
With its strong emphasis on a learner-centric approach to training, Hapag-Lloyd made the decision to employ Retorio's interactive client video simulations to train their employees on-demand. During a 3-month learning program, participants from the Middle East and across Europe were able to access a new learning path that focused on personalized learning and skill development as part of their curriculum.
Training via video simulations immersing the learner in relevant, real-world work situations creates a way to achieve verifiable mastery in the skills necessary to drive customer excellence. Retorio's customizable simulations allow for testing realistic client-to-sales-rep situations, represented by cutting edge deep learning models. The AI-equipped learning engagement suggests ways to fulfill the uncovered gaps that stay only with the learner to work on at his or her own convenience and pace.

"AI promises so many opportunities that we've already seen in other industries, and we've been lucky to witness first-hand its benefits in the Learning and Development (L&D) sector, following the implementation of Retorio into the Hapag-Lloyd Academy. Gone are the days when every learner builds their skills in the same way. I am glad that we can offer a platform that offers personalized, engaged training programs that actually focus on the learners' needs."
Hapag-Lloyd immersed their salespeople in virtual environments where they could hone even the most advanced, consultative skill sets. Facing real-world challenges requires not only knowing what to do but also the ability to put knowledge into action. Therefore, tailored video simulations were built to reflect relevant, real-world situations.
The learning managers were able to easily create custom modules for personalized learning in Retorio's self-service training-builder. Trainee's at the Hapag-Lloyd Academy could access Retorio's library of training content from any device.
To ensure a psychological safe learning environment, Hapag-Lloyd and Retorio decided to use Retorio's token-based access system. This way, learners could be granted a fully anonymized registration process.
After trainee's at Hapag-Lloyd logged-in, they were faced with different client simulations, each representing a situation, which the learners would meet similarly in their daily work life. Immediately, after starting the training, each simulated client started a conversation with the learner, where the learner's task was to respond in the best way possible.
The novelty in this approach lies in the fact that the learner can not pre-select from possible answers, which you may find in traditionally situational judgment tests (SJTs), but rather must speak freely. This way, the learner must actively retrieve knowledge and, like in real life, react immediately. Delivering bad news or handling difficult customer conversations were some of the themes that the learners dealt with. Learning effectiveness is increased by mimicking a natural learning style, which matches how learnings have to be applied later on.
Once the modules were completed, trainee's received on-demand, immediate tailored feedback from the AI platform. This essentially created an environment where trainee's got a strong sense of presence and immersion, minus the judgment and minus the external influences. As Retorio only puts objective and transparent, scientifically sound research into practice, trainee's at Hapag-Lloyd received fact-based, trustworthy feedback. This allowed trainee's to train anonymously and comfortably, whilst still receiving tailored feedback backed by behavioral analytics AI.

"I thought the insights were very valuable and helped me understand what I can do better. It was also great to rewatch myself, something I don't get to usually do when facing daily challenges."
"This is a game changer as it enables learning in a truly interactive way and personalizes it to the individual learner too. It complements and strengthens our learning initiatives."
A huge part of effective performance management lies in measuring training effectiveness and providing trainees with instant, personalized feedback on their training performance.
Unlike other remote learning platforms that typically measure variables such as number of modules completed, or access times, Retorio's AI-powered training platform provides an objective, systematic method for behavioral data capture. This gives the trainee valuable insight into their soft skill performance, and crucially, ROI.
After rolling out Retorio's simulation training program for sales reps at the Hapag-Lloyd Academy, 80% of employees who completed their training actually implemented their learnings to their roles. Furthermore, over 80% of trainee's who used the simulation agreed that such a learning method (i.e. role plays and interactive client video simulations) are relevant for their everyday job, and more than 2 out of 3 said they saw a performance increase in their job.
A system-wide approach offers the best opportunity to provide employee's the same, high-quality training across the global workforce. By choosing artificial intelligence to train their employees, not only did Hapag-Lloyd's training become more relevant, targeted, and interactive for each individual trainee, but also globally scalable.
Hanjörg Beger says;

"In our fast-changing digital world, L&D and HR teams have to be proactive. We need to ensure the most relevant training tools and knowledge resources are available to our learners when they want to learn."
"Digitization and the future of work are not just buzzwords at Hapag-Lloyd, but are implemented at the very core of the Hapag-Lloyd Academy. With the implementation of AI-powered, personalized learning at scale, Hapag-Llyod is spearheading what the future of learning in logistics can look like."

–Dr. Christoph Hohenberger
The implementation of Retorio's AI-powered training platform at the Hapag-Lloyd Academy achieved the following milestones:
Time to market from concept to deployment in just two months

Created learner-relevant training paths that achieved 80% acceptance amongst trainees

2 out of 3 trainees saw an immediate improvement in job performance
It started as a 3-month learning program and is now becoming an integral part of the Hapag-Lloyd Academy. The adoption of personalized interactive training at scale creates the ultimate way for Hapag-Lloyd to certify the highest quality of service across their global workforce. By reaping the benefits of using cutting edge deep learning models, a completely learner-centric solution to upskilling sales teams is established.