PRESS RELEASE

Munich, February 10, 2021 - Retorio, a spin-off of the TU Munich, offers software
based on scientific findings and AI methods to create a sound data basis for recruiting and talent development. With Basinghall Partners, an institutional investor is now joining. The London-based fund contributes about half of the current fund. The remaining capital is provided by previous investors and a new private investor (former M-Dax CEO).
Retorio was founded in 2018 by former TUM PhD students, Dr. Christoph Hohenberger and Dr. Patrick Oehler. The software product is based off their years of experience in psychology and organisational research. Retorio is based on the scientifically recognised Big 5 personality model. Retorio's AI recognizes behaviour through voice, speech, gesture, and facial expression, creating a personality profile.
A core feature of the software is the AI-based analysis of short videos, supporting HR professionals to identify the personality and soft skills of their applicants and to align corporate culture and job requirements. This makes the application process not only faster, but also more objective and decreases common biases.
Other use cases for the product include the training of employees who use the software to understand how others perceive their behavior. In the long term, Retorio aims to become a general interface between the workforce and an organisation's database of talent. Bridging the gap, Retorio helps companies find suitable talent quickly and easily, supporting the development of employees on the other hand.
As a source of wider impact, Retorio wants to help companies and their employees grow, creating better outcomes for decision makers. The new funding will be used to drive product development as well as customer acquisition in Germany and abroad.
"Until recently, HR used to be very traditional in Germany. However, we are seeing that companies are increasingly open up to new technologies and make budgets available for this topic. In the last few months, video recruiting has become even more relevant due to the pandemic," says Dr. Patrick Oehler, co-founder of Retorio.
"Being a digital company that offers a service which supports physical distance, we came through the crisis relatively well," adds Dr. Christoph Hohenberger, co-founder of Retorio. "The current financing round shows the confidence that our investors have into our business model. We are pleased that our company has now reached the stage where we are able to convince institutional donors as well".
"Data quality and integrity are key when it comes to HR-Tech. Retorios' people analytics solutions enable HR professionals around the globe to not only make more comprehensive and reliable business decisions, but also to create a better cultural fit, thereby keeping employees focused and motivated" said Yannick Wilden, Partner at Basinghall.
"We are fortunate to add Retorio to our pool of digital enablers and are convinced by the team's ability to position the company as a category leader in its field with various potential use cases. Looking forward, Basinghall Tech Fund and its Innovation Circle will continue to support Retorio throughout the exciting journey ahead" said Andrew Irvine, Founder and Managing Partner of Basinghall Partners.
About Retorio
Retorio has developed a software that optimises the entire application process by combining artificial intelligence (AI) with scientific findings from psychology and organisational research. Retorio reliably recognises the communication behaviour and important personality traits of applicants from short application videos. Retorio's AI is based on many years of research, thousands of carefully conducted scientific tests and human feedback. It makes subjective personality impressions objectifiable with over 92% accuracy and replaces individual opinions. Retorio helps customers such as ADAC, Airtame or Personio to optimise their personnel decisions and make their processes more effective and user-friendly.
Retorio is a spin-off of the Technical University of Munich and was founded in 2018. The founders, Dr. Christoph Hohenberger and Dr. Patrick Oehler, met during their scientific work and discovered their common fascination for the quantifiable evaluation of behavioural patterns.
About Basinghall Partners
Basinghall (London) invests in European B2B early-stage companies with great teams and pioneering technologies. Basinghall is driven by its mission to support the innovation of European industry by providing capital but also by fostering the relationship between early stage startups and selected traditional industry partners.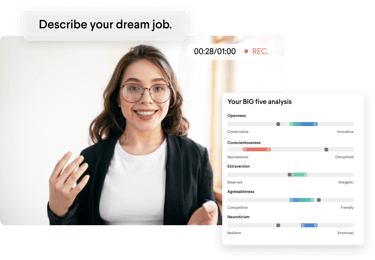 Retorio is a video-based behavioral assessment powered by AI. It uses facial expression, language, gesture, and voice to create a Big 5 Personality profile.