Candidate Experience: Rules of Rejection
There are crucial times and opportunities where you should communicate with your candidates:
Along all these steps, you manage the image candidates have of your company, thus affecting whether they apply for future positions or how they talk about your company to friends and family (or on platforms like kununu.com or glassdoor).
After you have conducted interviews with the applicants, the next step will be to let them know whether or not they were chosen for the position. This means you will be sending out job offers (or invitations to a second interview round) as well as rejection emails. It is very important, however, that you write all your candidate's feedback.
In practice, applicants are often "ghosted" -left unnotified about the status of their application. Some recruiters only contact those who have been accepted for an interview. Some don't contact applicants even after they have been interviewed. Most likely, companies will send out rejection letters after the interview process is complete. This way they can give the applicant pool another look in case the leading candidate rejects the offer.
From a candidate's perspective, this makes you wonder whether the company received your materials. Or whether you got something wrong about the order of steps. If you have ever been sitting on tenterhooks, waiting for a call from your crush, you know exactly how it feels! Maybe they got the number wrong. Or they got in a street fight. Or they accidentally dumped their phone in the toilet. Or they are just insecure and you should take the initiative.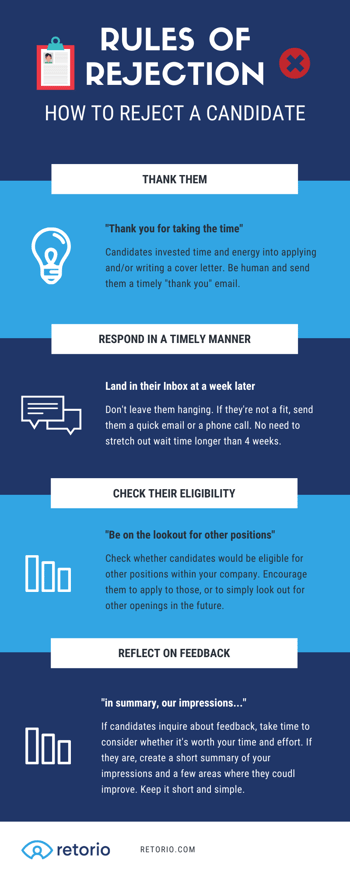 There are endless explanations as to why they're not calling or texting you. But most likely: They're just not that into you.While this may sound hard at the beginning, it is actually much easier to make peace with than an unanswered email or the dragging process of speculating.
Candidates spend a lot of time on their application materials and process and therefore deserve an answer appreciative of their effort. Also, once drafted, the process can easily be automated by the recruiter.
When sending out a rejection email, be sure to consider the following:
Be respectful and professional; thank candidates for the time invested in the process and their interest for your company
If the candidate might be eligible for other positions and fits the company culture, encourage the person to apply again or ask them if they would like to be kept on file (see Template below)
Be clear about the rejection and don't use any words open for misinterpretation
Don't include the reason for rejection (doing so often runs the risk of discriminating)
An example of how to implement these steps into an email draft can be seen in the template below.
Email Template for rejection

Subject: ____ Position
Dear Candidate Name,
Thank you very much for taking the time to interview with us for the ___ position. We appreciate your interest in the company and the job.
I would like to inform you that we have filled the position with the candidate whom we believe most closely matches the job requirements. However, we will keep your application on file for consideration if there is a future opening that may be a fit for you.
Again, thank you for meeting with me.
Best regards,
Hiring Manager
Customer-centric organizations leverage Retorio's AI to support their own talent management teams. Our video-based AI was featured in TechCrunch and Süddeutsche Zeitung .
Posts You May Like: