Valuing your customer's trust and driving operational excellence is crucial when it comes to effective claims management.
Whether you are in the insurance industry, the healthcare sector, or any respective field that involves processing claims, it is vital to be able to streamline and enhance your claims management operations to ensure that all parties are satisfied and all claims are taken care of effectively.
You may have already updated your claims software and automated all key processes to increase productivity, reduce costs, and elevate your services. That is great! However, there is more to it than just that.
Successful claims management is a process that strives for continuous improvement. Even minor changes can have a significant impact on your bottom line. Therefore, making linkages between vendors, people, and strategies is essential to a claims management system that delivers the best results.
This blog post will cover eight ways you can improve your claims management process with a training example that focuses on how your employees can handle a customer claim in an efficient manner.
What's in this post?
What is claims management?
In the realm of business and insurance, claims management refers to the systematic process of managing and supervising any claims reported by clients or policyholders. It covers the complete lifecycle of a claim: from filing a claim to its resolution.
The main purpose of claims management is to provide clients with a safe guarantee that their claims will be processed effectively, equitably, and in accordance with the current laws and regulations.
In essence, claims management is a collection of duties and activities centered on the evaluation, verification, and settlement of claims. The process of claims management usually entails the following:
Gathering and evaluating paperwork.

Examining the facts, and regulations surrounding the claim/s.

Verifying the legitimacy of the claim.

Determining the level of coverage given by the policy.

Negotiating settlements where it is necessary for the claim to be successfully resolved.
Why is claims management important?
Having an effective claims management system in your critical for businesses, particularly insurance companies. This is because claims management assists in painting customer satisfaction, minimizing potential financial losses due to fraud or excessive claims, and ensuring that the organization is operating in conformity with all the legal and regulatory requirements.
Furthermore, it contributes significantly to the firm's image and trustworthiness if the company is able to portray a strong commitment to fair and timely claims management.
How to improve your claims management
Investing in the improvement of your claims management services is crucial for insurance companies, healthcare providers, and claims management companies that take on the responsibility of handling claims.
Being efficient with this process can help firms reduce costs, boost customer satisfaction, and streamline operations to improve productivity.
Here are eight ways to do so:
Make the most of your claims data
A claim generates a lot of valuable data, and if implemented into the right technology - it can help you decipher the data and tell you what it means.
By using Artificial Intelligence, analyzing the data can help you identify the following (examples):
Complex claims will gain the most advantage with early intervention and an expert adjuster.

Claims that have a high likelihood of fraud can be swiftly forwarded to an investigator.

Claims that have a high likelihood of litigation in order for defense attorneys to begin building a case right away.

Claims towards healthcare providers that require more medical resources to assess whether the current therapy option for a patient is the most suitable practice.
Companies can also use the insights as an advantage to improve customer services, stay ahead of market developments, and keep their firm competitive and customer-centric.
Record all claims thoroughly
Once a claim has been filed, be sure to keep an accurate record of it, and all the claims in general. This includes keeping a detailed record of all the details involved in each claim such as the facts, claimant information, incident details, supporting papers, and any information from past communication.
Accurate and detailed documentation is beneficial for improving your claims management as it promotes openness and compliance but also makes the claim evaluation process less complicated to understand, and makes the settlement of each claim more efficient.
Companies will also be able to examine any recurring patterns in the claims they receive, identify process bottlenecks, and consistently improve their claims management procedures by keeping thorough records. This will result in an increase in customer satisfaction, and operational performance.
Adhere to the 24-hour rule
When a claim has been received, don't wait too long to find solutions for it. Claims that linger around will cost more, and this is especially true when it comes to employee compensation claims.
Any delays in responding to your employees will give off the negative impression that you do not care for their concerns and requests. This may cause your employee to terminate their contract or cause conflict.
Therefore, to enhance your chances of success, try to make the first contact within 24 hours. Even if it means communicating early to suggest a postponed meeting date to discuss the claim properly - it is better to let them know you are aware of their claim, rather than ignore it.
Integrate vendors into your team
Vendors play an important role in your claims management process. Depending on your industry, vendors can include attorneys, medical experts, vehicle repair shops, contractors, and medical case managers. They all belong to an extension of your risk management team.
Building and strengthening these relationships will help your company to balance large workloads, control expenses, and improve efficiency.
You can start by getting to know your vendors on a more personal level, setting clear performance goals for them, and keeping them responsible for their tasks.
Approach work-related and non-work-related claims equally
Although it may be difficult at times, it is important that you address all claims with the same amount of importance. Non-work-related injuries/claims, and lost time claims should be addressed the same way.
Think about it - how would an employee who hurt their back at home react if they did not get permission to take six to eight weeks off to recover if they saw another employee hurt his or her back at work but was allowed to take time off, without the company accommodating the injury?
Employees will see this situation as unfair and refuse to cooperate. This may also lead to difficult claims and disagreements to arise between the company, the doctors involved, and the employees themselves.
Therefore, ensure that your claims management program considers all employee injuries, regardless of their cause. It shows your employees that you care about their well-being because they are part of your organization's success, and not only if they are present in the office.
Maintain clear communication
We all understand the importance of clear, transparent communication within an organization. After all, it is the foundation for building trust. In the case of improving your claims management, clear and transparent communication fosters credibility with claimants.
It informs them that their claims are being handled properly and professionally. This has the potential to vastly improve the level of happiness and satisfaction among customers, as well as increase their loyalty towards your company. Especially if they know that they can trust you to communicate well with them.
How can you achieve this? You can do so by:
Providing timely updates. Keep your customers informed about the status of their claims. It is always a good idea to give updates rather than stay silent and leave them questioning your effort. It also enables fast and correct exchanges of information and paperwork which will help you speed up the claims management process.

Use a user-friendly communication channel that allows information and dialogue to flow easily between you and the clients.

Set clear expectations on the steps that need to be taken in the claims process so they are also aware of what they can anticipate. Train your employees to assist clients effectively when it comes to the claims process by communicating the process clearly to them.

Make sure that you follow all the legal and regulatory obligations when it comes to communication. This includes privacy and data protection laws.
Prioritize the customer experience
Prioritizing the customer experience really means making the claims process as seamless as possible. You can impress by showing them your ability to settle and close out a claim with a straightforward process that prioritizes the client's needs.
Place the customer at the center of their approach. Simplify the claims process, and provide accessible information that will empower your customers to navigate the claims process with greater confidence.
Invest in employee training and development
If your employees are not performing well when it comes to claims management, the trust that your clients have for your company, and the productivity of the organization will gradually decrease.
Investing in high-quality employee training and development is therefore critical to improving your claims management. It provides your employees with all the necessary skills and behavior training they need to handle all types of claims efficiently and professionally.
With the right training, employees will be able to keep up to speed on the industry's best practices, regulatory changes, and communication skills to ensure that they are well-prepared to help all customers in any given situation.
This will lower the occurrence of mistakes and delays in claims processing, but it also creates an organizational structure of excellence and continuous improvement. Your employees will deliver consistent, high-quality service which leads to increased customer satisfaction, retention, and overall claims management efficiency.
Your employees are essentially the powerhouse of your claims management process.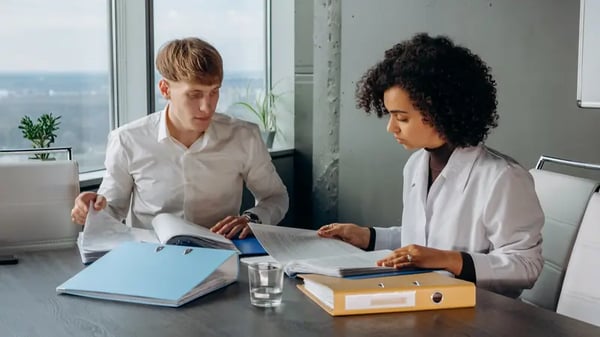 Improving your claims management process is not a lost cause. With the right tools and employee training, productivity and efficiency can be sky-rocketed.
An additional pro tip when it comes to improving your claims management process? Switch to digital claims instead.
As mentioned before, digital claims enable an insurer to manage the entire claims lifecycle with one solution by automating claims with the use of Artificial Intelligence (AI) and machine learning. What else? Obtain important insights from the data you collect.
Training example for improving claims management
Good training leads to positive outcomes and better knowledge gained among your team. What are some of the training examples that you can implement in your organization? We have some ideas below.
Claims management in insurance
Given the nature of an insurance company, customers have little to no interaction with their insurance company until they reach out for assistance or a complaint. Therefore, customer experience is heavily determined by the way an insurer handles the claims received.
Training and development ideas for improving claims management for insurance companies:
Real-life scenarios: These scenarios can be achieved through AI-powered training programs that immerse employees into a real-life situation with a customer approaching them with a claim. This trains employees on how they should respond appropriately and professionally to get the right information, how they can handle a difficult customer, and how they should respond to maintain good customer service.

Customer service skill enhancement: Train your employees to become efficient communicators, and have empathy and understanding for their customers' concerns. Train them for conflict resolution and manage customer inquiries swiftly and courteously. Train them how to be patient when it comes to communicating the right information customers may not understand it at the first go. A frustrated employee on a call with a customer can lead to angry conversations and poor claims management.

Fraud detection: Train employees to spot claims that could be potentially fraudulent, as well as be able to notice red flags and take the necessary action to reduce any risks of encountering fraud.

Knowledge of regulations and laws: Provide training on legal concepts and terminology related to claims management to employees who are involved in more complicated claims. This will help guarantee appropriate interpretation of the claims they are working with, and ensure a professional handling of legal documents.

Crisis management: Employees should be trained to manage crisis events in a calm and efficient manner. They should also be trained to adhere to corporate rules such as natural disasters or large-scale claims without panic, but approach it with motivation to find solutions and lay out a strategy.
Claims management in healthcare
When it comes to healthcare providers, claims management can touch on several sensitive topics. Therefore, it is crucial to maintain calmness, and professionalism when handling customer reports and keeping them as up-to-date as possible to ensure long-term trust and loyalty to your healthcare company.
Training and development ideas for improving claims management in healthcare companies:
Consistency: Train employees to learn the importance of consistency when it comes to healthcare. Employees should be trained to follow standardized communication protocols and use consistent language and terminology to address each claim correctly and professionally. this will help to reduce confusion for customers and enhance the overall customer experience if information is communicated clearly.
Feedback loops and regular updates: Train employees to provide continuous feedback and updates on their claims process. Stay up to date on the information regarding each claim and schedule calls with the customers to inform them of what is coming next.
Empathy and active listening: Train employees to activate their empathy and active listening skills when communicating with customers. Provide clients with the appropriate resources that explain the claims process to them and have open ears to listen to their concerns and acknowledge them right away.
When it comes to your tone of voice, facial expressions, social focus, and language - Retorio's AI-powered training platform provides you with an in-depth overview of your communication style. It explains to you the importance of each feature, what the analysis has observed, and what is expected of you to improve your skill in each area.
The training platform also screens your response, lets you know what you said correctly, and lets you know how you can improve.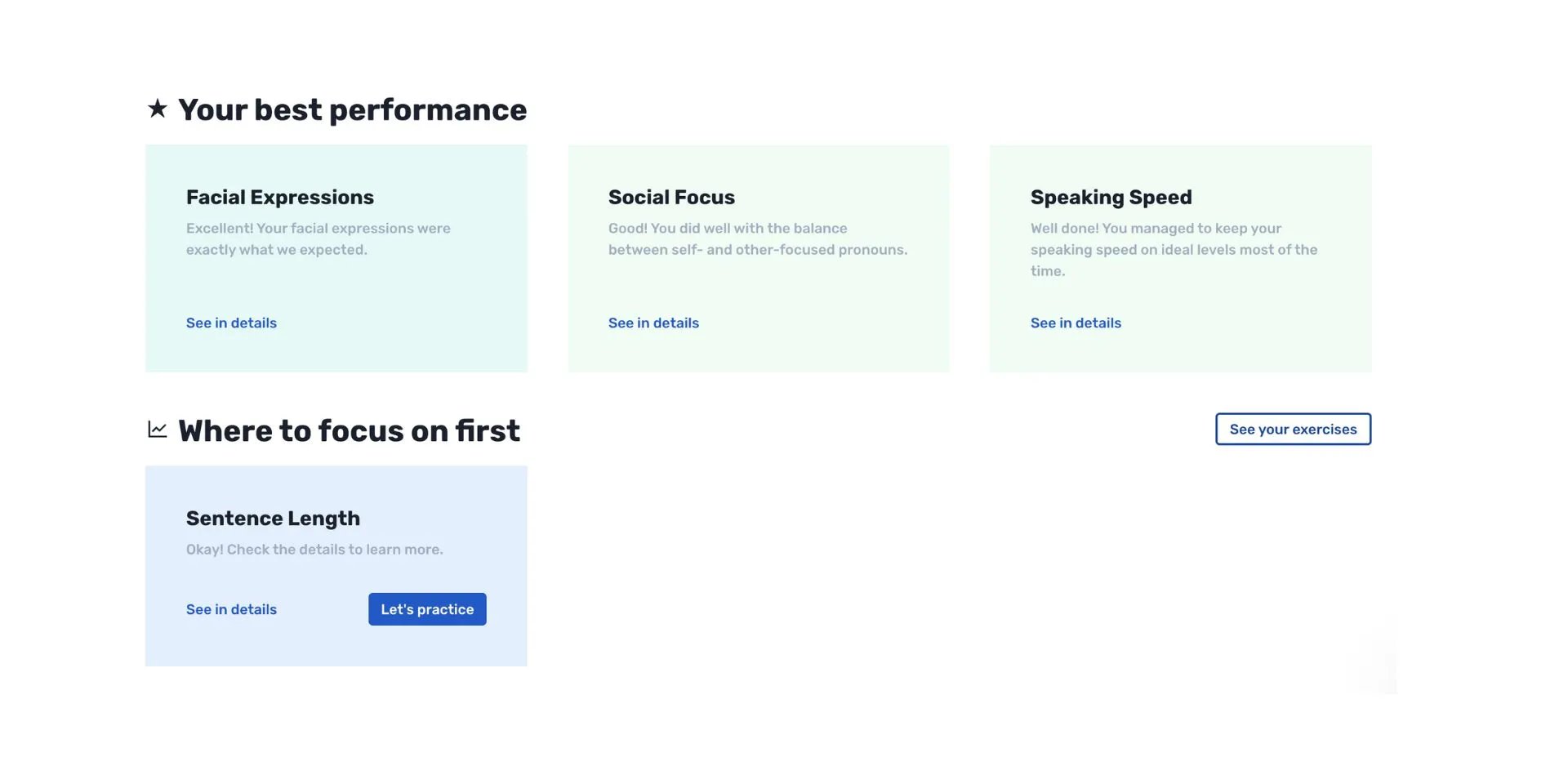 Retorio's AI-powered platform provides direct feedback on your performance, highlighting your strengths and suggesting areas for improvement within 5 minutes of completing the first scenario.
Essentially, Retorio's training platform is a mirror of your own behavior. Retorio's training platform pays attention to what you are showing us as you move through each exercise. As you develop your skills, you are invited to discover how the changes in your responses and behavior can lead to a different impression of yourself and how customers perceive you. The training platform also guides you on how you can actively modify them through personalized training sessions using video-based, role-playing games.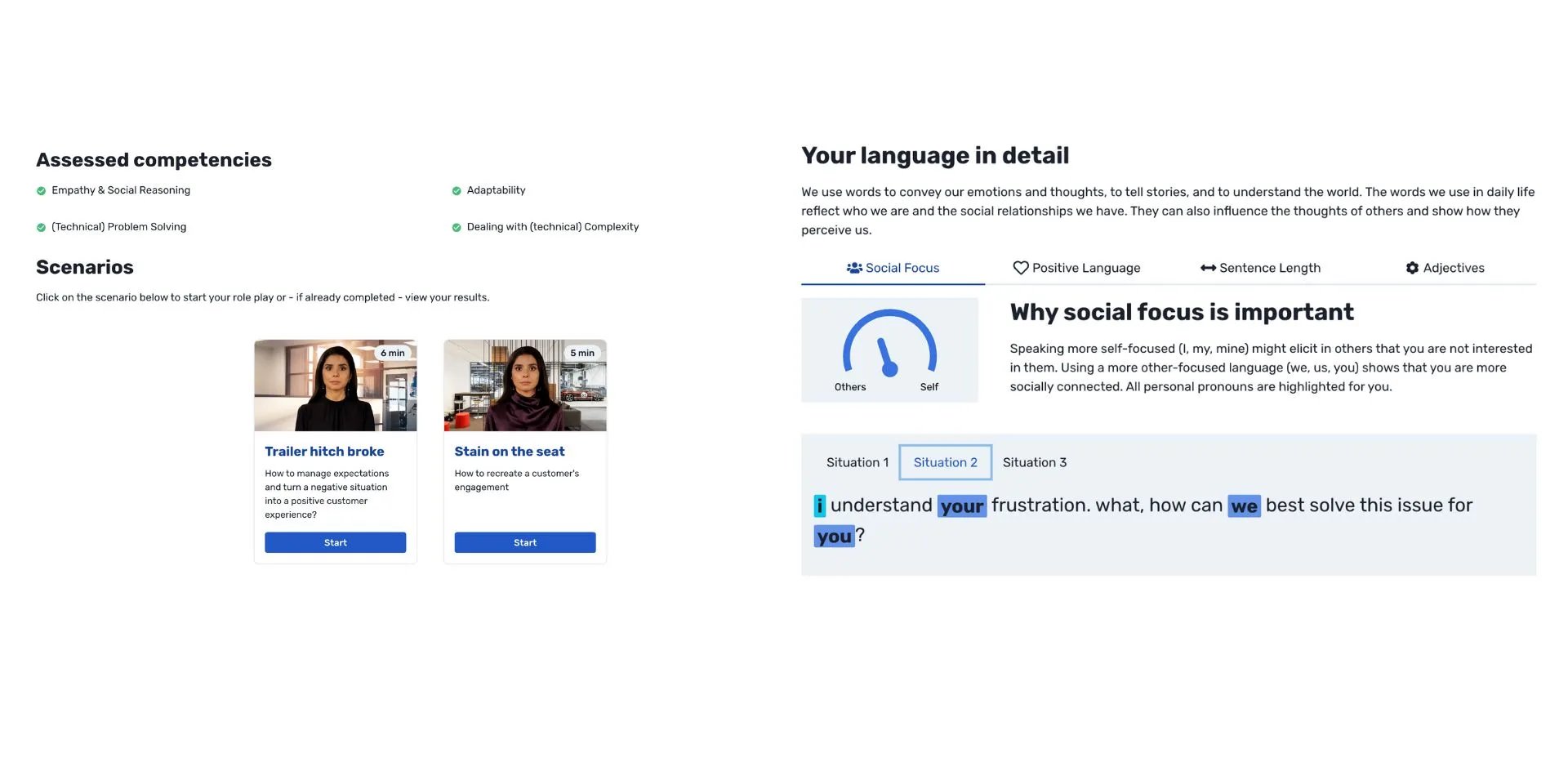 Retorio's behavioral intelligence platform focuses on the importance of customer service when it comes to claims management to ensure that employees approach easy and challenging situations confidently.
You get to see your responses to different virtual customer interactions and get tailored feedback on where you can improve. You also get an individual development plan with recommended exercises designed just for you.
Sounds like a right fit for you? Explore all there is to know about enhancing your Learning and Development (L&D) programs with Retorio by clicking the button below!
FAQ
Claims management's main purpose is to assist insurers and companies in processing claims in a more accurate and consistent manner that lowers the risk of mistakes, miscommunication, and fraud.
An insurance claim is a formal request directed to an insurance company for coverage or reimbursement for a covered loss or policy event made by a policyholder. The insurance company would validate the claims and if accepted pay the insured or an authorized interested party on the insured's behalf.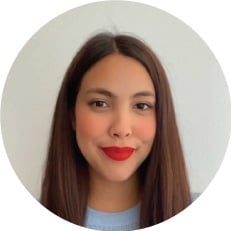 Anna Schosser
I create engaging and informative content about the importance of artificial intelligence and video-based AI technology for recruitment. I discuss cutting-edge AI developments and new technology with storytelling skills.