💡Did you know that leadership training is a $366 billion global industry?
Numerous high-growth organizations are prioritizing leadership development by investing in high-quality corporate leadership training programs that improve talent and help attract top talent.
Therefore, the importance of facilitating effective corporate leadership training is vital to identify current and future leaders of an organization and keep employees retained, engaged, and performing at their best.
However, if not the training is not implemented well, companies do not get a good return on their investment and thus begin to revert to the old methods. As a result, performance growth is hindered.
This article will delve into how you can conduct leadership training that will bring about organizational transformation, improve corporate culture, and develop corporate leaders who are ready to be at the forefront of innovation.
What's in this post:
What is corporate leadership training?
Corporate leadership training is a method of preparing current and future leaders with the right skills and competencies to help them face business issues and challenges that come with managing a company successfully and reach peak performance.
They are essentially training courses that help leaders build confidence in their role, learn new skills, and refine old ones to lead teams effectively.
A corporate leadership training program is suitable for everyone in a supervisory position, from junior managers to senior leaders who want to stay on top of their game and continuously deliver top performance.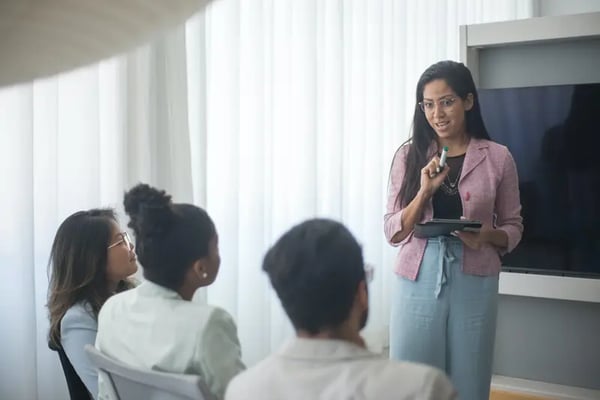 Leaders take part in corporate leadership training to enhance their leadership skills and boost organizational performance.
What are the important leadership skills?
Good leadership requires a range of skills. To keep their teams moving forward and boost employee commitment. Leaders must also be able to manage time effectively, handle conflict tactfully, solve complicated challenges with strategic thinking, and distribute tasks efficiently.
Good leaders should also have strong critical thinking skills, as well as interpersonal, organizational, and collaborative abilities. These skills are taught in training programs
In order to have effective leadership for a successful organization, there are five main skills needed in every leader. Of course, there are more skills that every leader should have. However, these are the skills that will create a strong foundation for obtaining other strong leadership skills.
Be a motivator
One of the core skills of a good leader is being able to motivate employees to do well in their work. This is not just about ensuring that the day-to-day work of an employee is being completed, but it is also about encouraging each team member to be engaged in their roles and reach their full potential.
Therefore, leaders need to gain the skill to understand what motivates their employees to do well. Leaders should continuously work on creating the appropriate conditions for their employees to stay motivated and to pinpoint any challenges and roadblocks that are preventing them from succeeding.
Motivation is what drives an employee to success and is important when it comes to employee satisfaction. The ability of a leader to motivate people will impact how successfully they engage and retain employees, which defines the organization's overall performance and success.
Being able to build trust and influence
Managers develop into leaders by building trust and influence.
To become the type of leader that inspires their employees to achieve great performance, leaders must rely on their positional authority. Leaders need to have the ability to persuade the people that they lead to follow them because they want to, and not because they are obliged to. With this ability, leaders will create a team that is built on trust and productivity.
Therefore, leaders should establish this trust by forming stronger connections with their employees that are rooted in trust and authentic influence.
Being able to communicate effectively
In order for leaders to build trust, they must be able to communicate effectively with their team.
Clear communication of goals and expectations gives employees the clarity that they require to accomplish their tasks successfully and confidently.
The communication that leaders establish through leadership programs should be honest, polite, and mutually beneficial. Leaders should be adept at hearing employee concerns and ideas and responding to them in a timely and effective manner that makes them feel heard and understood. Having this skill will allow employees to feel safe and encouraged to voice their opinions in the future, which will result in a positive and motivating work environment.
Many leaders maintain healthy communication with their team by providing regular, constructive feedback, and recognizing and rewarding achievements consistently at the right time.
Being able to create a positive work environment
Creating a positive work environment may be a skill that is overlooked, but it is in fact one of the most crucial ones of all. Having a negative work environment will only result in conflicts, lowered productivity, and a high turnover rate.
Therefore, the ability of a leader to develop and maintain a positive, and collaborative work environment is a fundamental leadership skill that has a significant impact on how successful a leader is in engaging and retaining high-performing employees.
Leaders who are able to gain this skill ensure that their organizations provide the best circumstances for their employees to succeed. Employees usually have a strong sense of belonging when a work environment is inclusive and happy, which leads to effective collaborative efforts and high performance.
Encourage professional growth and development
In order to keep talented employees in the organization for a long time, leaders should prioritize in investing in the growth and development of each employee to let them know that the organization sees a future with them.
Leaders should demonstrate their commitment to employees by offering learning opportunities through training programs to improve their knowledge and skills, or management training to support them in their path of advancement. Doing so will not only help companies retain employees, but it will also help to build a strong leadership pipeline for the future.
Employees who get the opportunity to learn and train on the job are

47% less likely to feel stressed, 39% more likely to be productive, 23% more ready to take on new duties, and 21% more confident and happy in their role

, according to LinkedIn research.
How to conduct corporate leadership training
Leadership training is an ongoing process. It is not a one-and-done because it should be different every time. However, having a consistent groundwork for effective leadership training is important. Let's take a look at how your organization can conduct corporate leadership training in just a few steps.
Develop a culture of continuous learning
Learning is about improvement, and improvement can only lead to increased productivity and a closer reach to success. Therefore, if your organization values learning and development, your company culture will reflect the success of your corporate training program.
Organizations should encourage employees to continuously seek improvement and opportunities to learn new skills, refine old skills, and recognize and reward the employees who are putting in the effort to do so.
Developing a culture of continuous learning and nurturing a growth mindset in your organization is the first vital step in conducting corporate leadership training that will result in long-term success.
Identify training needs
Start conducting leadership training by facilitating a thorough needs analysis to identify all the leadership skills gaps that need to be filled or improved on within your company. You can do so by sending our surveys, and interviews, collecting data during performance reviews, and feedback from employees to gather information on what skill development or training method to focus on the most.
It is important to know what your employees more so than what your organization thinks it needs. Your employees are the powerhouse - know their needs, give them a personalized solution, and watch their performances and work output skyrocket.
Set learning objectives
Once you have identified the skills and competencies that require improvement and development, go ahead and define your learning objectives.
You can do so by considering the leadership gaps that your organization is facing. Do you have difficulty in promoting new leaders or hiring new leaders? What skills are missing in each manager that would make them ready to become a leader?
When setting the objectives, remember to make the objectives clear and measurable. The objectives should also align with your company's strategic goals and address all the training needs. Therefore, reflect on the leadership traits and skills that your company values most. By doing so, you are also gaining a better understanding of what your best leaders have in common and can help in decision-making when it comes to hiring new leaders.
Implement different leadership training methods
A good leadership training program works best when it is personalized to meet the learning needs of each employee. However, it is also a great idea to combine diverse training methods into the training program to expand on different skill sets in different ways.
Here are some of the most commonly used training methods:
One-on-one learning: This is when you pair senior executives with leaders who have just taken on their new roles for knowledge transfer or succession. This method was corroborated by Dr. Sydney Finkelstein, professor at Tuck School of Business at Dartmouth College, who researched world-class leaders for over 10 years to establish what sets them apart.

Self-directed learning: Leaders grow well in collaborative and challenging environments, and not so much in isolation. However, self-directed learning is a form of corporate learning and development that is beneficial to teach leaders important soft skills such as communication and strategic thinking to develop their leadership styles.

Group learning: Group-based learning involves both internal and external activities, and can be used to identify top-performing employees with the potential to take on leadership roles, train future leaders to understand different group dynamics, enable leadership team development, and prepare leaders to tackle real-world challenges.
Having different leadership training methods is ideal for creating a more dynamic and engaging training culture that does not only consist of long workshops and seminars.
Include experiential training
Companies can include experiential training in their leadership programs by giving leaders the opportunity to practice leadership principles and skills in real-world circumstances.
Companies can do so by incorporating immersive simulations with AI-powered role-play, team-based projects, in-person role-play exercises, or leadership challenges that mirror workplace settings. This exposes leaders to what they can face on a day-to-day basis and trains them to respond to situations efficiently and professionally.
Experiential training promotes active participation, problem-solving, and learning new skills via hands-on experiences. This allows leaders to obtain firsthand insights and skills that they practice today and can be applied to their tasks tomorrow.
Define what success looks like
What does success look like to you, and how does your training bring about that success?
With that being said, your corporate leadership training programs require a definition of "success". Measure its impact, and key indicators that will let you know how well your training is doing.
You can track its success by reflecting on the following indicators:
How many participants have successfully completed the training?

How many participants have been promoted as a result of the training?

Conduct a 360-degree skills assessment and get insights from peers on what they think about each participant's leadership development.

Have your employee's responsibilities increased?

Has your employee's performance level increased?
Why should you invest in corporate leadership training?
The most compelling reason for why you should invest in corporate leadership training is growth. If your employees are not motivated to level up on their personal and professional development, your organization may face challenges in the long run. However, that is not the only reason.
Here are four reasons why your organization should invest in corporate leadership training:
Improved bottom-line financial performance: Leaders improve their decision-making skills, communication skills, and strategic thinking abilities through leadership training. This development leads to increased productivity and retention which consequentially improves a company's overall efficiency and customer satisfaction. Furthermore, good leadership stimulates innovation and adaptation. This allows organizations to efficiently traverse through any difficulties smoothly. Therefore, companies that rank high in their level of investments in human capital have stock market returns that are 5 times greater than companies that place less importance on human capital.

Attract, develop, and retain top performers: Leadership development enhances employee engagement, which automatically improves an organization's ability to manage gaps in the talent pipeline, and decreases the stress and high expenses that are associated with turnover. Strong leaders are able to attract, hire, and encourage employees to deliver their best performance. Converesely, a leader who lacks good leadership skills will have difficulting attracting and retaining top talent. Additionally, developing, coaching, and promoting employees internally is less expensive in the long term than hiring someone external, making leadership training a smart investment.

Enhance leadership strategy execution: Effective leadership development is not development for the sake of just development. Companies require a clear and defined leadership plan that is well aligned with the company strategy and provides employees with the leadership abilities required to implement it. Furthermore, companies can influence their culture and strategy through leadership training, especially when cultivating a continuous learning culture and growth mindset.

Boost success: With better leaders, comes more success. People's ability to lead well in a dynamic business world improves with corporate leadership training. Agility increases when firms go beyond developing senior leaders and potential leaders to access their full potential.
Corporate leadership training is all about training your leaders and potential leaders to become the type of people that your employees enjoy working with and deliver top performance. However, training programs can be difficult to navigate, and it can be even more of a challenge to get employees motivated to participate.
Retorio's behavioral intelligence platform delivers a library of training programs that offer personalized learning to each individual's learning style. Become immersed in AI-powered video role plays that will train you to face any real-life work situation with confidence and expertise.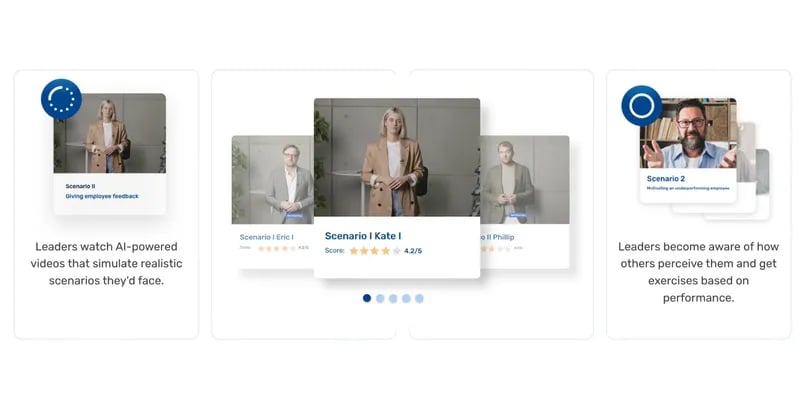 What better way to prepare leaders for real-life challenges than immersing them in those scenarios with AI-powered training?
What's more? Received real-time, tailored feedback about your performance and recommended exercises based purely on your strengths and areas for improvement. It's easy to use, accessible 24/7 and allows you to train in a psychologically safe space.
Click on the button below to dive straight into Retorio's AI-powered training platform and train your leaders to improve in their roles today, and potentially become great leaders tomorrow!
FAQ
Some examples of what leadership training should include conflict resolution, being able to adapt to change, problem-solving, learning how to be a virtual leader when it comes to leading a digital team, project planning, and delegation, fostering innovation, building trust and respect, facilitating effective team meetings, motivating and encouraging employees, improve on communication skills, and knowing how to coach employees to improve their performance.
The key qualities of a good corporate leader is having a dedication for the company's success, boosting their team's success, a motivation to gain new knowledge and improving on skills, and a leader that knows how to motivate their employees and lead by good example.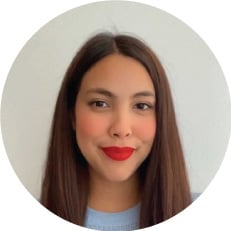 Anna Schosser
I create engaging and informative content about the importance of artificial intelligence and video-based AI technology for recruitment. I discuss cutting-edge AI developments and new technology with storytelling skills.