With a new employee, comes another valuable asset joining the team. Therefore, it's critical that you start off on the right foot and know the right steps to take to develop a successful onboarding experience that your new hires will value and enjoy.
A study by Glassdoor reveals that effective onboarding has proved to

boost new hire retention by a whopping 82%

.
Learn how to show new hires what a great company you are by nailing down the recipe for creating an effective new hire training program that will generate performers who will contribute to your organization's success.
What's in this post:
What is a new hire training program?
A new hire training program is a process that is designed for onboarding new team members into the company and bringing them up to speed with their new tasks and responsibilities.
It involves providing new hires with educational resources and activities to help them learn about their role, the company culture, and what their employers expect of them. The resources are there to train new employees on how to perform their tasks well, guide them through the company structure and company policies, and learn about the workings of their company's facilities.
The training process typically begins on the first day of their new job and continues for 6 to 12 months until they are well-versed in their role and become independent in accomplishing their tasks.
The new employee training program is incorporated into the onboarding process as a way to introduce new hires to their coworkers, allow them to form strong relationships, and boost employee morale.
The importance of new hire training programs
There are a number of reasons why new employee training is important. Aside from the fact that new employee training is a major booster for employee performance, employee retention, and employee engagement, it also helps organizations ensure that each of their employees consistently delivers top-notch performance and is continuously developing new skills.
Furthermore, new hire training programs play a pivotal role in nurturing a new employee's professional growth and allowing them to gain confidence in their role, and reach long-term success.
Here are a few more reasons for its importance:
Provides support: A new employee training program is essentially a much-needed support system for new hires to become acclimated to their roles and responsibilities. It is a time when new employees are given the space and time to raise questions and voice any concerns or doubts they have about their tasks, employer expectations, or company resources. Providing new hires with support within the first few weeks at their new job will improve your employee retention rates and make new employees feel more comfortable and self-assured in their role.

Enhances productivity and work efficiency: Productivity and self-efficiency follow swiftly as a result of new employees feeling confident and knowledgeable in their roles. An effective training program helps new hires learn new skills at their own pace. Therefore, as they increase their competencies and develop a strong grip on performing their tasks individually and successfully, the overall productivity and work quality will increase. Fewer mistakes are made, and fewer occurrences of miscommunication will take place when new hires receive support and guidance right from the start.

Improving company procedures and training programs: A new hire training program creates a clear record of what your company teaches all new hires. This record will turn into a record of best practices for your organization and can help you to develop a guide showcasing what your current employees already know, and potentially identifying any skill gaps. As a result of this, organizations gain the opportunity to develop additional training programs to further enhance the abilities of their experienced employees. On the other hand, new hire training also formulates tracking records for what each new employee has learned so far, and what they have yet to learn.

Clarifying expectations: One of the most important things that a new hire training does is show new employees what their managers or supervisors are expecting of them in terms of workplace behavior, productivity, and performance. Therefore, having a new hire training program shows allows incoming employees to be aware of how they should perform, what they need to achieve, and how they can achieve it.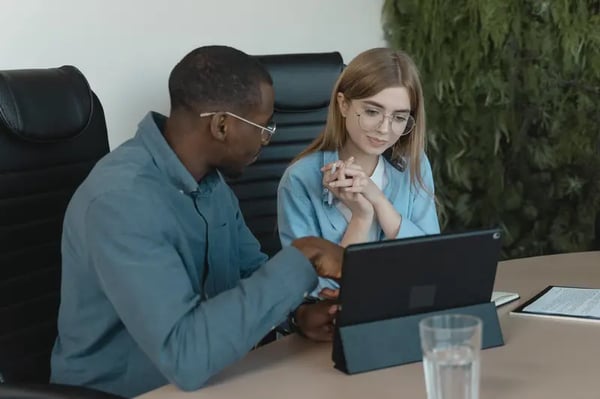 Training new hires sets the foundation for how well you are enabling them to perform in the long run. Find out how you can expedite your onboarding process here.
Tips for creating an effective new hire training program
The key to creating an effective new hire training plan is to make sure that the training materials focus on skill development, employee development, and catering to the various learning styles of each individual.
Prepare in advance
We all know the dangers of no preparation. We prefer not to face them. The same can be said for training new employees. A smooth onboarding process truly begins when managers and the HR team come together to prepare for a new hire's first day before the first day actually begins.
Statistics have shown that

83% of high-performing companies

start the onboarding process before a new hire's first day of work.
Here are a few basics to keep in mind when preparing:
Have the new employee's desk or workstation ready and organized.

Make sure that they have been granted access to everything they need to perform their job. This includes any credentials needed for software logins or permission to set up an e-mail account.

The equipment or tools needed for this role is ready to use and the instructions on how to use them and any necessary safety protocols are ready at hand.
One way to prepare for new hires is to create a well-defined employee training plan template that covers all the responsibilities related to their role and the training activities or workshops that they are expected to participate in for the next 90 days.
In order to keep track of the training that a new employee participates in, having a new employee training checklist helps managers, the HR team, and new employees themselves have a clear overview of what training they have achieved so far, and what further training is missing or needed.
Understand the needs of your new hires
Before you dive your new hires into their training plan, conduct a training needs assessment to gain valuable insights into the experiences and knowledge that your new hire brings to your organization. This will also allow you to pinpoint any knowledge gaps, skill gaps, and learning preferences of each new employee which can help you to personalize their training experience to increase efficiency.
Understanding the needs and opportunities of your new hires will show them that you care about their professional and personal growth, and nurture their unique talents.
Furthermore, having personalized training programs ensures that you are addressing the exact areas that need improvement and capitalizing on strengths. This way, you also avoid the one-size-fits-all approach and focus more on understanding the unique requirements of each employee. This will lead to a more efficient and focused training program that leads to faster skill development, and increased job satisfaction.
Provide new hires with training packets
Training packets are great in giving you and new hires a detailed overview of the onboarding objectives along with the outline of their personalized training schedule. Training packets also allow new employees to have something to refer to during their initial training period for guidance until they have a better grasp of their workplace processes and how to complete tasks.
It is vital that new hires are provided with as many details about their onboarding process and training plans as possible. This gives them a sense of stability and belonging to your company, and helps your organization keep better track of where each new hire is within the onboarding process.
Having training packets for each new hire is also more efficient than simply telling new employees what their training schedule is and expecting them to remember because it is also most likely the case that you will forget it yourself! Along with the given instructions and written guidance on training packets, you will also save time on repetitive inquiries.
Also, don't we all appreciate a little bit more structure to such a lengthy and detailed process like new hire training?
Northpass reveals that organizations that have a structured onboarding process

experienced a 60% year-over-year improvement in revenue

.
Involve your current employees
Don't forget the value that your seasoned employees bring to the workforce, especially when it comes to onboarding and training a new team member.
Everyone on the team should be aware of a new hire's first work day so that everyone is ready to show them the ropes and be open to answering any questions they may have. Involving your current employees also helps new hires build good relationships with their coworkers, gain a sense of company culture, and cultivate a more harmonious and productive work environment.
Involving current employees can also help them with their development. By helping new hires perform their tasks, seasoned employees can benefit from being teachers by getting the chance to refine their knowledge and abilities as they go back to basics while also discussing new techniques and exchanging ideas with new hires.
Schedule regular check-ins
Since the onboarding process goes on for typically 6-12 months, employers as well as training leaders should conduct frequent check-ins with their employees to make sure that everything is running smoothly and to resolve any challenges or obstacles that may be standing in the way right from the beginning. This can help prevent mistakes from occurring on the job or new employees leaving the company due to a lack of feedback or involvement.
These check-ins can be scheduled once every week until the employer feels like the new hire has settled well into their role and can perform independently. Once the new hire has surpassed this level and the employee has gained more confidence and competency in their role, employers can schedule monthly or quarterly check-ins.
On the other hand, organizations can also take on an incremental improvement approach, which is also known as "kata", check-in meetings can also become part of an ongoing coaching process for new hires.
New hire training program examples
There are different effective training methods that companies can implement into their new hire training plan to improve the efficiency of training sessions and the overall employee onboarding experience.
Here are the four most commonly used methods:
| | |
| --- | --- |
| Method | Explanation |
| On-the-job training | This method is one of the most commonly used training methods for new employees. On-the-job training is famous for having new employees train as they work. Instead of participating in external training programs, new hires dive straight into learning about their tasks and responsibilities by performing them right from the get-go. This method focuses on implementing a hands-on approach in either a live or simulated training environment, under the supervision of a supervisor or mentor. |
| Online training | This training method allows new hires to access all of the required training information online through websites, online modules, video conferences, or any other interface. Online training is accessible on any smartphone, tablet, or PC with a WiFi connection and it can involve webinars, simulations, or games to teach new concepts to new employees. This method of training is often used for remote working positions or job positions that do not require in-person interaction. |
| Hybrid training | Since companies are steadily moving towards implementing a hybrid workforce, new employee training programs can also adopt a training method that is a combination of both online and on-the-job training methods. This form of training involves an in-person introduction and virtual follow-up meetings or activities where new hires can practice skills and abilities. It is like the best of both worlds and is also often known as blended learning. |
| Peer learning | Peer learning involves experienced coworkers sharing their knowledge and expertise with new hires to help them develop skills and competencies through the experience of those who have done it before. |
Statistics show that new employees are 18 times more committed to an organization if they have experienced a positive onboarding training process, and Retorio definitely agrees with this. However, the importance of a leader's behavior during the onboarding process plays an impactful role in whether an onboarding training experience will be efficient or not.
With Retorio's behavioral intelligence platforms, leaders get the chance to truly unleash their full potential and work through old behavioral patterns that are preventing them from being the powerful they know they can be.
It may sound impressive, and that is exactly what Retorio aims to deliver. Retorio's AI-powered training platform offers high-quality training that immerses individuals in realistic workplace scenarios through video AI role-play and trains them on how to respond, react, and handle various situations professionally, and efficiently.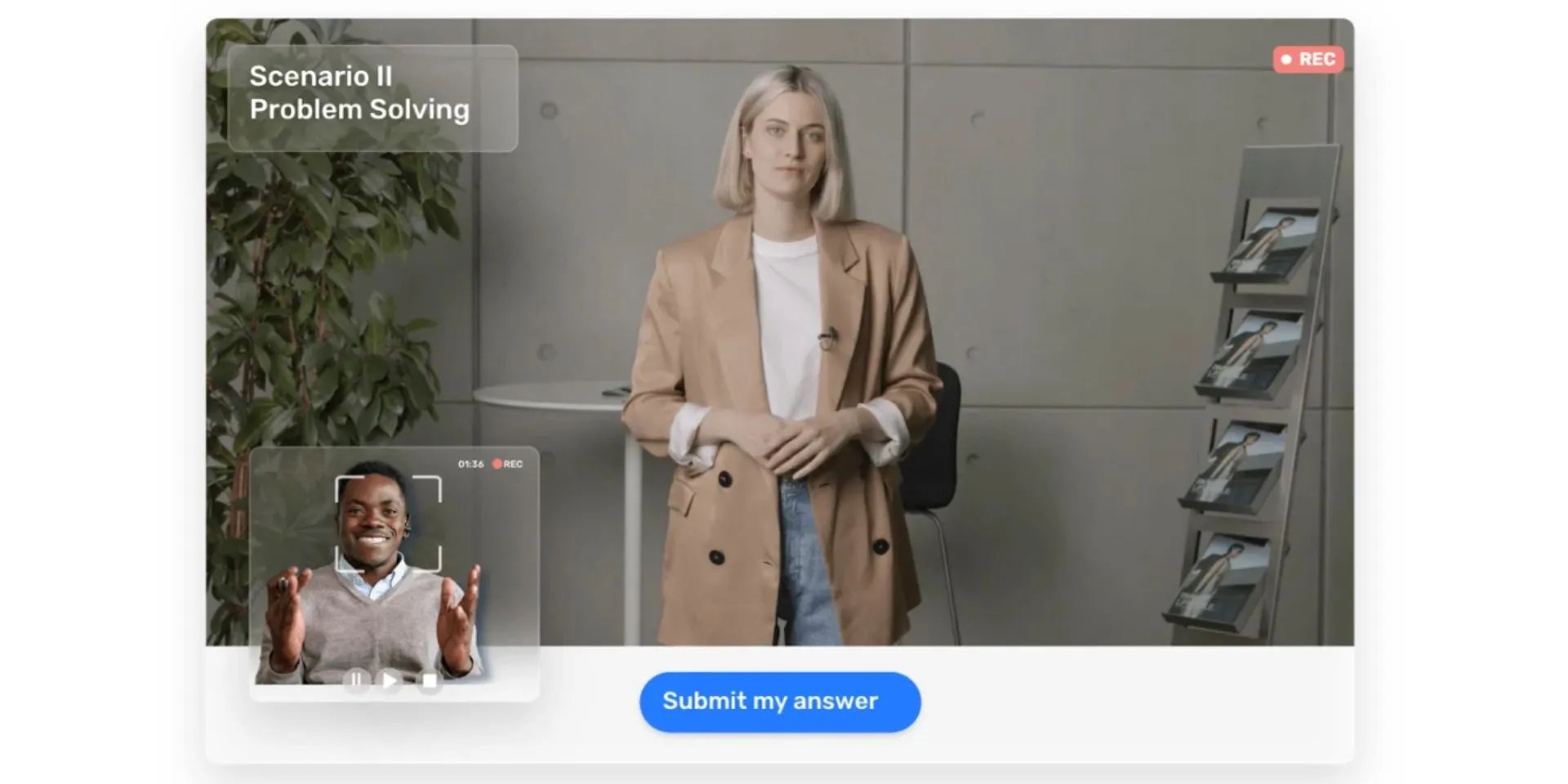 Retorio's leadership training platform provides personalized, real-time feedback on behavior and performance and harnesses the power of AI to deliver valuable insights into your leadership style.
Try it out for yourself and see how Artificial Intelligence can boost your leadership training by miles!
FAQ
Onboarding by itself is a short-term process to help acclimate new hires into their roles and the company, while training on the other hand, is a continuous process that is used to develop the skills, proficiencies, and behaviors of new employees to help them perform well and thrive in their role. It is important to combine training into every onboarding process to ensure that each new hire gains the maximum experience and becomes well-versed in their responsibilities and the company culture.
New employee training should begin before the first day of work and continue for at least 6 to 12 months. This gives enough time for new employees to get to know their tasks, how to perform them well, and receive enough guidance and support to become successful in their roles. Having a well-defined training plan can help new employees keep track of their training plans and progress, and for managers and leaders to see how well new hires are progressing and what skill gaps need to be bridged.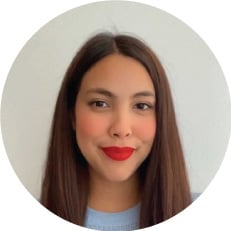 Anna Schosser
I create engaging and informative content about the importance of artificial intelligence and video-based AI technology for recruitment. I discuss cutting-edge AI developments and new technology with storytelling skills.