Raise your hand if you have ever been stressed about conducting a performance review.
From worrying about what you are going to say and how you are going to say it, to dreading any critical feedback that you will have to give to employees can make performance reviews a negative experience when it is supposed to be a positive one.
From now on, you can leave the negative attitude behind, and look forward to attending every performance review with a positive attitude and giving positive feedback that builds a positive team environment.
Because remember - performance reviews are the perfect opportunity to get all the core insights into how well or how poorly your employees are performing and what the reason behind it is.
But of course, effective communication skills come into play for an effective performance review to ensure that all team members leave each conversation feeling uplifted and understood.
Therefore, if you are a manager in search of the right performance appraisal phrases that will help you to recognize your employee's good performance and address their areas for improvement, we are going to provide 30 effective performance appraisal examples that will help you navigate each conversation in the best way possible and have effective performance reviews in your future.
What's in this post:
What are performance reviews?
Before we begin, we like to go back to the basics.
What is a performance review? A performance review is a formal assessment in which a manager evaluates an employee's performance throughout a specific time frame. The manager identifies the strengths, and weaknesses of each employee, and help them SMART goals that will advance them in their skills and professional growth.
You can read more about performance reviews in our other blog post about conducting a successful performance review here.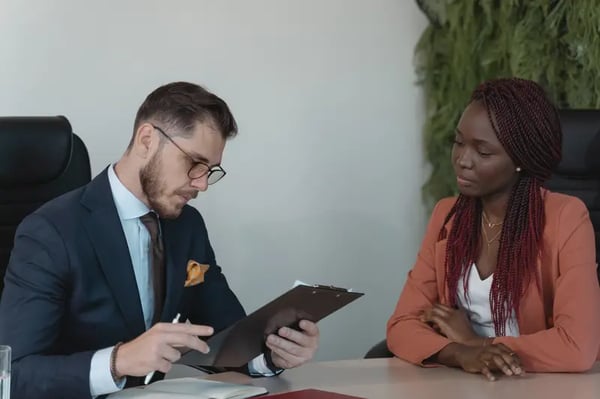 Performance appraisals are like productive feedback conversations that allow honesty, and transparency to flow between you and your employees.
Performance appraisal example phrases
Below are examples of a manager speaking with an employee during annual performance reviews regarding different topics. There are positive examples as well as negative phrases that you should avoid using.
Attendance
Positive phrases:
"I appreciate you beginning every day fully prepared for your tasks and ready to work."

"It is great that you show respect for other team members' time by showing up to work on time."

"I appreciate that you always show up to work on time, rarely leave early, and always adhere to company break times."

"I see that you have proven to be a very reliable employee by arriving each day in a timely manner with a positive attitude. It helps bring up your team member's mood as well."

"On the occasion that you have missed work, you still gave good notice and made the appropriate arrangements to make sure that your responsibilities were met and tasks were completed."
Negative phrases and alternative suggestions:
"You have repeatedly failed to show up to work on time and always show up with a poor attitude." Instead, you can say "I have noticed that you have often shown up to work later than usual and do not seem like yourself. Is there anything that you would like to discuss that is causing this pattern?" or "I have noticed that you have often shown up to work later than usual. It would be great if you could come in at an earlier time so you can get a better head start on tasks."

"You are not supposed to take longer breaks than it is allowed." Instead, you can say "You have been taking longer breaks than we allow. Please remember to stick to the company standards when it comes to breaks as it is not fair for all the team members."

"You did not manage to meet any of the attendance objectives that were set in our previous performance review." Instead, you can say "The attendance objectives that we agreed on in our previous performance review have not been met yet. What is the cause? and what can you do to change that?"
The positive phrases show employees exactly what you appreciate about their attendance performance, uplifting them and pinpointing the behavior that highlights their good performance, while the negative phrases are simply stating what they did wrong and lack a follow-up question to the said behavior that opens a door for positivity and support.
Teamwork and collaboration
Positive phrases:
"You communicate respectfully with your coworkers and you easily adapt to different situations with little to no difficulty."

"You show up as a go-to member for new employees when they seek support, and you offer useful feedback and guidance to help them improve. It shows real teamwork and it is motivating for other team players."

You have played a significant role in your team's success because of your ability to form strong relationships with others."

"Other team members have shared that they enjoy working with you because you are easy to work with and respectful of everyone."

"You adapt well to different teamwork scenarios which have resulted well in your collaborative projects."
Negative phrases and alternative suggestions:
"You are incapable of working well with others, which is why your team falls behind in projects." Instead, you can say "I notice that you struggle in working with others which has caused your team to fall behind in projects. Is there a particular reason for this?"

"You are unwilling to support others with tasks when asked." Instead, you can say "It would be great for you to be more involved in supporting other team members with tasks. It can help you to work better with others for future projects."
When giving employee performance reviews, remember that all "negative" employee feedback should be followed up with a question to dive deeper into the specific struggle. It can help employees to open up to you more and help you to understand what the real issue can be.
Customer service
Positive phrases:
"It is great that you conduct regular follow-ups with customers to make sure that they are having a positive customer experience. As a result of this, you have brought in several new customers/orders."

"You have consistently shown a strong commitment to the customer experience by returning calls within the hour. That has helped to build efficiency and reliability."

"Customer satisfaction surveys have shown that you are always eager to help with any inquiries and offer reliable solutions as seen through your positive performance ratings."

"You do a really great job at identifying customer needs and requirements to ensure that customers are satisfied. We really appreciate your instinct to understand our customers!"

"You are a great team player in constantly being helpful to help other team members meet their customer requests. Good work!"
Negative phrases and alternative suggestions:
"You are not responsive to any customer needs and leave customers feeling unsatisfied." Instead, you can say, "It is important that you take in all customer inquiries and struggles so that we can create a positive experience for them. Therefore, it would be great if you could be more responsive to their needs.

"You have been having conflicts with too many customers." Instead, you can say, "You can come off as a little too defensive when it comes to customer conversations. It would be great if you listen more to what they had to say and try to remain polite while attempting to reach a middle ground with them if their demands are unrealistic."

"You do not stick to any of your follow-up appointments and this is causing us to lose trusting customers." Instead, you can say "Customers have shared that you have not been able to follow up with them as promised. It is always great to stick to your promises so that customers can gain more trust in you. Is there a way you can remind yourself of these follow-ups to avoid forgetting?"

"You do not know how to deal with a difficult customer. This has been causing problems." Instead, you can say "You have shown a difficult time in handling difficult customers. Would you like to discuss exactly what issues you have been facing and how we can help in training you to become a better customer-facing employee?"
It is key to also try to understand your employee's perspective during a performance review and hear what they have to say about their behavior. Therefore, it can be useful to suggest tips on how they can improve without criticizing them completely. Of course, you should also give them the space to come up with their own tips and tricks that work best for them.
Moreover, you should always look into how you can develop them to become stronger customer-facing employees by enhancing their performance through personalized training. This shows employees that you are interested in development opportunities for them and increases their motivation to improve.
Productivity
Positive phrases:
"You always manage your time effectively and are very well-organized in your tasks which has shown great productivity in your work performance."

"You display a strong drive to improve productivity to meet your goals. Your efforts are noticeable and greatly appreciated."

"You have a strong work ethic that speaks for itself."

"This quarter/year, you have shown increased productivity in delivering work ahead of schedule and taking on new projects."

"You have been consistently contributing measurable value to our company's objectives. Good work!"
Negative phrases and alternative suggestions:
"It seems as though you are not enthusiastic about increasing your productivity." Instead, you can say "There is a high potential for you to become more productive with your daily tasks. What can you change about your schedule?

"You distract your coworkers from their work which impacts their productivity." Instead, you can say "I have noticed that you are distracting your coworkers from their work more than usual. Have you been seeking their support in tasks? If so, is there another way to do so that will not lessen their productivity, if not - it would be great if you could catch up with them during breaks instead."

"You have poor time management and that has led to not delivery any assigned work on time." Instead, you can say "Your tasks this year/quarter have not always been delivered on schedule. It would be great if you could look into improving your time management and setting priorities on tasks that are more urgent than others as this can help you manage workload more productively."
Performance appraisal comments are meant to be critical yet encouraging. Through plain criticism comes little to no development, or improvement that is only sustained for the short-term.
By being open to further discussion about each area of improvement and providing support, you as a manager will enable your employees to want to change themselves. It is also better if you deliver criticism and feedback with an extended discussion rather than just stating the problem and offering no path to a solution.
Creativity and innovation
Positive phrases:
"You are regularly proposing creative ideas during team meetings and finding creative solutions to complex problems. Your ideas are valued."

"You show high attention to detail which has resulted well in all your projects. It is great that you take your projects seriously in keeping an eye out for the little things that matter."

"Your creative thinking always brings on a new perspective on things which encourages other employees in their creative thinking as well."

"You create a motivating team atmosphere that allows other team members to offer creative new solutions."

"We really value how detail-oriented you are and your expertise in current business trends."
Negative phrases and alternative suggestions:
"You don't seem to be interested in trying new solutions or using the creative ideas of others in your work." Instead, you can say "It would be really helpful for you to exchange creative ideas with another team member and implement them into your work."

"You have a difficult time coming up with new ideas when your regular processes do not work out." Instead, you can say "When your regular processes do not work out, try coming up with a different solution. This will help you to expand your thinking and formulate smart new ideas."
Remember that creative thinking is important for a successful workplace and develops well in environments that support the growth of creativity. As a manager, you can help stimulate creativity and innovation during a performance review by addressing their lack thereof in a way that suggests they have the potential to be more creative and praising their creativity.
Making sure that new ideas are always welcome and valuable can encourage employees to speak up more. Also, avoid comparing one employee's creative ideas to another. Every idea is unique and can offer different insights. Having comparisons demotivates employees to speak up and challenge their creative thinking.
Problem-solving
Positive phrases:
"You have shown increased expertise and critical thinking skills by suggesting new ideas and solutions to issues that arise."

"I have witnessed you being proactive in solving conflicts and misunderstandings among team members."

"You have shown that you can overcome challenges and obstacles that are standing in your way really well."

"You have presented an expedient approach to solving problems by breaking down larger tasks into smaller manageable tasks which is very beneficial."

"You have a knack for working together with other team members to find solutions to a problem. We recognize the efforts, and find it very motivating!"
Negative phrases and alternative suggestions:
"You show no interest in working on problems that are not in your skill set." Instead, you can say, "It would be great if you showed more interest in coming up with new solutions that may not be in your skill set yet. How can I support you in developing certain skills?"

"You have not managed to contribute any ideas during group discussions on how to approach problems." Instead, you can say, "For future group discussions, try to participate more when we are faced with an issue. New ideas are always welcome and we would like to hear any insights you may have."

"You don't notice patterns in recurring issues." Instead, you can say, "It would be helpful for you to reflect on any recurring issues you are facing and see what patterns you can identify that are causing them. This way, they won't occur as often in the future, and it is a great chance for self-reflection. We can have a look at some potential patterns now..."
Performance appraisals are a powerful opportunity for self-reflection and professional development. Furthermore, it is important to note that as a manager, you should be able to deliver constructive criticism and be open to receiving constructive feedback.
In order to improve employee engagement, it is important to help your employees understand what they can improve on, why they should improve on it, and how they can take steps in becoming better team players. With Retorio's behavioral intelligence platform, practicing motivating conversational skills can be as easy as reading this blog post.
Retorio's AI-powered training platform allows you to immerse yourself in various real-life workplace scenarios that will train you to become a more effective communicator in performance appraisals and a strong communicator in general.
Each training is accessible 24/7 from anywhere in the world as long as you have a tablet, smartphone, or laptop with a good internet connection. You can keep track and measure your progress easily and receive continuous personalized feedback that will bring you up to a master communicator in no time.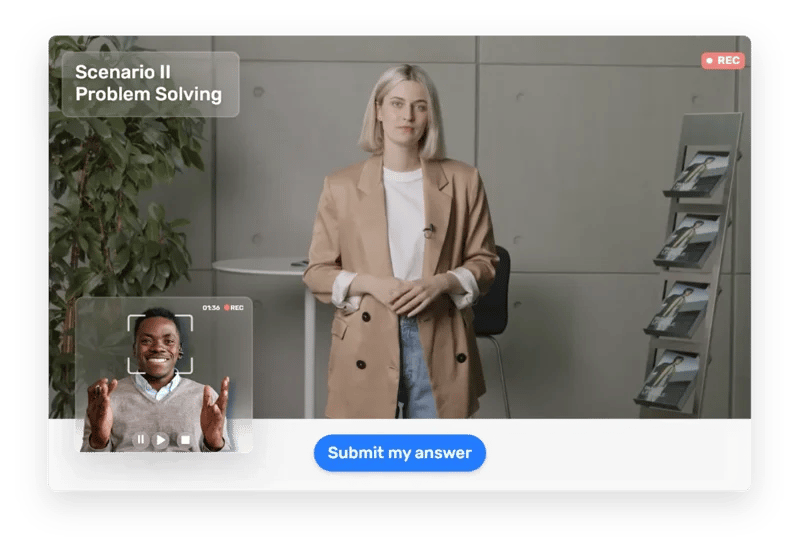 Immersive scenario training is one of the best ways to master your skills. With Retorio's AI-powered platform, you can train in a psychologically safe space.
It doesn't take long to get started! Click on the button below to begin mastering your leadership skills and much more!
FAQ
There are various types of performance appraisals in human resource management. One of them is the 360-degree method which collects feedback from employees from a 360-degree view of everyone they work with. From subordinates to supervisors to customers - you can get the full scoop on their work performance. The second example is the graphic rating scale where employees are rated on a numbered scale in terms of their role's desired personality traits and behavior and how well they match it.
There are 3 main goals of a performance appraisal. The first goal is for the manager to provide each employee with constructive feedback on their job performance. The second goal is to serve as an opportunity to improve workplace behavior and implement effective working habits, and the third goal is to provide useful data to HR that can be useful in helping them identify top talent for future job descriptions and improve the quality of future hires.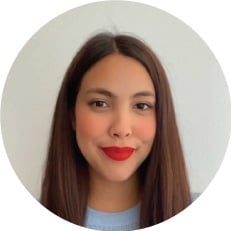 Anna Schosser
I create engaging and informative content about the importance of artificial intelligence and video-based AI technology for recruitment. I discuss cutting-edge AI developments and new technology with storytelling skills.