According to Employee Onboarding Statistics, a positive and effective onboarding experience ensures that

69% of employees

will stick with the company for at least three years.
Think of it like this: having a strong employee onboarding program is the same as giving new hires a positive first impression of your company culture, and why they should stay.
Having a strong onboarding process is the key to welcoming, and retaining new employees. It is all about planning ahead and thinking from the perspective of a new hire. What would make their first few weeks at a new company go smoothly and be enjoyable? and what kind of training can make that happen.
Therefore, when integrating new team members into the organization, it is important to introduce them to an efficient training plan that will help them become well-versed in their role and adapt well to the company culture.
This blog post will provide you with a detailed overview of how you can create an effective onboarding training plan that will help boost your employee experience and organizational productivity.
What's in this post:
Why is onboarding important for new employees?
Organizations that have a standard onboarding program

increase their new hire productivity levels by a whopping 70%

.
Your employees and the company's success go hand-in-hand, therefore, having a strong onboarding plan is the best way to boost your success rate.
Here are a few more reasons why onboarding new employees is important:
Decreases turnover rates: Having an effective onboarding helps new employees to acclimate well into their roles and responsibilities. During onboarding, employees also get a glimpse into the company culture and gain a better perception of what their future workplace looks and feels like. Therefore, creating a good core experience for each new employee will foster a willingness to stay, while a negative experience can increase the likelihood of turnover.

Enhances productivity: Onboarding programs provide new employees with clear guidelines on their job responsibilities right from day one. This allows them to become well aware of their expectations, and have a better understanding of how they can perform successfully, and the goals they need to achieve. As a result, new employees will settle well into their roles and be able to operate more efficiently.

Higher employee engagement: An effective onboarding program allows companies to create a supportive relationship between them and new hires. This automatically reinforces the company's commitment to an employee's professional growth and development which shows your employees your company's dedication to their talent. When their talent and growth are being invested in, companies will cultivate engaged employees who are motivated to strive for achievement.

Increases employee satisfaction: A new employee's first day sets the tone for what it is like to work for your company, hence why prioritizing onboarding is crucial to help new employees feel supported and well-integrated into their roles. New hires will feel more satisfied knowing that they understand their role in the company, and when they have a sense of belonging right from the beginning rather than feeling confused about their tasks, and not being integrated into the company culture.

Increases revenue: When new hires become productive sooner in their roles as a result of effective onboarding, high-quality work outcomes will increase which will have a positive impact on the company's finances through improved work performance, and reduced costs from turnovers.

Better organizational reputation: Your company's onboarding process is a reflection of how your company operates and its culture. Therefore, having a good onboarding process will reflect positively on your company's image and reputation. This can increase your organization's attractiveness to top candidates as well as customers that value a well-managed, and productive workforce.
💡 Did you know that a poor onboarding process lowers performance engagement and employee morale which has caused organizations to miss their revenue targets?
Another study by Gallup revealed that

70% of employees who have a positive onboarding experience

described their job as "the best possible job".
Why is it important to train new hires?
The main purpose of training new employees is to make sure that they succeed in their roles and contribute to the organization's success. Additionally, training new hires to succeed is important for the organization to also get a return on their investment for hiring them, by seeing continuously improved performance.
According to a survey by Indeed,

39% of employees

who have left their company within the first 6 months shared that a more effective onboarding program and new hire training would have helped them to stay longer.
With that being said, having an effective new hire training program is crucial. Every hiring manager should make it their mission to train each new hire right from day one to increase employee retention.
When new employees receive training upon being hired, they will have increased confidence levels, gain a faster familiarity with company policies and systems, and a more specific insight into their role. This helps companies eliminate the uncertainty and low morale that can often develop among new hires when they feel like they are not supported well enough in their first few weeks.
Here are three more reasons why it is important to train new hires:
Shortens the learning curve and rapidly increases productivity levels: An onboarding training plan maximizes a new hire's opportunity to learn new skills and gain new information quickly by adapting to the needs of each individual. As companies devote more human capital to training through mentoring, coaching, reviews, and peer-to-peer relationship building, it can help companies streamline the time-consuming administrative tasks that come with the onboarding process.

Promotes healthy communication between new hires and management: An effective onboarding training plan activates conversations between new hires, their coworkers, and management. This is because during this stage, new hires begin to gain more insight into their career path, and they gain access to the mentors and coaches available in the company. Statistics have shown that high-performing companies are 2.5 times more likely to encourage new hires to participate in mentoring during the onboarding process to increase engagement and motivation.

Improves job satisfaction and employee retention: when new hires: When new hires feel like they are involved in the company right from the start, and have a clear idea of their tasks and responsibilities as well as what their team is expecting of them, they will be able to perform better which helps boost job satisfaction and increase their commitment to staying longer with your company.

Enhances employee performance: The faster that new hires are efficiently trained through a well-structured training plan, they will get a hang of their tasks much quicker, and can therefore show a continuous progression in their performance as they develop new skills and enhance proficiency in their roles.

Cultivates long-term commitment to organizational goals: During onboarding training, trainers and managers get the opportunity to work closely with new hires in order to build a strong foundation for top-performing employees. Training new hires can help managers build towards the four main pillars of employee engagement which are connection, contribution, commitment, and progress.

Reduces management stress: When employees have all the right tools and knowledge needed to perform their tasks well, they will be able to accomplish their work more efficiently right from the beginning. This will reduce the unnecessary workload and stress for managers to keep new employees on track with their responsibilities and have them stay on par with your company's standards.

Improves bottom line: Did you know that the average attrition percentage for first-year employees is 18%? This is due to the time, energy, and resources required to recruit, hire, and train an employee. However, this statistic can be reduced by investing in high-quality onboarding training that will help increase work performance, motivate employees to stay longer, and decrease your company's budget on further recruitment efforts.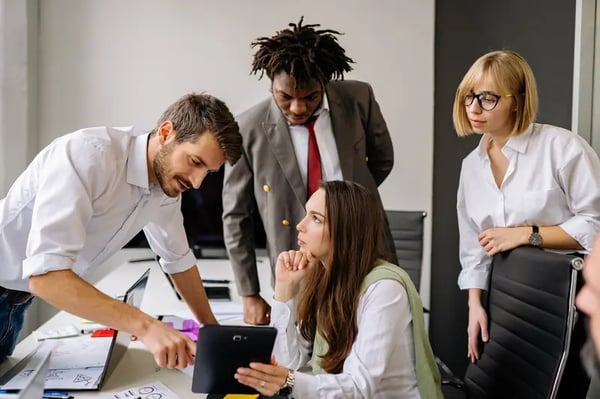 New hires value training as it helps them become well-integrated into the company and allows them to perform their task more efficiently.
It is also important to remember that training programs for new hires do not end on their first few days with you. It starts at the beginning of the onboarding process and ends when your new employee has settled well into their new role.
How to create an onboarding training plan
Here are 5 ways you can develop an effective onboarding training plan that secures a positive employee experience and will develop new hires into top performers who generate high-quality work.
Consult existing employees on what the training should include
Before you go ahead and create a training plan, consult with your current top-performing employees on what the training should include to help new hires excel in their roles.
As Matthew Dailly, managing director at Tiger Financial says
"The best way of knowing what new staff need to do is to ask your existing workers. They will make sure you know about everything that goes on in the role and how to step them up for it."
How can you do this? There are three easy steps:
Identify the employees who have consistently demonstrated top performance who are in positions similar to the new hires.

Have a clear idea of what this job position entails, and ask your key employees for their suggestions on what they think is required for new team members to perform their tasks successfully. Are there any specific skill sets that will help boost efficiency? Consulting with other employees will help you to avoid overlooking any important details such as having certain abilities and knowledge about tools and software that the new employee may need to perform well.

Take advantage of your seasoned employees by having them evaluate the training plan. Your top performers are already well-versed in their field, and could therefore easily identify any gaps in the training that lowers efficiency. Ask for their feedback on what they wish they could have experienced differently, or what would have made their onboarding training experience more successful.
In order to create an onboarding training plan that is effective, it is beneficial to include the insights of your existing employees who have gone through the experience before and can provide honest, constructive feedback.
Implement customized training
Training should never follow a one-size-fits-all approach. This is because every individual's learning style is different, and in order to ensure that every individual succeeds in their role, training should cater to individual needs and preferences.
Therefore, the best way to achieve top training results is to create customized training. Customized training allows for every new hire to develop new skills and competencies at their own pace, and receive feedback based on their own performance rather than a generalized one.
When it comes to creating and onboarding training, it is essential for your training to incorporate the facets of each new hire based on their professional background and competencies. For example, if your new hire was recently in a Customer Service position, include training features that allow them to practice or enhance their communication or problem-solving skills by immersing them in different scenarios that they may come across with different types of customers.
Each individual enters training with different skills and focuses on what they need to achieve to perform well, therefore, the training should be tailored to suit each individual's needs, skills, and skill gaps to foster growth and improvement.
Incorporate team-level training
Team-level training is beneficial for new employees to better understand the workflow of their new team and how to adapt to it, understand how each process is performed, get to know their team members on a closer level and build rapport, learn about their team's reporting hierarchy and the metrics that their team use to track productivity and become familiar with the expectations of their role.
As a result, team-based training helps new hires to assimilate better into the company culture than if the training remained at a corporate level. The faster new employees become immersed in their role with the help of the people they are working closely with, the more proficient they become when they learn and gain experience straight from the source.
Accommodate each new hire's learning style
As mentioned before, everyone has their own way of learning and retaining information. Therefore, it is important to engage new hires in training methods that best suit their ability to learn. By taking each preferred learning method into consideration, your management team will benefit from giving fewer instructions to new hires so they can perform it effectively.
There are three learning styles that are most common among new hires:
| | |
| --- | --- |
| Learning style | Explanation |
| Hands-on | Some employees opt for the hands-on approach to learning as they absorb the most information best when they are performing the tasks several times themselves to commit it to memory. This approach is also known as on-the-job training which integrates new hires into their roles right away and allows them to gain real-time experience. |
| Reading | While some employees prefer a more practical approach, some retain information best when it is on paper. This means that as they go about their tasks, they prefer to refer to written instructions and keep them on hand for a couple of weeks until they have memorized each step and can perform their tasks efficiently without any written step-by-step. |
| Visual | A visual approach is when new hires learn new processes best by observing someone perform the task. This can be done by following a training method called Shadowing where a more experienced employee performs the task for a new hire to watch and learn from. |
Recognize the potential of good leaders and involve them in the training plan
Good leaders are the core of top-performing teams, and without them, your employees will struggle to succeed. Therefore, when hiring for managerial positions, take the time to screen new hires to see which candidates have a strong potential to be efficient guides or coaches for other employees.
Once you have identified them, involve them in the development and execution of the onboarding training plan for new hires to get valuable insights and feedback. It is also good to keep in mind that a good leadership quality is being able to determine which new hire will have a positive or negative experience in the long run.
With that being said, employee engagement, and employee retention and turnover rates can be pre-determined by the quality of the leader that an employee works for. Therefore, providing an exceptional onboarding experience to new hires is an essential step to score leaders who are motivated to engage and retain future high-performing teams.
If you are looking to train new hires for managerial or executive roles, implementing the 30-60-90-day plan template can make the onboarding process clearer and more precise in preparing individuals for those positions.
This training plan consists of expanding a person's goal over the span of 90 days, divided into three 30-day phases. Each of the phases focuses on a different aspect, ensuring that every hire gains all the information and competencies needed to perform successfully in their new leadership roles.
What to avoid during onboarding training
Knowing what a good onboarding training plan includes is important. However, it is also crucial to be aware of the common mistakes that training programs can make.
Not being welcoming to new hires: Greeting your new hires in a warm, and positive manner will give them a good first impression of your company and what their team members are like. A good introduction can impact their productivity levels in the long run and their commitment to the firm. Therefore, if you welcome new hires in an uncaring manner by simply showing them their workstation, handing over an assignment, and letting them figure out their tasks and the company's dynamic all on their own, it can put a negative reflection on you. Instead, have your hiring manager or a senior employee greet them as they walk through the door, give them a tour of the company and the facilitates, and introduce them to their team to help them feel more connected and relaxed on their first day.

Not nurturing their interests and areas for improvement: Take advantage of your new hire's first-day energy when they are ready to get a kick-start on their tasks and build a good connection to the company. Nurture that energy so that it lasts for more than just a couple of days. You should also take note of the passions and interests they have about their role, and help them foster those passions which can help with their productivity. It is therefore also important to maintain good communication with your new hires. Have their manager do regular check-ins to make sure that new hires are not going through any unresolved trouble and make sure that they understand what their role entails, and to also share any exciting upcoming plans with them.

Including too much technical jargon during conversations: It is common for industries to develop a shorthand way of communication, however, not all new hires that join your company will be aware of it. Therefore, take your time to introduce new members to the lexicon of the industry and provide them with sufficient resources to learn it at their own pace. Without acknowledging this barrier, new hires may feel confused or left out. This can potentially slow down their learning time. You can help them by introducing them to an in-house mentor and giving them a sheet with all the acronyms and phrases that your employees regularly use to keep them up to date.
Are you looking for a way to boost your onboarding efficiency and experience? Retorio has got you covered, and we mean it.
Retorio's behavioral intelligence platform knows how to do training the right way, and therefore provides training that actually matters. From understanding the unique needs and preferences of each individual to ensuring the smooth development of new skills and proficiencies to providing personalized, data-driven feedback - Retorio's AI-powered training platform guarantees to cultivate successful leaders like no other.
Retorio allows you to increase engagement, and drive productivity all through the power of self-reflection with Artificial Intelligence. Our AI unlocks hidden insights that you may have not seen before and nurtures your leaders to thrive in complexity.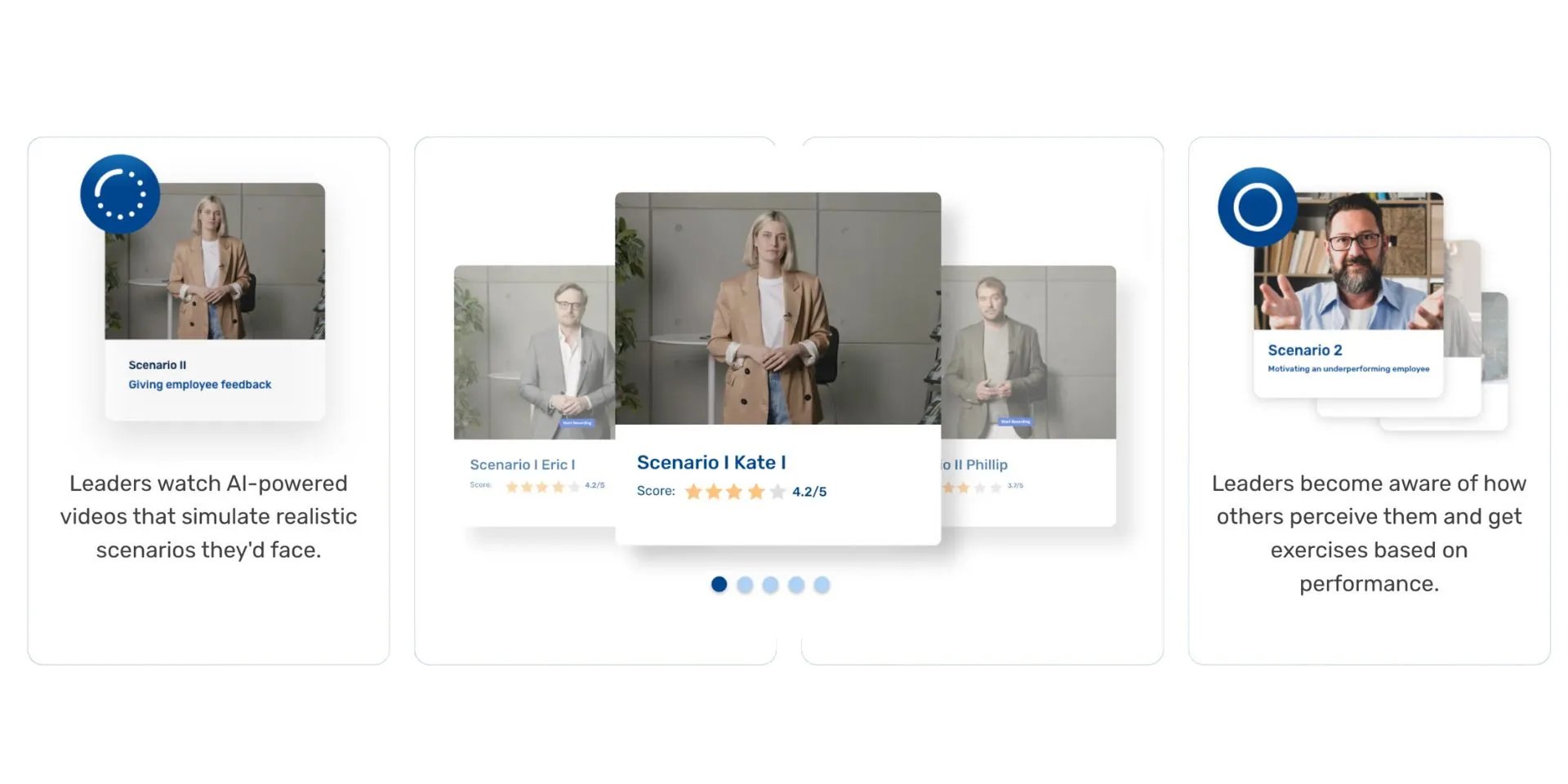 How? By immersing each individual in AI video role-play scenarios that prepare them for what they will face tomorrow. It won't even cost you a thing to try it out for yourself and see!
FAQ
The 4 C's of onboarding is a framework designed to help you review the effectiveness of your onboarding processes and see if is producing the outcome you aim to achieve. The 4 C's play a vital role in integrating new employees successfully into the organization. It includes Compliance, Clarification, Culture, and Connection.
It is essentially everything that new hires experience in their first 6 to 12 months at your company. From getting to know the company, and participating in training to the goals they will achieve, the onboarding process flow is divided up into their distinct stages to ensure that each onboarding process flows efficiently.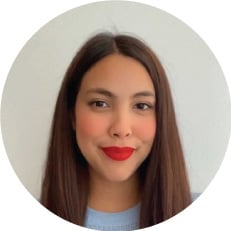 Anna Schosser
I create engaging and informative content about the importance of artificial intelligence and video-based AI technology for recruitment. I discuss cutting-edge AI developments and new technology with storytelling skills.