Only 6% of CSOs say they are extremely confident about their team's ability to meet or exceed revenue growth goals.

1
Sales has become a difficult game.
Customer expectations are shifting and becoming more complex, single channel no longer works as we witness a rapid transition to hybrid selling, and the great attrition isn't making it easy for organizations to retain their top talents.
Investing in employee development helps to build capabilities that drive financial returns, but it also shows employees that their development and advancement matter and they are essential to the company's future.
So how can companies establish a sales enablement strategy that will help reps close more deals and drive revenue?

Read on to learn more!
What's in this post?
What is Sales Enablement?
Sales enablement is a simple concept that boils down to one specific intention: train sales reps to sell.
Sales teams are constantly in a battle to win clients, close deals, and hit quotas. But the state of sales is evolving at a rapid rate.
Nearly 70% of sales professionals say that selling is harder now than before the pandemic.
Today, to win these battles and reach new goals, reps need to be equipped with the necessary resources to achieve their success.
These resources may include tools, technology, training, content, or actionable strategies to sell the product or service to customers.
Effective sales enablement functions provide targeted resources and supportive tools that streamline the sales process and alleviate the sales team's workload. This results in higher conversion rates.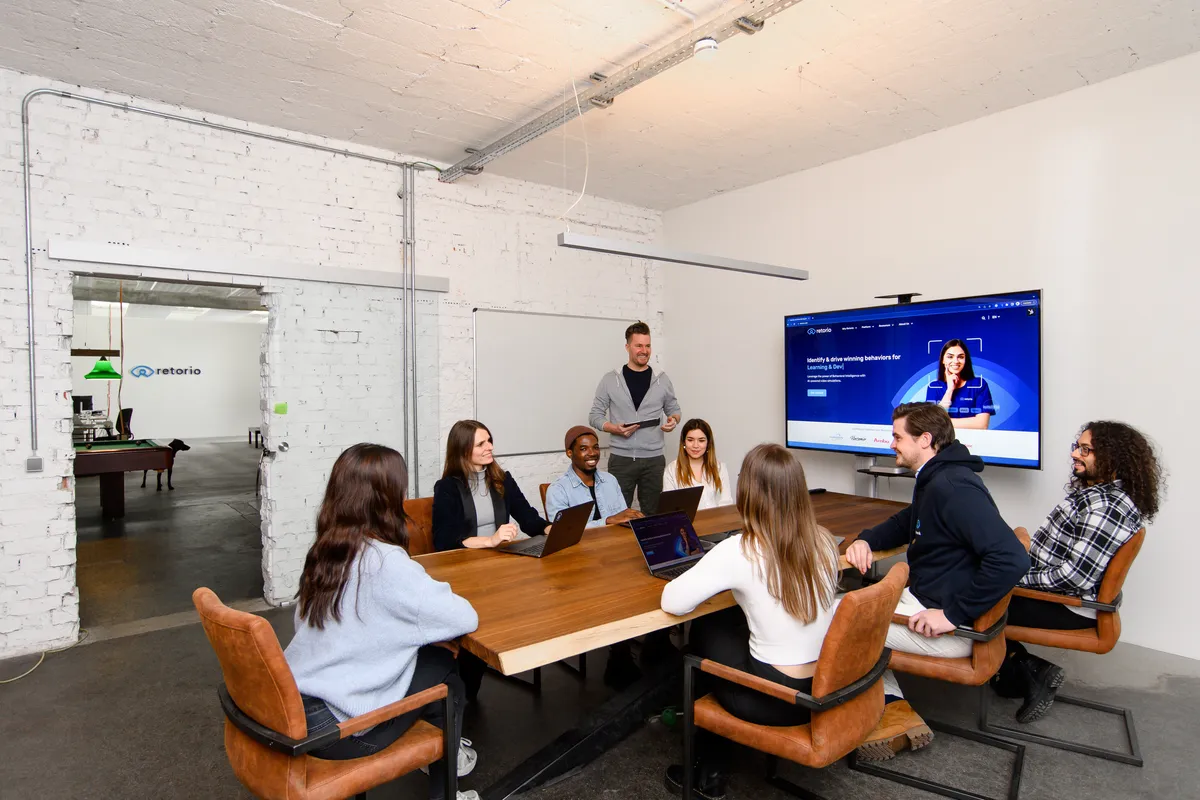 How to Build a Sales Enablement Strategy?
With selling being harder now than it ever has been, influenced by a multitude of global disruptions, sales enablement provides the impetus for sales teams, regardless of region or industry, to be equipped with the resources and skills needed to close more deals and drive revenue.
That's why organizations globally are investing in developing their sales enablement initiatives - data shows a 300% increase in people on Linkedin with sales enablement in their job titles since 2015, and momentum is only forecasted to increase.
So how do organizations build a sales enablement strategy that will help their sales reps close more deals and drive revenue?
In no particular order, these are some essential principles of a successful sales enablement strategy:
1. Alignment between the sales cycle and customer journey
Attempting to develop a sales enablement program for a business that doesn't match the buying preferences of its prospects is akin to purchasing flood insurance for a house that is already submerged.
It is unlikely to yield positive results.
Therefore, before embarking on the creation of a robust sales enablement function, it is crucial for the organization to ensure that its selling process aligns with the conversion path.
It may help to ask yourself these questions:
Have you worked with your sales, marketing, CX, product teams, and existing customers to chart your buyer's journey?

Is this journey the primary consideration in your present sales enablement strategy?

Do you possess dedicated content for sales representatives to leverage at every stage?

Does your current sales enablement technology provide your reps with tailored conversations that guide potential customers through that journey?
2. Making training scalable and sustainable with technology and artificial intelligence (AI)
With the advent of artificial intelligence, technology has enabled new possibilities in all sectors, and the potential of AI is starting to be realized in sales training and coaching as well.
What was once considered impossible is now a reality - algorithms and machine learning allow sales reps to receive personalized feedback on their training, and their learning is completely tailored to their needs.
Furthermore, scalability and accessibility are no longer a question with AI-powered training platforms.
"The future of sales training and coaching technology delivers scale and effectiveness," -

Melissa Hilbert, Senior Director Analyst, Gartner
Leveraging Emerging Technology for a Personalized Approach to Sales Enablement
"To date, sales leaders have focused on improving internal processes to support sales enablement through better in-person training, coaching and optimized content distribution," says Melissa Hilbert, Senior Director Analyst, Gartner.

"But the future of sales training and coaching technology will upend the experience as we know it."
| | |
| --- | --- |
| Traditional Sales Enablement | Sales Enablement of the Future |
| Delivered in person, therefore sales enablement is restricted to time and place and not scalable. | Organizations create training for the masses - technology and AI provides personalized training that is scalable. |
| Shows sales reps training content passively - in front of sales reps and coaches them on how to use it, they'll better engage buyers and close more deals. | Advanced data and insights to personalize and customize relevant content experiences for specific buyers based on their industry, challenges, behavior, interests, and sales stage. |
| Enablement teams and sales teams are often disconnected, and sales training is asynchronous from the sales cycle. | Sales training is integrated into the sales process, and all activities are synced automatically to CRM. |
| Most traditional sales enablement training practices fail because they're focused on gaining knowledge, not retaining knowledge - 80% of training is forgotten. | Sales reps receive contextually relevant training, dramatically increasing knowledge retention. |
What are Examples of Sales Enablement Tools?
These are some must-have sales enablement content pieces that every sales team needs at all times:
Email templates
One-pagers
Sales scripts
Product sheets
case studies
White papers
Blog posts
Battle cards
Advancing Beyond Traditional Sales Enablement
With Retorio, companies around the world are advancing beyond traditional sales enablement strategies to drive sustainable learning and equip their sales teams to navigate through the hurdles and changes of today's volatile economic landscape.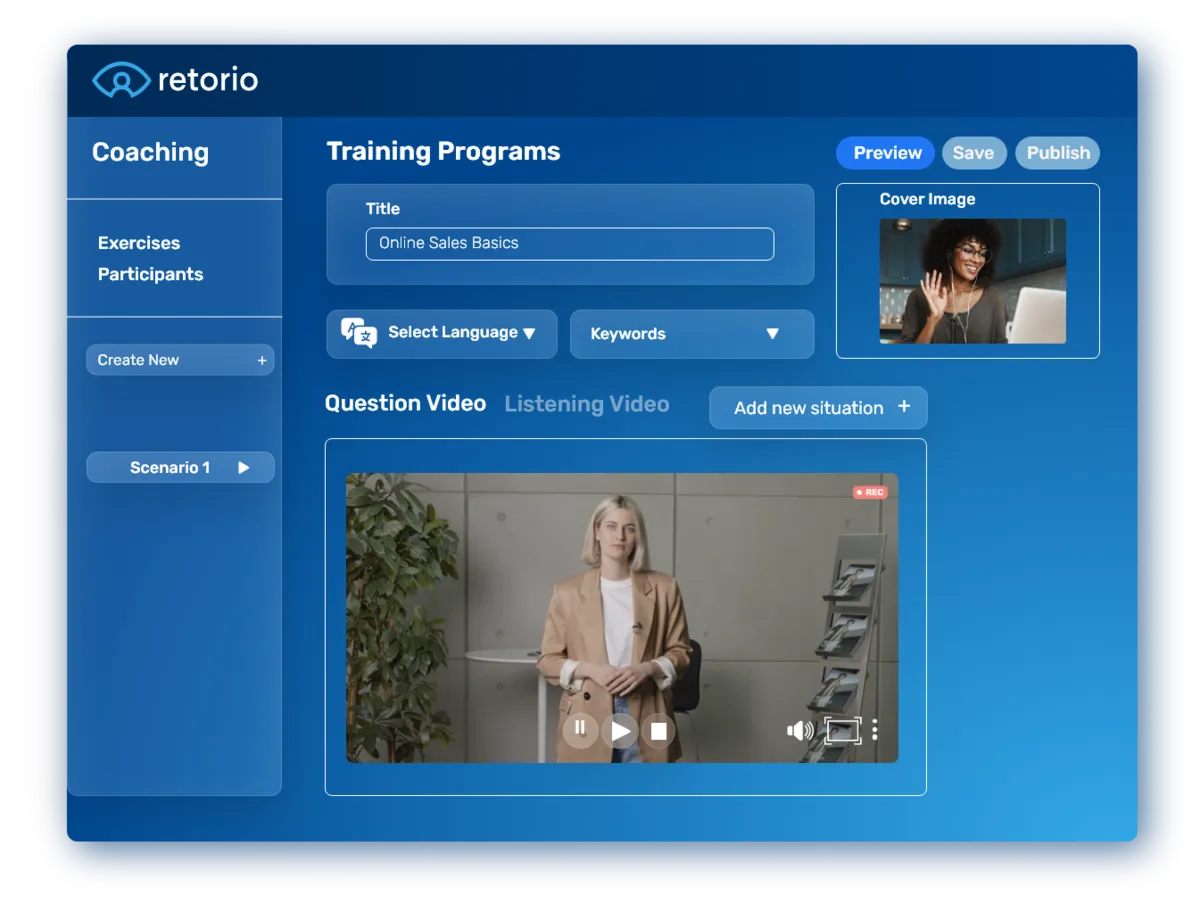 Retorio is now setting up sales teams for many large companies, also globally, and its focus is expanding to include not only small and medium-sized companies but also more prominent corporations. Twelve well-known large companies, including some from the DAX, are currently among the customers.
Want to see how Retorio's AI-powered Behavioral Intelligence platform could help your sales enablement efforts take off?


FAQ
1.
What does a sales enablement manager do?
A sales enablement manager is responsible for deploying programs and initiatives that enable sales teams to execute the core aspects of their jobs more effectively, especially as it relates to selling and revenue performance. This includes creating and implementing sales enablement programs that provide sales representatives with the tools, resources, and training they need to be effective in their roles.
Sales enablement managers work closely with other departments, usually marketing, product management, and customer success teams to ensure that the sales team has access to the most up-to-date information, content, and messaging.
They also work to develop and refine the sales process to align with the buyer's journey, ensuring that sales representatives can engage and guide potential customers effectively.
2. What is sales enablement software?
Sales enablement software is critical for any company - it allows teams to manage all of their materials and content from a central location. Sales enablement software helps organizations make processes efficient and effective by streamlining sales processes and equipping their sales teams with the tools, resources, and information sales teams need to engage effectively with potential customers and close more deals.
Sales enablement software typically includes a range of features and capabilities which are designed to support the sales reps at every stage of the sales cycle.
From content management, training, and onboarding, sales analytics, to customer relationship management (CRM) integration, sales enablement software is essential when sales reps are prospecting, closing deals, and dealing with post-sales activities.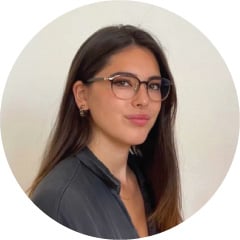 Briah Handa Oakley
I work as part of the marketing team at Retorio, conducting in-depth content strategy at the intersection between artificial intelligence and L&D. I cover emerging technology and the latest advancements in AI technology and ultimately fuse technical knowledge with storytelling skills.