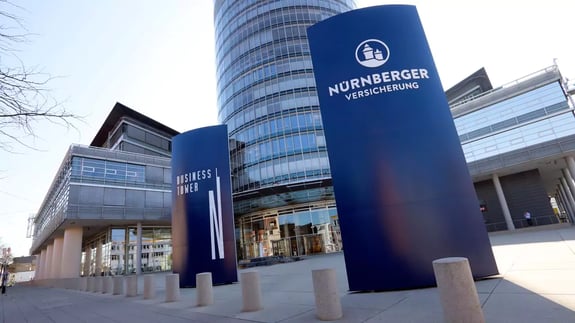 Insurance
NÜRNBERGER Versicherung's journey to sustainable training with Retorio's AI
NÜRNBERGER Versicherung is a renowned insurance company with a diverse portfolio encompassing life insurance, private health insurance, property/casualty insurance, auto insurance, and financial services. The company primarily operates in Germany and Austria, and is based in Nürenberg, Germany.
Executive summary
Embracing a culture of innovation, NÜRNBERGER Versicherung sets its sights on thriving in an ever-changing and volatile insurance sector. With a steadfast mission to deliver exceptional customer experiences, NÜRNBERGER recognizes the paramount importance of effectively nurturing their talent's soft skills. Their customer contact is based on addressing customers' needs and concerns, recognizing and presenting solutions, and building trust and empathy.
In the pursuit of a cutting-edge training solution that would engage employees and actually help reps succeed with customer communication, NÜRNBERGER partnered with Retorio, an Al-powered Behavioral Intelligence platform for a pilot project.
Leveraging Retorio's expertise in video-based training simulations, the insurance company revolutionized its sales training initiatives. The introduction of immersive learning experiences, designed to replicate the real world, emerged as a game changer in honing vital interpersonal and communication skills of sales reps at NÜRNBERGER.
Through Retorio's advanced Al algorithms and personalized training modules, Nürnberger empowered their workforce to excel in handling complex sales conversations, delivering challenging news with finesse, and navigating critical scenarios with confidence. Al-driven insights and human potential proved to be instrumental in upskilling talent, positioning NÜRNBERGER as an innovative and customer-centric organization.
Challenge
Difficulty to motivate employees to train - training can be easily boring or inefficient

One-off in-person training isn't enough for sustainable improvement
Solution
Implement Retorio's Al-powered training platform into Nürnberger Versicherung's training; immerse trainees in virtual video simulations built to reflect relevant, job situations for an engaged, personalized learner experience that drives sustainable behavior change.
Achievements
A sustainable, cost-efficient training solution that drives impact

Efficient and fully digitized training design available on-demand 24/7

Increased L&D effectiveness

Sales success patterns & training effectiveness made measurable

A psychologically safe environment for trainees to receive objective feedback
For Nürnberger, the pursuit of innovation and commitment to exceptional customer interactions converged to increase success in the insurance landscape. Through the power of AI-powered immersive learning, Nürnberger Versicherung redefined employee training, harnessing the potential of Al to excel in a competitive business landscape.
Empowering learners to take charge of their development, the insurance company made the decision to employ Retorio's interactive client video simulations to train their sales reps on demand. NÜRNBERGER Versicherung began implementing a pilot project at the beginning of 2023, kicking the project off with a training platform for the qualification of their sales reps. Retorio's AI analyzed the behavior of sales advisors in simulated customer conversations and provided recommendations for action to optimize behavior.
Pilot participants from NÜRNBERGER Versicherung were able to access a new learning path that focused on personalized learning and skill development as part of their curriculum and were able to address the identified areas at their own convenience and pace.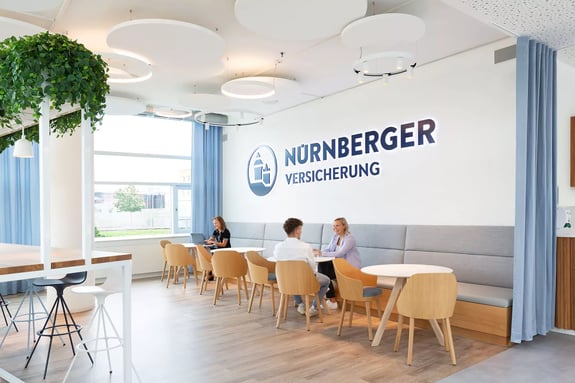 "Incorporating Al into this pilot project allowed us to break free from traditional in-person and passive e-learning solutions, embarking on a path of innovation. Conventional face-to-face training, sadly, tends to be passive, leading participants to disengage. With Al at the helm, we've unleashed a transformative approach that keeps trainees engaged and empowers them to take control of their customer-centric journey."
NÜRNBERGER Versicherung's L&D department, responsible for enabling representatives across diverse sales channels such as online, insurance agents, car dealerships, big agencies, and the internal sales team, chose to focus on enhancing the skills of the latter for this pilot project. The training scope encompassed crucial insurance areas such as auto insurance, income protection insurance, private health insurance, pension insurance, and household insurance.
The initial step involved engaging the pilot project sales representatives in an interactive session to gather valuable insights into their pain points and setbacks during customer conversations. This vital feedback formed the foundation for the development of five tailored training scenarios, making sure to address the specific issues encountered by reps, including challenges related to car insurance, occupational disability insurance, pension schemes, supplementary health insurance, and residential buildings insurance.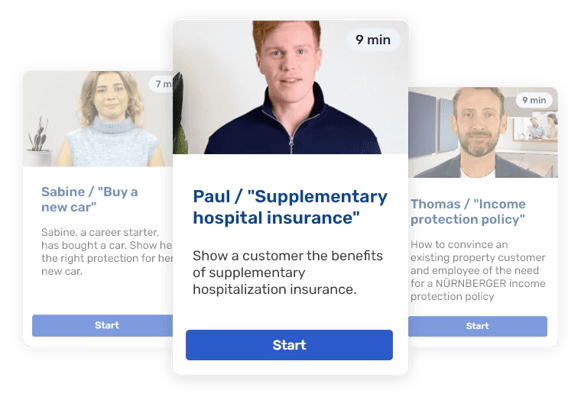 Drawing from this feedback, the L&D team integrated Retorio's platform into their training infrastructure. To ensure seamless introduction and implementation, a kick-off meeting was set up with an introduction video for pilot participants. After the introduction, participants were invited to log into Retorio's AI platform.
Trainees were then immersed in virtual training environments where they could hone the skills they'd likely use during the specified client conversations. Customized video simulations were developed to replicate real-world scenarios that the internal sales reps would likely face, enabling them to experience practical situations. Retorio's training-builder facilitated the creation of tailored modules, allowing for personalized learning experiences, and trainees gained easy access to Retorio's comprehensive library of training content. The training was available on every device, wherever they were, around the clock. This streamlined approach marked a significant shift towards sustainable, immersive learning, empowering the trainees to hone the essential soft skills necessary to deliver exceptional customer experiences.
The innovative aspect of this approach lies in its departure from traditional Situational Judgment Tests (SJTs), where learners are typically provided with pre-selected answer options.
"The integration of Retorio's web-based training into our training programs went very swiftly. Its intuitive navigation enabled our employees to move quickly and safely around the platform. It was truly impressive to observe how the trainees were able to apply the practiced skills directly to their roles, enhancing their performance and paving the way for immediate impact - a true testament to the efficacy of Retorio's innovative approach."
Instead, learners are encouraged to engage in free speech, actively retrieving knowledge and responding in real-time, mirroring real-life situations. Upon completion of the modules, such as informing customers about tariff price increases, trainees received immediate, on-demand feedback tailored to their individual performance. This created an immersive learning environment where trainees received feedback on performance, free from judgment and external influences.
Unlike other remote learning platforms that typically measure variables such as the number of modules completed, or access times, Retorio's AI-powered training platform provides an objective, systematic method for behavioral data capture. This gives the trainee valuable insight into their soft skill performance, and crucially, ROI.
"Using Retorio, I started to be more aware of the impact I have on my clients"
- Achim Rudolf, Training Participant at NÜRNBERGER Versicherung
TOUCH
Immediate behavior improvements seen
TOUCH
The majority of participants would recommend Retorio's training to others
TOUCH
Quick and easy platform integration
After rolling out Retorio's Behavioral Intelligence Platform for trainees at NÜRNBERGER Versicherung, it was clear that trainees found the interactive components of Retorio's training very engaging, and saw direct benefits of trainees being able to train without having to "expose" themselves to others.
"Since the turnout was so successful with our internal sales reps, we'd like to begin using the Retorio training platform on a broader scale, starting with sales onboarding."
- Robert Jung, Director HR Qualification Sales at NÜRNBERGER Versicherung
A system-wide approach offers the best opportunity to provide employees with the same, high-quality training across the global workforce. By choosing AI to train their sales reps, not only did NÜRNBERGER Versicherung's training become more relevant, targeted, and interactive for each individual trainee, but also sustainable.
What started out as a pilot program earlier in 2023 is now becoming an integral part of NÜRNBERGER Versicherung's training program. The adoption of personalized interactive learning powered by AI creates the ultimate way for NÜRNBERGER Versicherung's sales training department to certify their reps have constant access to training, which isn't limited to time or place. By reaping the benefits of using cutting-edge deep learning models, a completely learner-centric solution to upskilling sales teams is established. This successful deployment not only positioned NÜRNBERGER at the forefront of innovation but also exemplified their commitment to fostering excellence and maximizing customer satisfaction through advanced Al-driven training solutions.