On an individual level, sales training can boost sales representatives' performance by an average of 20%.+
That is why sales managers are investing an estimated $70 billion in training per year into their sales team.
Sales coaching is an important part of any successful business strategy and can have a major impact on employee churn rates, training results, and overall sales team performance.
Today as technology continues to be a primary catalyst for change in the world, sales leaders must adapt to new norms and be ahead of the curve when it comes to adopting new technologies in order to succeed in the progressively digital world.
In fact, according to the LinkedIn Workplace Learning Report 2022, reskilling and upskilling is the top concern in L&D departments.
In this sales coaching examples guide, we'll discuss what sales coaching programs are, the benefits of sales coaching, different types of sales coaching programs, how to measure sales coaching effectiveness, as well as some helpful sales training tools that can be used to make sure your sales process will help reps succeed.
Are you a Learning and Development (L&D) professional or sales manager looking for effective sales coaching examples to help your sales team reach their goals faster?
If so, then this sales coaching tips guide is the perfect resource for you!
What's in this post?
What is sales coaching?
Sales coaching is a practice of providing ongoing guidance and instruction to salespeople so that they can develop the skills necessary for success.
It involves helping them understand their goals, analyze their performance, identify areas for improvement, and develop plans for achieving those goals, with the overarching goal of improving sales performance and driving consistent sales success.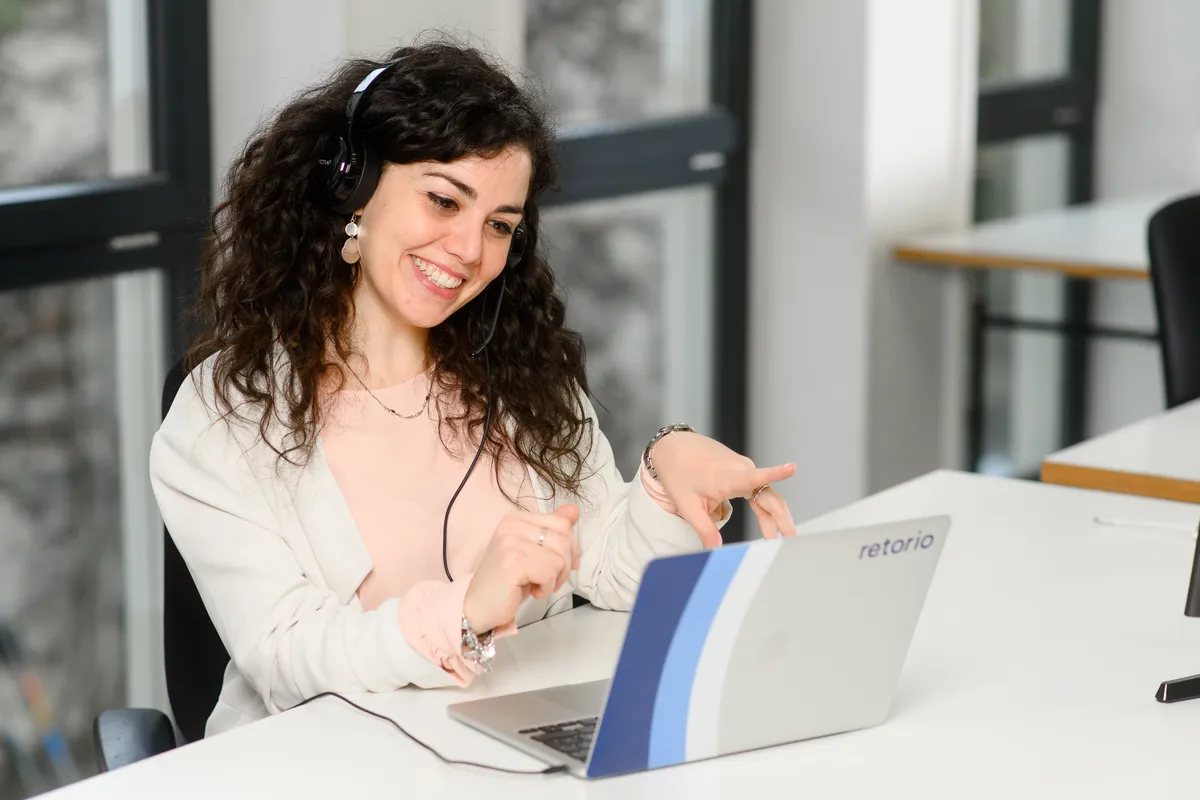 There are several different types of sales coaching techniques that can be used to help your sales teams reach their goals, with various different platforms to help them achieve this effectively.
Why is sales coaching important?
Sales coaching involves influencing your team members' thinking, which, in turn, improves their sales behaviors and results in greater sales. It's a cause-effect dynamic.

- Peri Shawn, author and founder of Coaching and Sales Institute
Sales reps often face a challenging task when it comes to closing deals. Despite their best efforts, they often feel that they don't have the necessary skills or confidence to be successful.
Picture this... you are a sales rep, but you don't feel prepared for the daunting task of closing deals. You've heard your colleagues discussing their successes and failures in the office, but you never had the opportunity to learn from their experiences.
As buyers' demands become more complex and scrutiny of price increases, every day feels like an uphill battle as you try to close deals with prospects that you don't feel confident about.
...and to add fuel to the fire, your company hasn't established an ongoing sales coaching program, so you haven't had any coaching sessions.
Unfortunately, this is a reality for many sales reps globally today.
That's exactly why sales coaching is crucial.
By providing ongoing guidance and development for your reps, you can help them develop the skills and mindset necessary to close deals more effectively and efficiently. Through role-playing and situational-based exercises, goal setting/tracking, feedback loops, practice/review
When organizations establish an effective sales coaching strategery for their sales reps, they will see:
Increased sales rep performance
Enhanced customer satisfaction & loyalty
Improved employee morale
More successful and consistent deal closure rates
Sales reps sharing best practices
What are sales coaching examples?
Sales coaching example 1:
One-on-one sales coaching
One-on-one sales coaching is the most traditional form of sales coaching. This involves meeting with a sales rep on a regular basis to assess their performance, discuss customer conversations and provide feedback.
During these meetings, managers can work with each individual to address any weaknesses they may have and help them develop new skills.
This is a rather resource-intensive process, as it requires a significant amount of time and effort from the sales manager.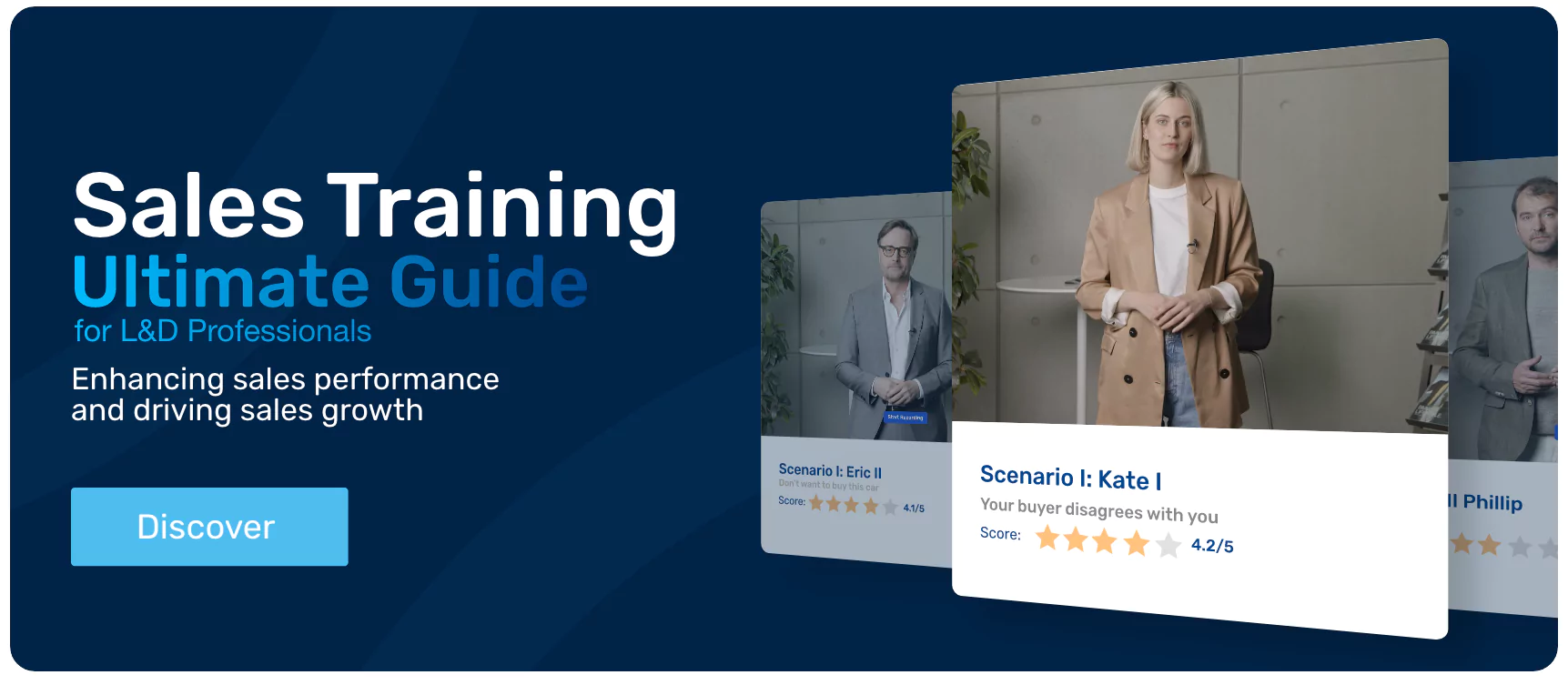 Sales coaching example 2:
Group training sessions
Group sales coaching is a great way to leverage the collective knowledge and experience of your entire sales team. This approach involves bringing together all of your reps in one room and having them engage in activities such as role-playing, practice sessions, and brainstorming exercises that can help them become more effective.
Through these group discussions, sales reps can learn from one another and gain valuable insight into the challenges they face in their day-to-day sales activities. Managers can also use this format to encourage collaboration and ensure that everyone is on the same page with regard to their sales strategy.
Unlike one-on-one sales coaching, it is a much more efficient coaching process, however, this also means the coaching isn't personalized and therefore often isn't engaging for sales reps.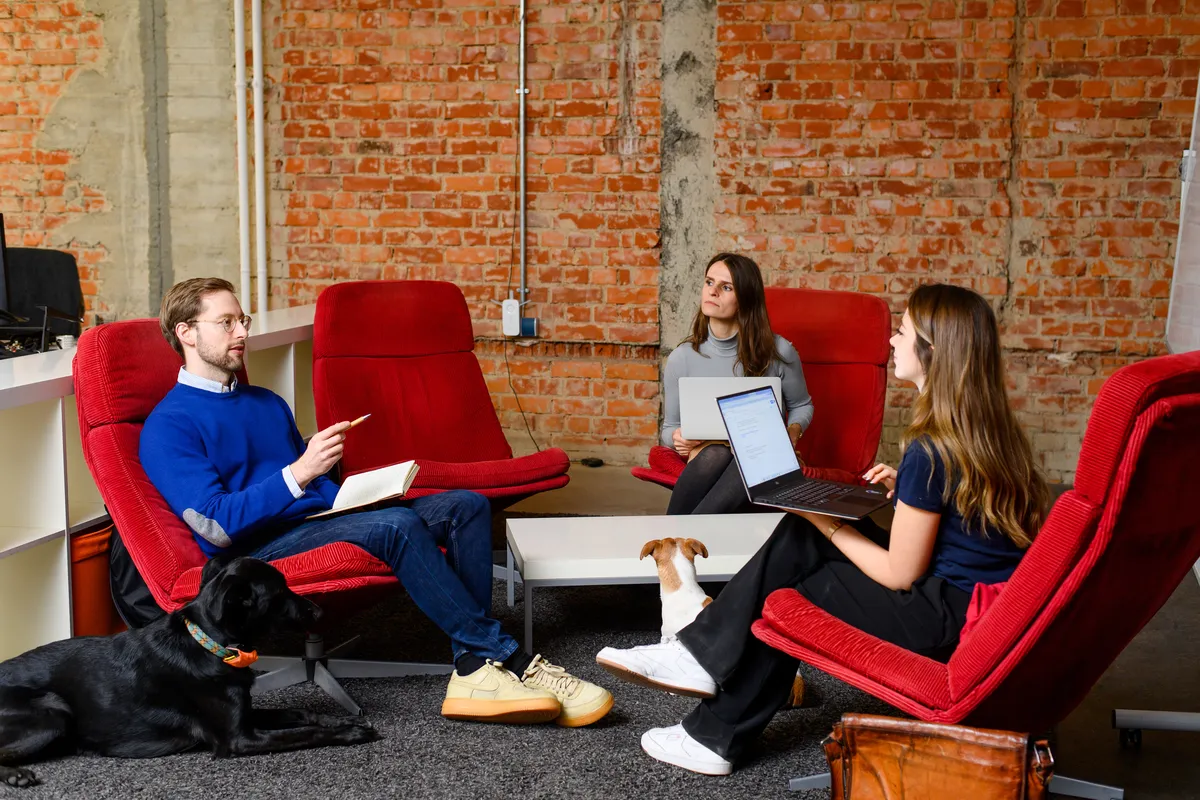 Sales coaching example 2:
Online learning platforms
Digital is the wave of the future. As selling has become hybrid, sales training has to embody flexibility too - and to be available when and where sales reps are, many managers are drawing on online solutions for training.
Online learning platforms are web-based programs that allow organizations to provide training and development to their sales reps. Organizations can use these platforms to deliver video and audio lessons, as well as quizzes and tests. This allows employees to learn at their own pace from anywhere in the world. With online courses, sales teams can access the latest industry knowledge and have a consistent, repeatable training process.
Digital learning platforms such as Udemy or Coursera can help sales teams learn new skills and stay up-to-date on the latest trends in the industry from a distance.
Despite their benefits, such as allowing sales reps to access training from anywhere, the lack of interaction between the trainer and the learner can make the learning experience less engaging, leading to decreased knowledge retention.
Sales coaching example 3:
AI-powered sales coaching platforms
AI sales coaching platforms are rapidly becoming popular in the sales world as they can offer a mix-and-match of different learning modalities that includes live and real-time, on-demand, mobile-first learning, interactive experiences, and more.
These platforms are designed to analyze conversations between reps and buyers for insights on how to improve performance. AI-driven guidance systems can provide reps with real-time feedback during conversations and suggest strategies to help close more deals.
Retorio, is a startup that provides AI-powered sales coaching to companies globally already. It analyzes conversations, assesses the individual sales reps' approach, and suggests strategies to help them close more sales. Retorio's AI platform can provide insights on how to improve conversation skills such as tone, body language, and pacing.

Sales coaching tool examples:
Knowing what sales coaching tools are out there and how they can be effectively utilized is an important part of every successful L&D strategy.
Below are some of the most popular sales coaching tools that many sales leaders today are considering for their sales process:
| | |
| --- | --- |
| Salesforce's Quip | An online collaborative workspace built for teams to share documents, track progress, and make decisions together. |
| SalesHood | An online platform designed to help sales teams learn, practice, and accelerate their performance. |
| SAVO | A sales enablement platform that provides content management, coaching tools, analytics, assessments, and more. |
| Chorus | An artificial intelligence-driven coaching system that offers personalized guidance to sales reps and provides real-time data on their performance. |
By understanding the various examples of sales coaching tools, sales leaders and L&D professionals can better equip themselves with the knowledge and tools needed to develop an effective sales coaching program for their business.
AI sales coaching example tools
AI-based tools can provide more detailed insights into each individual's performance and suggest targeted coaching strategies to help them improve their performance. For example, AI-based sales coaching platforms can track specific actions such as emails, calls, or other activities and provide feedback on areas that need further improvement.
Furthermore, it's also important to consider soft skills training when it comes to sales coaching.
Soft skills such as communication, problem-solving, customer service, and time management are all key components of effective salesmanship and can make a big difference in terms of performance outcomes. Virtual reality is becoming popular as a tool for soft skills training, allowing sales teams to practice and hone their skills in realistic environments.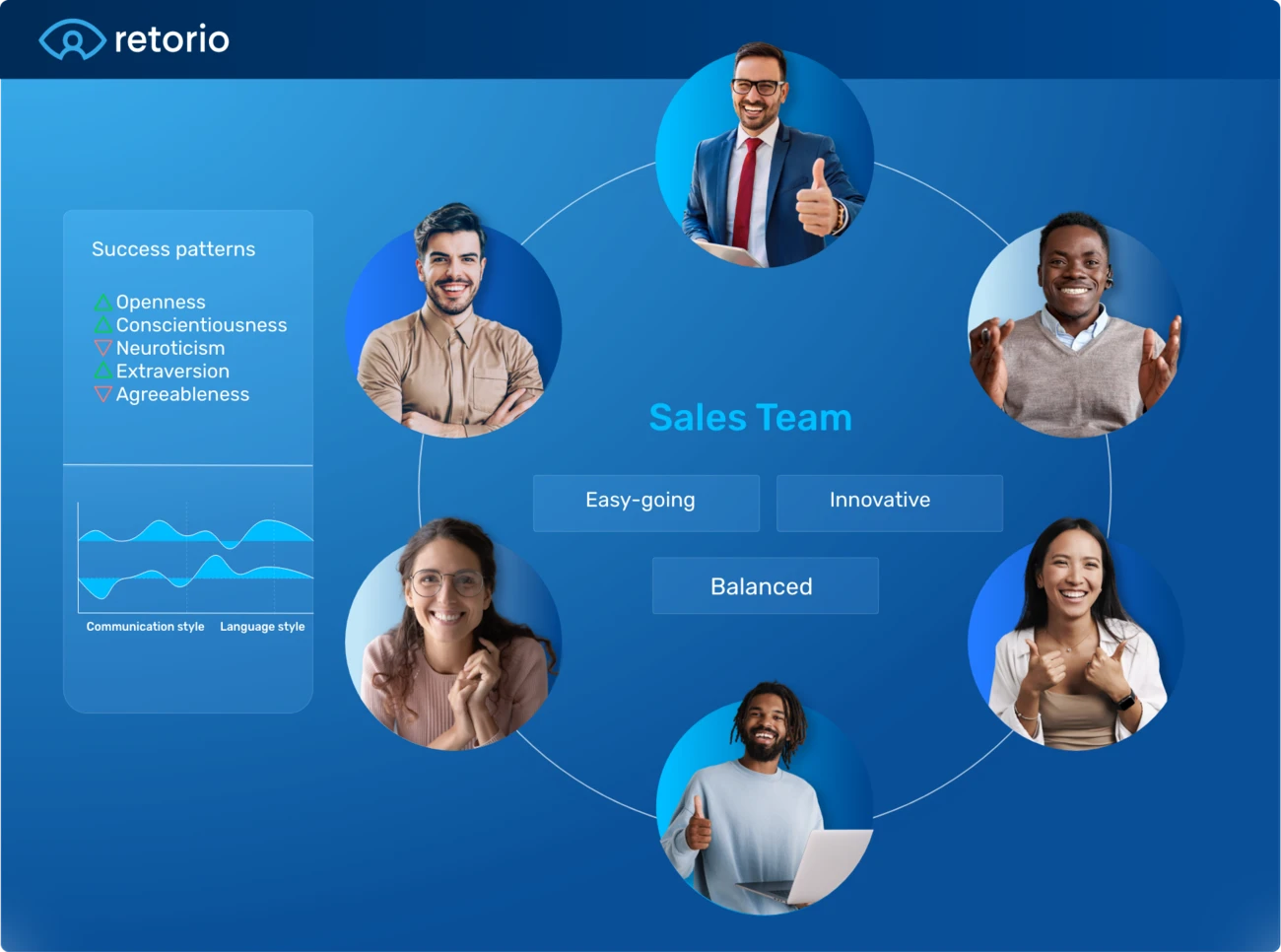 Don't want your sales teams to fall behind on their training? Click on the button below to see what AI can do to unleash your sales reps' full potential!!
Key Takeaways
Sales training can boost sales representatives' performance by an average of 20%.

In a rapidly changing workplace, consistent and continuous training is key, along with m

easuring training R.o.I.

A.I. is revealing new possibilities in the world of L&D, and the pace of adoption has been rapid.




FAQ 1: How can you measure effective sales coaching?
What is the use of investing in sales training when you don't know whether it is improving your sales team's performance?
When sales reps train using Retorio's Behavioral Intelligence Platform, they can practice client conversations in immersive video simulations.
An AI provides objective feedback by analyzing the behavior of the trainees during the given scenarios. The AI analyzes facial expressions, speech speed, clarity, and voice, as well as what is being said, allowing sales representatives to find out how they're being perceived by customers.
Trainees are then able to repeat training based on feedback until they are satisfied with their performance or continue with appropriate further training.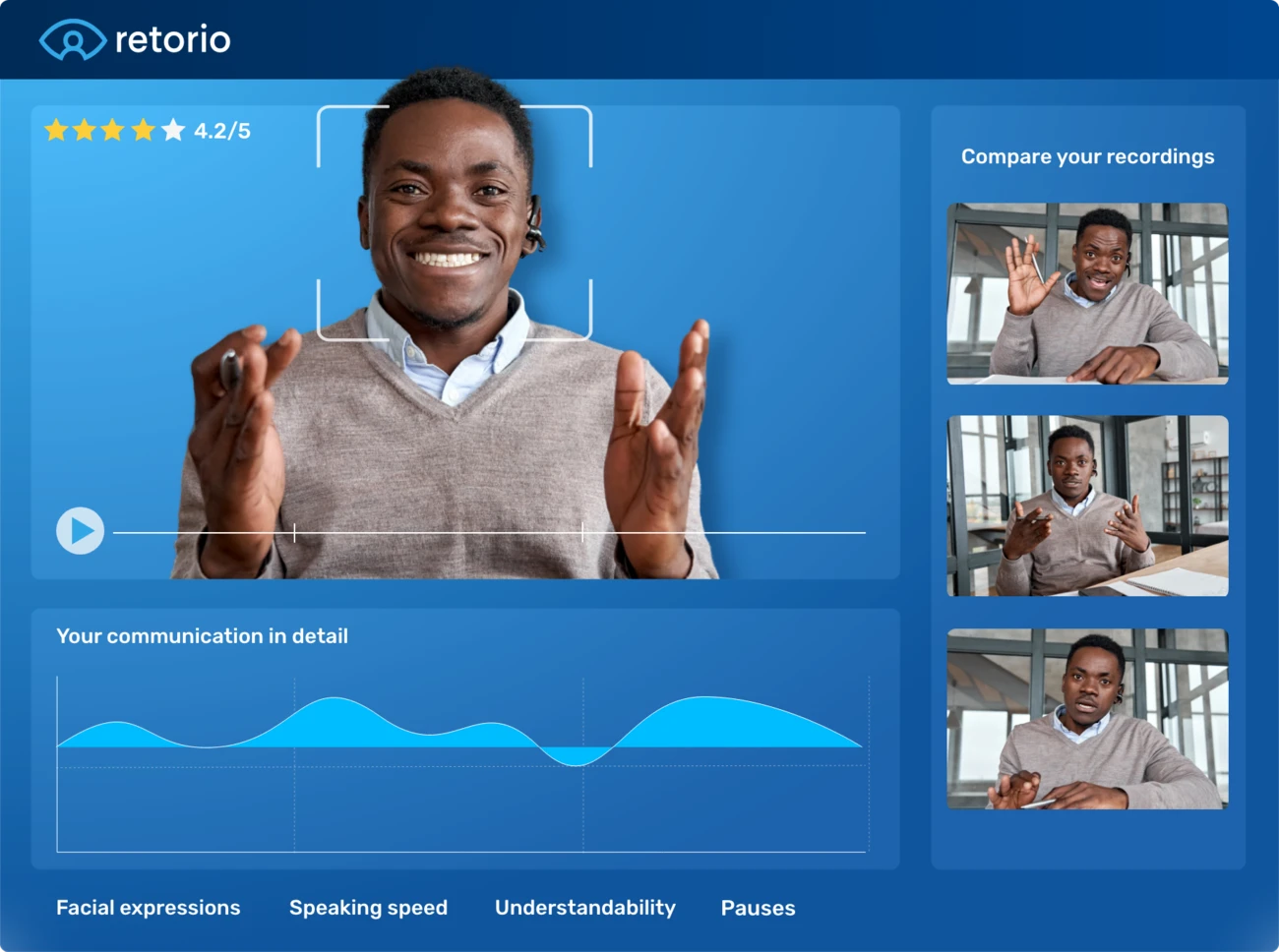 By implementing the right tools and strategies, organizations can ensure better performance outcomes for their sales team and maximize their return on investment. Knowing what types of sales coaching are available and being able to measure progress is essential in helping L&D professionals create a successful sales coaching program.
FAQ 2: What does good sales coaching look like?
Good sales coaching should be tailored to the individual sales rep, focusing on their strengths and weaknesses. Successful sales coaching is interactive, using questions and activities to help drive understanding of topics. It's also important that the sales coach has up-to-date knowledge of the company's products and processes, as well as a comprehensive understanding of the sales cycle.
Good coaching should also provide guidance on how to handle difficult customer scenarios and offer advice on how to effectively close deals. By following these principles, organizations can ensure that every sales rep is well-equipped with the skills needed to succeed in their roles.
FAQ 3: How often should sales coaching take place?
In a rapidly changing workplace and volatile economic landscape, sales training needs to be consistent and continuous to remain relevant and in demand.
This is why sales managers are more and more turning towards sales training solutions that are available for their entire team, anywhere and everywhere. This way, sales managers can make sure their reps are training their skills consistently.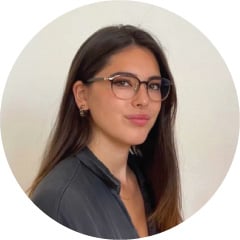 Briah Handa Oakley
I work as part of the marketing team at Retorio, conducting in-depth content strategy at the intersection between artificial intelligence and L&D. I cover emerging technology and the latest advancements in AI technology and ultimately fuse technical knowledge with storytelling skills.