2023 slowly coming to an end and before we begin to dip our toes into 2024, it is important to have a look into what 2024 has in store for us, and how we can prepare ourselves.
In the business world, the importance of leadership skills is on the rise, and the expectations that are put on senior managers to improve their performance are growing. Why? because leaders are at the forefront of organizations and the core that keeps their teams succeeding.
95% of learning organizations

are planning on increasing and maintaining their investment in leadership develop in 2024.
When it comes to leadership and management qualifications, having the right skill set is vital in cultivating productive and successful teams, which is why before you step into 2024, knowing which skills are being searched for in leaders for the next year is important.
This blog post will cover the 10 essential management skills that every manager and leader must know before taking their business hats off for the upcoming holidays and New Year.
What's in this post:
What is leadership training?
Leadership training is also known as management training courses that consist of programs specialized to help leaders develop new skills, refine old skills, and learn new leadership techniques to help them run their teams efficiently.
Some of the general skills that leadership training covers involve communication, motivation methods, and mentoring or coaching skills.
Leadership training is ideal for anyone who aims to become a future leader, is in a managerial or leadership role looking to stay on top of their game, or even those who recently stepped up to a new position and would like to enhance their leadership competencies.
Benefits of leadership training for managers
Leadership training is the key ingredient for career success. This is because leaders who go through leadership training possess a toolbox of valuable leadership skills and competencies that allow them to guide their team members and organizations efficiently toward success.
Here are a few benefits of leadership training that will help enhance leadership roles:
Boosts employee retention: A company without engaged employees often struggles with inspiring its team leaders and members to deliver their best performance and can face high employee turnover rates. Therefore, leadership courses help managers to become leaders who can keep their team engaged and motivated. As a result, leaders who are strong and inspirational will be more engaged to stay at your company and continue to lead.

Manage challenging situations effectively: In a workplace, there are bound to be concerns and issues that arise and require a solution. Therefore, in a management role, it is crucial to step in to assess the situation and provide smart resolutions. However, managers who do not have the right skills in their toolbox to overcome challenging situations can let issues derail the entire team. A manager take takes part in leadership training will see every challenge as a stepping-stone and view problem-solving

Level up emotional intelligence: One of the most important skills in leadership training is emotional intelligence and self-awareness. Therefore, leadership training helps managers to become more aware of their behaviors and actions, as well as their language and communication style. Moreover, managers will become better at emotional regulation and lead by example. As a result, by leveling up emotional intelligence, managers will also experience improved patience, empathy, problem-solving skills, and knowing how to navigate conflicts and challenges more efficiently.

Increases productivity: Leadership training produces good leaders, and good leaders ensure that everyone in their team knows what is expected of them, and how they can perform their job well. Leadership training will teach managers how to motivate and engage their team, and how to communicate expectations and tasks clearly so that misunderstandings and errors can be prevented in the future.

Increases team confidence: Confidence is an important component of management skills. Good managers know how to fill their team members with confidence and expertise and ensure that every employee feels capable of being successful. Leadership training helps to instill confidence in managers who will also be able to empower others to make a positive impact on the organization's performance. Additionally, confident managers will cultivate calm and trustworthy employees who will be more motivated and patient when it comes to problem-solving and keep others motivated to achieve their goals as well.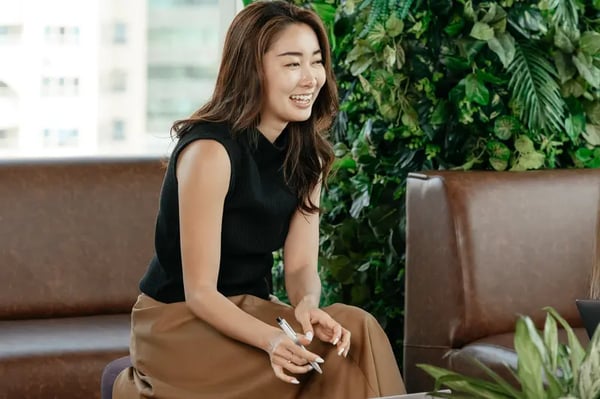 Important leadership skills for managers
Every management course has an end goal of training managers on how to empower their team and organization to be at their best. In management courses, managers get to learn about the different management styles and adopt one that suits their team dynamic and company the best.
So, what are the necessary skills that managers need to become powerful leaders? Let's have a look.
Emotional intelligence
Emotional intelligence, as mentioned previously, is a vital skill for all managers and leaders to have in 2024. What with the world facing unpredictable circumstances, environmental and political challenges, or pandemics, emotional intelligence allows managers to understand the concerns and fears of their team, and know how to navigate such situations wisely and effectively.
More specifically, managers with high emotional intelligence can build trust and rapport with their team by being able to empathize well with their emotions, and needs, and providing a psychologically safe space for employees to voice their ideas and concerns.
Emotional intelligence will be a key skill for a leader to create positive and supportive workforces in 2024, prevent burnout, and show more appreciation for the efforts of their team.
Communication and active listening
Communication has been, and will always be an important skill for managers and leaders to have. So why is it especially important in 2024?
With our constantly evolving business landscape, managers need to refine their communication and active listening skills to be able to communicate proactively and efficiently with clients, stakeholders, and their team members to ensure that everyone is on the same page.
On the other hand, the ability of a manager to communicate well gives a solid foundation for cultivating strong relationships and being able to motivate employees to achieve their performance goals. managers with strong communication skills are simply able to manage their teams better - from the delegation of tasks to conflict management, managers need to make good decisions and facilitate smooth coordination across teams.
When it comes to active listening, managers need to learn the importance of listening to others to understand what this being said, so that they can respond effectively and accurately. Being a strong communicator means that you are also able to listen well.
Here are some ways that managers can improve on their active listening skills:
Conduct frequent check-ins that allow employees to address their needs and concerns to managers individually. Managers should take a couple of minutes to ask their team members about their challenges, and where they need support in, and actively listen to their responses.

Adopt the "empathy mapping" method where managers put themselves into their employee's shoes, and think about their needs, challenges, and concerns from the other person's perspective to gain a better understanding.

Encourage open dialogues between managers and team members so that employees feel comfortable and safe to share their thoughts.

Managers can learn more about the importance of body language, and show others that they are listening by nodding, and making affirming comments such as "Yes, I see" or "Continue."
Enhancing soft skills
Soft skills are the currency for successful leadership in 2024. Yes, it is true. Why? because knowing how to address conflict, and interact with others in a healthy, positive, and productive manner is invaluable to develop as a manager.
Managers spend an average of 4 hours a week dealing with conflict, and 36% of employees deal with it daily. Therefore, having strong soft skills in your management toolbox will help managers tackle conflict and concerns professionally and efficiently.
As managers continue to face workplace disruptions and unprecedented challenges, having soft skills is essential for managers to build strong relationships, motivate and inspire their teams, and drive long-term success for their organizations. Through developing these soft skills through leadership training, managers will begin to develop leadership qualities such as empathy and begin to drive innovation and boost morale in their teams to achieve high-performance levels.
The top 5 soft skills for managers to gain through leadership training for 2024 are the following:
Emotional intelligence

Empathy

Problem-solving

Communication

Strategic thinking
With these soft skills in 2024, managers will learn how to become effective leaders create opportunities for continuous growth and development, and lead by example by demonstrating enthusiasm, and dedication.
Smart decision-making skills
Being a manager means people turn to you to make certain decisions, and it is up to you to be able to finalize what your decision is going to be.
Decision-making is one of the most important management skills to learn. When a fork in the road appears, managers may become overwhelmed by the number of ideas and solutions being offered by the team, but it is they who will have to make the final call.
In our dynamic business landscape, stepping into 2024 means knowing which decisions to take that will best serve the team and the company, and knowing which decisions will be the best road to take, to efficiently navigate certain challenges and concerns.
Through leadership training, managers will learn how to effectively create action plans in emergencies, and establish trust with their employees by facilitating smooth resolutions.
There are also quite a few decision-making personality types. Which one are you?
| | |
| --- | --- |
| Decision-making personality type | Description |
| | They enjoy carefully examining the information they have been presented with before making a final decision. Their decision is fact and data-based, and observe the situation to support their decision choice. |
| Conceptual decision-making | Approach decision-making with a more social manner rather than an analytical approach by integrating more creative thinking, and require collaboration from other team members. Their final decision is based on various opinions and perspectives and considers the long-term effect. |
| Behavioral decision-making | They like to make sure that decisions are group-oriented, and that everyone is working together to come up with a decision. Before deciding on their final choice, they will discuss it with the first on their insights for the best course of action. |
| Directive decision-making | Rational and direct decision-makers who base their decision on their knowledge and expertise, and trust in their intuition. They also tend to make rapid-fast decisions and waste no time. |
Bringing motivation to your team
Motivation is the core of employee engagement and retention. Therefore, for managers to know how to motivate their team members and inspire them to reach their goals is vital for boosting team performance.
Managers can bring motivation to their team by capitalizing on the strengths of each employee and nurturing those talents as much as they can. This is because motivation leads to the stability of the workforce. The more motivated managers can keep their employees, the higher the engagement rate, and the lower the turnover rates will get.
On the other hand, when managers themselves are motivated, they can drive their teams and clients toward a shared vision, and deliver effective change outcomes. Motivated managers will learn how to recognize and reward both the small and big success of each team member to keep the spirits high, and create a positive work environment.
Therefore, when moving into 2024, managers who bring motivation to their team are most likely to retain top talent, attract top talent, and nurture their top talents successfully.
Knowing how to build a strengths-based team
A strengths-based team is a team that focuses on leveraging and maximizing each employee's strong skills and talents for joint success. In other words, it means that managers pinpoint the strengths and capabilities of each employee and utilize them through the delegation of tasks and responsibilities to have each team member feel valued in their talents and produce top-quality results.
Building a strengths-based team can also be leaders helping employees find their strong points, and allocate them as much as possible in different tasks to capitalize on those strengths.
Having a strengths-based team in 2024 is crucial in improving the efficiency of workflows appreciating everyone's unique power areas and bringing them forward in employee development. Managers can also then avoid having employees perform tasks that they are not particularly skilled at which can lead to demotivation and dissatisfaction.
Identifying and developing future talent
As the gap between employee and leadership continues to widen in 2023, and into 2024, managers must begin to take matters into their own hands and
45% of HR leaders

stated that their organization faces challenges to develop effective leaders to shorten the leadership gap.
A human capital trends survey by Deloitte revealed that 94% of respondents agree that leadership capabilities and effectiveness in a disruptive world are vital to the success of their organization. However, only 23% of leaders in their organizations are ready to lead effectively in a disrupted world.
That's a shocking difference. This is why 2024 will be the year for managers to cultivate future talents efficiently and enhance their younger talents to develop into the forefront of leadership.
Through leadership training, managers need to learn how to identify potential leadership traits within their teams and invest in their professional development to enhance their young talents to become motivated, and strong leaders that will be successfully part of your company's succession plan.
Building trust and adaptability
Building trust in your workplace is going to be one of every organization's top priorities for 2024, due to the growing popularity of hybrid work models.
Hybrid work models are expected to grow by

81% in 2024,

and

80% of organizations

have begun adopting hybrid work.
With that being said, managers need to gain the skill of building trust to lead hybrid or remote teams successfully and ensure that everyone is achieving their goals and that all information and knowledge is being transferred accurately and efficiently.
When it comes to adaptability, managers need to be able to adapt to the constantly changing circumstances that occur in the business world. When managers gain the skill of adaptability, they will earn the respect and trust of their team, motivate them to embrace change with a positive growth mindset, and in turn, make business operations run as smoothly as possible.
Mastering performance management
The skill of mastering performance management is important in helping managers create a dynamic work environment that allows people to deliver their best performance and meet organizational objectives.
As we slowly approach 2024, managers should not forget the continuous cycle of setting SMART goals, giving constructive feedback, using KPIs to track performance, implementing personalized development plans, and conducting annual performance appraisals that leave both the manager and employee feeling uplifted, productive, and insightful into what comes next.
Learning how to master these techniques through leadership training will ensure that your managers have the knowledge and competency to successfully analyze, monitor, and progress your team's overall performance.
Leadership training is fast becoming one of the growing success points for organizations across industries. From training leaders how to lead more effectively and be at the forefront of leadership, to using leadership training to unlock future leadership potential, the time to step up and stay ahead of the curve is now.
Retorio's behavioral intelligence platform offers a library of AI-powered leadership training content that unlocks your full potential and increases your self-awareness on how you are being perceived by your team, mirrors your strengths, and shows you your areas for improvement as well as how you can tackle them to come out on top.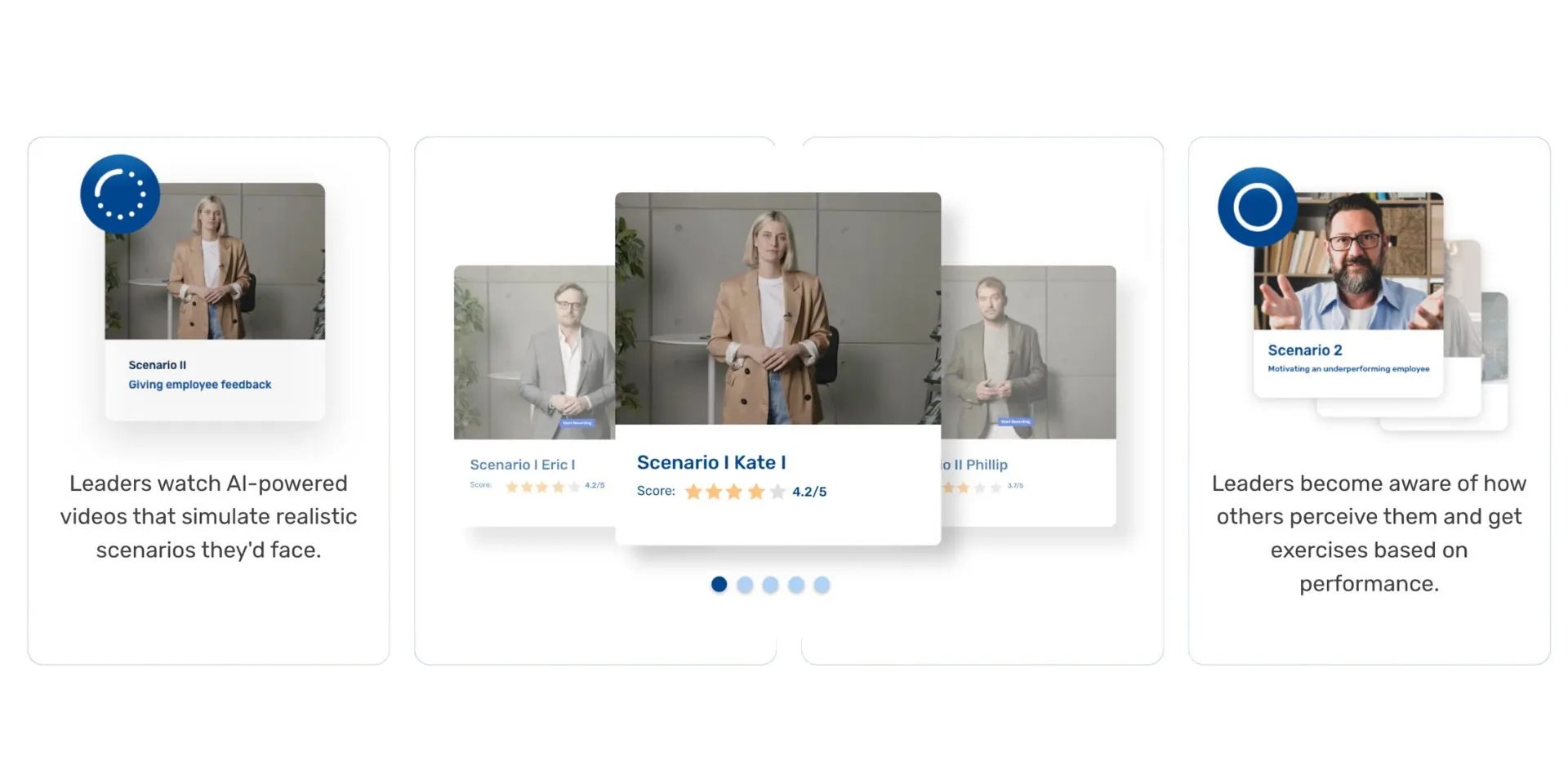 Retorio's training platform introduces you to AI video simulations that provide real-life scenarios to prepare your leaders today for what they face tomorrow.
Try it out for yourself for free and open the door to a whole new journey to leadership success!
FAQ
New managers who are new to a management position require training that will equip them with the right skills and competencies to delegate tasks, clearly communicate expectations, and drive team productivity. Additionally, new managers hold higher responsibilities for also taking care of a team's well-being. To ensure employee well-being, new managers need to undergo training that will develop their soft skills, and emotional intelligence to become great managers that their team members are motivated to follow.
Every successful leader develops a leadership style that is built based on their personality, behavioral traits, goals, and business culture. These are the 3 most common leadership styles in the corporate world: autocratic, democratic, and laissez-faire.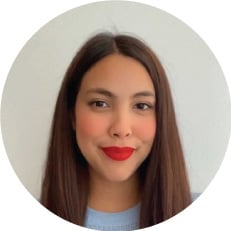 Anna Schosser
I create engaging and informative content about the importance of artificial intelligence and video-based AI technology for recruitment. I discuss cutting-edge AI developments and new technology with storytelling skills.