Did you know that 50% of hourly workers quit their jobs within the first 120 days?
This is due to companies lacking an effective new hire training program that engages new employees well into the company culture, and the expectations set out for them.
When new hires join the company, the onboarding process should start straightaway to get them up and running quickly. From introducing them to their team members, to acclimating them to their new tasks and responsibilities, building a new-hire training plan is all about making sure that new hires understand what it is like to work at your company and feel engaged in training programs.
This blog post will cover everything you need to know about creating an effective new hire training program that will boost your employee performance, and inform you on what needs to be included in a new employee training checklist.
What's in this post:
Why is a new hire training plan important?
Having comprehensive and well-structured new-hire training programs can boost your company's efficiency in the following ways:
Develop skills and knowledge from the get-go: Skill development is crucial for new hire training as it equips them with the right knowledge and competencies to perform their tasks, and succeed in their role. It also allows employees to combine their theoretical knowledge gained from the training and take on a practical approach, enabling new hires to apply their knowledge straight to their tasks from day one. This helps new hires to become more involved in the training process and gain new skills at their own pace.

Increases efficiency: When new hires get to apply the knowledge and skills gained in the training program to their tasks, their productivity and efficiency levels naturally increase as they become well-versed in their roles. As a result, new hire training also minimizes the chances for errors to occur, reducing the learning curve, and promoting standardized procedures. This will also lead to new hires completing their tasks much quicker, with fewer mistakes, and create a streamlined workflow which will help them gain confidence in their position.

Increases employee retention and growth: One of the best things you can do to keep your new hires loyal to your company after their first few weeks or months is to consider their professional growth, and this is what new hire training accomplishes. As new hires develop new skills and competencies right from their first day on, they gain more confidence in their abilities to perform well in their tasks, which leads to higher employee engagement and higher job satisfaction. As a result, this satisfaction helps companies promote employee retention as new hires become motivated to stay longer and contribute to your company's long-term success.
What does a new hire training plan include?
An effective training program for new hires is not only for new hires, but they are also for managers to track employee performance and training process. It is a guide that keeps everyone updated and on the same page, and has expectations and goals consistently aligned.
Here are a few components that an effective training plans must have:
Component
Explanation

Clear job description and tasks

As simple as this one sounds, it is a strong must-have in every new hire training plan. Every role within your company where a new hire is taking over should include a detailed job description that outlines the responsibilities, tasks, and expectations set for the role. Think of it like the job description posted online but in more detail. Having a clear outline of the job description and tasks can help establish the training that needs to be accomplished, and gives new hires a clear overview of what their position involves.

Outline of everyone involved in the process

Everyone who is involved in the training process should be included in the employee training program. By including this, new hires will get to see who they can turn to for support and feel more comfortable throughout their onboarding process. The people that are typically involved in the training program are:

The new hire
The trainer: The people/person who is in charge of monitoring the training process and tracking the KPIs and regular check-ins.
The new hire's direct manager/supervisor: managers should always be kept in the loop on how the new hire's training development is going and where they can provide support and guidance.
Internal stakeholders that are related to the new hire's position can offer expertise and extra guidance.

Training objectives and expectations

Once you have an overview of the training programs that the new hire will participate in, be clear about the goals and purpose of each training and what they are expected to gain from it. It can be helpful to have a new hire training checklist that states the description and process of each exercise or activity. This can help motivate them to accomplish their training efficiently.

Targeted KPIs

After having established the objectives and expectations of the training program, it is important to also determine how you are going to measure the success of the training outcomes. This can be done through establishing the key performance indicators that are aligned with your company's KPIs and mission so that each new hire is efficiently working towards contributing to your business outcomes.

Establish training methods

The final must-have in every new hire training plan is knowing how you will deliver the training material to them. Whether it is through a digital document that new hires will receive through a workplace communication app or channel, an in-person or online course, training videos through your workplace communication channel, or a combination of all the approaches, it is vital to deliver new hires in such a way that is easy to access and does not require any special logins or permits, especially in the beginning phase.
How to build a new hire training plan
Below are seven ways you can build an effective new-hire training plan that integrates new team members effectively into your company.
Begin the onboarding process before day one
Many think that the onboarding program typically starts on the first day that the new hire steps into the office, but it's always good to be one step ahead.
How can you start it before day one? By sending new employees a welcome e-mail with an onboarding toolkit that includes a company overview, company policies, employment contracts, and any other essential documents that they should complete before coming into the office and becoming an official team member.
Having a pre-boarding strategy helps you to set a positive impression with your new hires and ensures that they feel well-prepared on their first day. You will also benefit from pre-boarding as you can save time on sitting down and going through every document or company overview in person when they can read it at their own pace in their own time before coming into the office.
This also helps new hires to feel more confident and comfortable on their first day as they would already know more about their new job before starting the process.
Implement a 30-60-90 day plan to outline expectations clearly
Providing a clear and detailed job description is important. The job description should outline all the responsibilities, objectives, and KPIs (Key performance indicators) that the new hire should know for the role.
Having clear expectations and descriptions of the tasks they will be responsible for will help them get a better understanding of how they should perform, and how they are contributing to your organization's success.
Therefore, one efficient way to do so is to use a 30-60-90 day plan to keep track of the goals and training progress of each new hire for the first few months of their job. Below is a brief overview of what the plan entails.
The first 30 days are the time to engage new hires in all knowledge and learning-based goals such as:
Integrating them into the company culture and helping them understand company policies.

Training them to navigate the various company-specific platforms that are in use, intranet systems, and any collaboration or communication tools or channels.

Allowing them to complete all company-specific training sessions to give them a strong foundation for the upcoming training programs.

Introducing them to different stakeholders and helping them build positive working relationships.

Introduce them to their new projects.

Creating an employee development plan that includes setting SMART goals, and including metrics and different KPIs to measure performance success.
After 60 days, the goal is to:
New hires begin collaborating with other teams to form stronger work relationships and experience.

Identify any issues or points that they are experiencing in their role or development plan and find ways to address them.

Having regular check-ins with their managers to receive feedback on their progress and voice any challenges or concerns they may be having. Therefore, managers should schedule frequent one-on-ones with new hires to offer them support and see how they are doing. This helps new hires to feel more comfortable approaching management in the long run.
Once the 90-day mark has reached:
New hires will be well-settled into their roles and master their job skills to achieve their SMART goals.

This will lead to new employees beginning to work more independently on their projects, being more accountable for their performance and work outcomes, and becoming more proactive and involved in organizational activities and events.

Regular meetings with managers for feedback and KPIs will still take place.
Understand the needs and opportunities of your new hire
Onboarding a new employee is also the perfect opportunity for you to get to know them better. By this, we mean getting to know what skills and talents they bring into their new position. Therefore, conducting a training needs assessment is essential when building a new hire training plan. It provides you with insights into a new employee's existing skill sets, knowledge gaps, and preferred learning styles.
Remember that a one-size-fits-all approach is not effective when creating training plan templates. This is because every employee has their unique capabilities and skills and it can be a massive time-saver to avoid teaching them the same skills over and over again when they could be gaining new competencies and succeeding much faster in their role.
A training needs assessment helps you to meet the individual needs of each new hire and personalize their training program that caters to their strengths and areas for development. It also ensures that their strengths are being capitalized, and helps your organization to design a more efficient and focused training plan that leads to faster skill development, improved employee morale, and higher productivity among new hires.
💡Pro Tip: Ask existing employees what the training plan should include. Since they have already been through a new hire training program before, consult with them on what went well, and what they found effective and get their insight to make your new hire training plan continuously better than it was before.
Leverage Artificial Intelligence to streamline the process
Several employee training programs have begun to harness the power of Artificial Intelligence in their employee training plans and it is about time that new hires reap the benefits of this as well.
Having AI as part of your new hire training plan allows you to set up personalized training paths that cater to each individual's training needs, and facilitate more effective interactions with important team members. This, in turn, helps turn new hires into top performers fast.
It also allows for a more personalized onboarding experience that is a strong catalyst for employee engagement by up to 54%.
AI can help companies make each new hire feel welcomed and engaged right from day one. Imagine being the one to receive onboarding content that aligns well with your skill set, career goals, and learning preference and pace. If you would enjoy this, imagine how delighted your new hires will be to be offered the same experience.
All in all, AI creates a structured, and tailored onboarding training experience for each new hire. Statistics have also proven that when new hires undergo structured onboarding training, their productivity levels boost up to 50% more, and become twice as likely to be satisfied with their work.
Involve mentors
Mentors are a valuable asset for new hire training. Mentors are usually experienced employees who can offer invaluable support and insights into the company's workflow, culture, and best practices, and guide new hires to acclimate more quickly into their new role.
Mentors are a trusted source for new hires to go to to ask questions and receive reliable answers from, receive reliable advice, and a person whom they can receive practical knowledge and tips. Delegating mentors into your new hire training plan essentially helps to create a supportive and open learning environment. Everyone needs a little extra support in the beginning, and mentors are just the right people for it.
Mentors can also help you to pinpoint any further training needs for each new hire, and provide them with real-world context to their training to help new hires better understand the organization's processes and learn how to navigate them successfully.
All in all, mentorship not only enhances the overall new hire training experience, but it also facilitates faster integration and cultivates a sense of belonging among new hires which contributes to the development of an effective new hire training plan.
Provide regular feedback
This is one that we hear all the time, but we cannot stress the importance of it enough. Feedback is a valuable learning opportunity for new hires, and also a chance for managers to keep track of how your new hires are performing.
As new hires begin to become more confident in what their role requests of them in terms of responsibilities and tasks, it is vital that managers schedule regular check-in meetings to provide feedback on how they are doing and discuss the next steps or where they may need more support or training.
Especially in the first few weeks and months, your new hires may have continuous questions or suggestions on how to perform a task. Therefore, by having regular feedback sessions, you can address these topics understand the challenges that new employees might be facing, and resolve them before it's too late.
More importantly, it keeps managers in the loop and shows new hires that you are engaged and interested in their professional development within your company.
Brief outline for a new hire training program
Every new hire training plan outline will vary, depending on your company size, and company workflow. Below is a generalized one that will give you a structured head start on building an effective new-hire training program.
New Hire Name:
Job position:
Name of Manager/Supervisor:
Trainer name:
Job title of Trainer:
Overview of the company:
Overview of company policies, organizational tools, and standard procedures:
Week 1 of Training:
Name of training/activities

Status of training/activities

Notes

Goals and objectives for this training
30 days of training:
Name of training/activities

Status of training/activities

Notes

Goals and objectives for this training
60 days of training:
Name of training/activities

Status of training/activities

Notes

Goals and objectives for this training
90 days of training:
Name of training/activities

Status of training/activities

Notes

Goals and objectives for this training
Employee signature:
Manager/Supervisor signature:
Further notes
💡Pro Tip #1: Although training plans may not have an expiry date, they should be updated regularly because there is always room for improvement and new best practices to implement. Make sure to reevaluate your new hire training plans regularly to ensure that all training is current and relevant and to include any new training programs and activities.
💡Pro Tip #2: Don't forget workplace safety training!
Thinking about cultivating future leaders or reflecting on how you can transform your employees into top performers? It all begins in the onboarding and continues to succeed from there. This is why making sure that you develop a structured, and well-defined new-hire training plan is what will help skyrocket employee productivity and performance.
Retorio's behavioral intelligence platform will be just the answer for you if you are in search of training that leverages the power of Artificial Intelligence and works to bring out the best in each of your new employees and leaders.
Retorio's AI-powered training creates tailored learning paths for every individual based on their strengths and areas for improvement and provides them with exercises and personalized feedback on their performance that will cater to their training needs and learning style. Moreover, Retorio's training platform also serves on-demand learning in a psychologically safe space that is accessible anywhere at any time.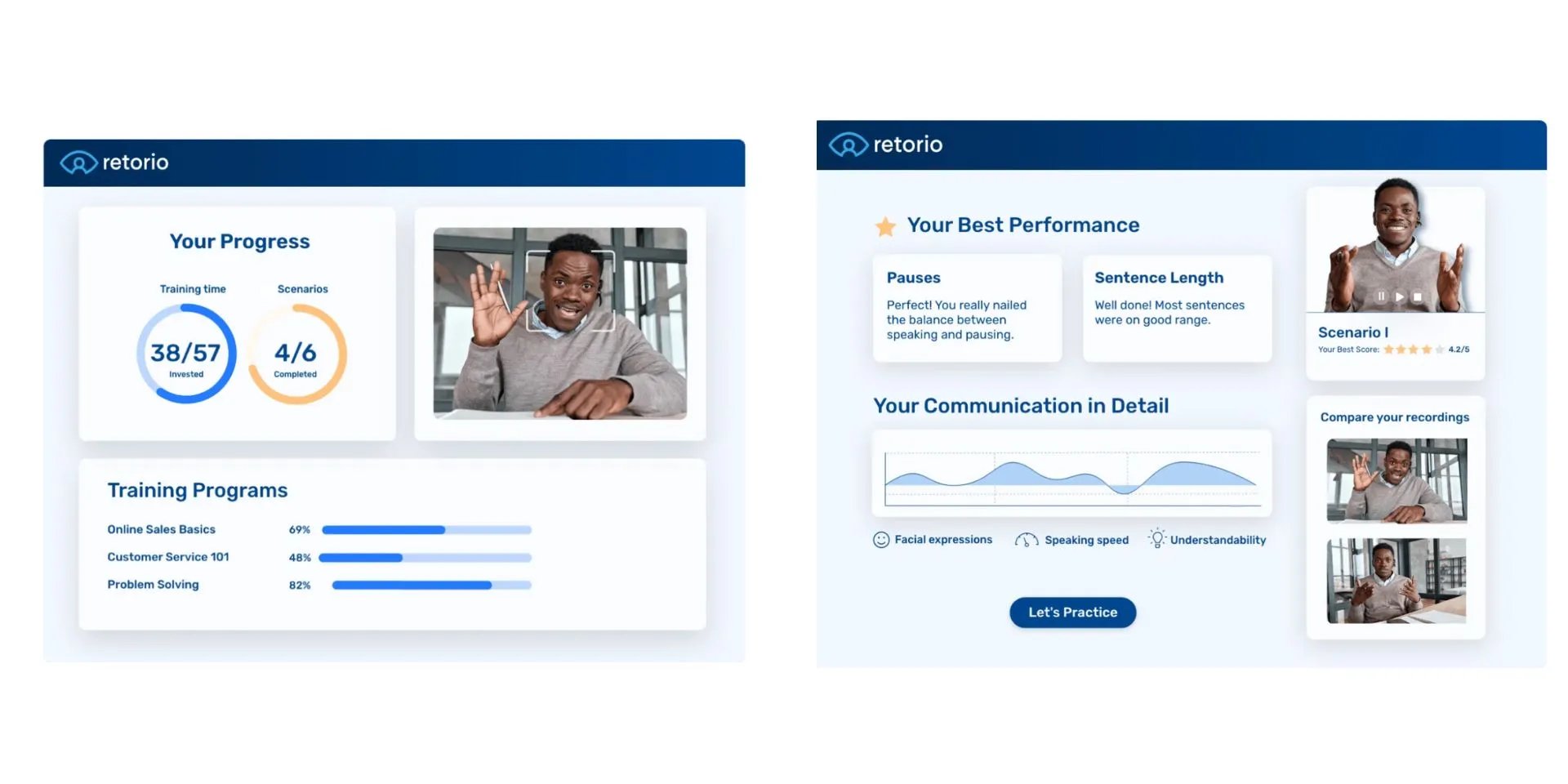 Onboarding training is essential for cultivating your future leaders and developing top performers to enhance your team's success. Discover how you can expedite your new hire onboarding with AI here.
Become part of the percentage of companies that leverage AI to enhance their training programs and onboarding experiences today! The best part is, that you can try it out for free to see for yourself.
FAQ
Onboarding and training typically coexist within the same realm. An effective onboarding program integrates training into the process. However, onboarding by itself is a short-term process to acclimate new employees into their roles and develop the necessary workplace skills and proficiencies within the first few weeks. On the other hand, training is an ongoing process that new employees are part of that goes on for 6 to 12 months. Employees take part in development programs that will help them become well-versed in their responsibilities and continuously learn new skills and competencies while performing their tasks.
The three main things to avoid when it comes to new hire training are the following:
Giving unclear expectations which can confuse new hires on what is expected of them, and how they can succeed in their role.

Overwhelming them with information that they are most likely to forget. Avoid bombarding new hires with too much information in the beginning. Instead, try to distribute the information evenly and mention them all in an online document that they can access whenever they want.

Delaying the onboarding period. New hires want to get integrated into their roles straightaway and you want to see them achieve results. Therefore, the longer you delay the onboarding process, the longer it will take to get new hires acclimated to their role which can lead to time waste and increased costs that can be avoided by being organized.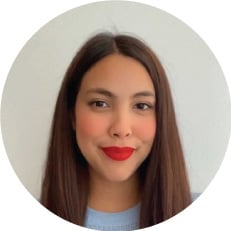 Anna Schosser
I create engaging and informative content about the importance of artificial intelligence and video-based AI technology for recruitment. I discuss cutting-edge AI developments and new technology with storytelling skills.