You've got a great company with great vision and a shiny, great position is available. As a hiring manager, you practically already have a winning hand...right? These things will hardly matter if you don't secure a high-calibre candidate experience in place. Just ask Virgin Mobile.
Richard Branson. Virgin Records. World-famous entrepreneur. Respected brand. Did their candidate experience journey matter? Wasn't it enough to work for an amazing company? The numbers didn't seem to think so. Bad candidate experience led to over $5 million in annual losses. Yes, that's right. The company lost millions of dollars per year due to a poor hiring process.
Candidates' feedback on their application journey was something to less to be desired: they were met with poor communication, unexpected waiting times, interruptive interviewers, and little to no follow up.65% of candidates say they either never or rarely receive notice of the decision made on their application from an employer.
What a mistake. Candidates are no different from customers.
Once again, candidates may be customers, or potential customers. Their family and friends will also hear about their poor (or great) experience.
Virgin Mobile found 6% of candidate's with poor experience discontinued using Virgin services, like cable. The likelihood of these candidates' family and friends purchasing Virgin products also decreased. Also let's not forget the power of the Internet: candidate's can review their experiences with a company. According to CareerArc, 72% of job seekers report sharing bad candidate experiences online, on websites like Glassdoor, or on social media.
Yikes.
Now is the time to optimize your candidate experience journey---otherwise, you'll be competing with companies who've nailed it---and have loads of practice.

Start with a candidate experience survey
You want to know about each touch point an applicant experiences, from submitting their application to a role to how they receive news about a rejection or an interview selection. At Retorio, we help companies steer away from bias throughout the hiring process. Similarly, setting up a candidate experience survey will help you examine your process through the eyes of the candidate, rather than your own good intentions.
Trustworthy candidate experience surveys follow these 3 things:
1. Remain anonymous
Making feedback anonymous is a best-practices approach to receiving quality feedback. In a survey, a hiring team can make direct inquiries to candidates about certain aspects of the process. However if it's not anonymous, candidates will have little motivation to answer honestly. Which is a waste of time for both parties. Be sure to emphasize the anonymity of the survey to reap the fullest benefits.
2. Highlight areas of improvement
Be specific about questions. Inquiries can range from the more broad---"Rate your overall application process experience with us"---to the more granular---"Did you find the video interview aspect easy to understand?". Asking both about the overall experience and specific touchpoints, combined with recruiting metrics, support a more powerful insight into what's working into your hiring process and what needs to be reviewed.
3. Increase brand value
Remember how friends and families will ask a candidate about their application experience at your company? A candidate survey increases a candidate's perception of a company, as it suggests it cares about their personal interaction. Even if a rejection occurs, it still shows that a company values their opinion and wants to meet a candidate's applications. It tells them about a culture of self-improvement, self-reflection, and being "people led".
Download our sample candidate experience survey questions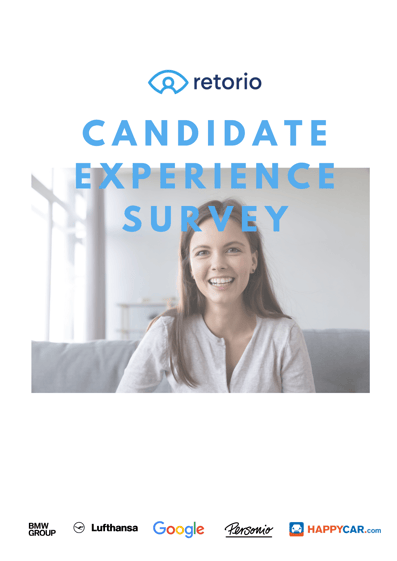 What are must-have candidate experience survey questions?
Questions can come in several kinds of forms. Mixing up the types of questions adds in variety and often makes it more efficient in learning more about a particular touchpoint.

Questions can be in the form of statements:
"I found the interview process:

-Difficult to maneuver
-Fast and fluid
-Nothing special
- Other





"I felt informed at knowing what to expect at each stage of the process."
-Always
-Most of the time
-Sometimes
-Rarely
Questions can be in "Yes/No" format, such as:
"Would you recommend your friend applying to our company?"

- Yes
- No
Another question form can be creating a number scale, such as "Please rate the interviewers"

0-unknowledgeable and unacceptable
5-Neutral
10-communicative and engaged

"How would you rate your understanding of the role after the hiring process?"
-I got a very clear understanding of the role.
-I understood most parts of the role.
-I understood the basics of the role.
-I didn't understand most parts of the role.
-I didn't understand the role at all.


Ask candidate's about their preparation process for an interview or case study

"I would have performed better in your assignment if I had:
-Detailed instructions
-Clarifications from the hiring manager
-More time
-N/A – I had adequate resources and time to successfully complete the assignment
Other (Please explain: __________________)
Ask open-ended questions, though these should be few and located near the end of the candidate experience survey. Otherwise candidate's may skip over them and/or may not be interested in answering them as they may not be confident in their writing skills.

"What do you think would make our hiring process better?"
"Is there anything else you'd like to add about your experience with our hiring process?"
Candidate experience surveys are outlets for candidates to rate their interactions, but also an opportunity for employers to correct mistakes. Otherwise some candidates may actively discourage others from applying to the company. 27% of candidates who had a negative experience report doing just this. In short, more than a quarter of unsatisfied candidates will sabotage a company's talent funnel. Ironically, finding top talent is the number 1 priority for global CEOs. Yet, when these companies do capture quality candidates, 60% of those job seekers report having a negative candidate experience!
Over time, those companies are going to have to work hard, spend more money, and invest more time in attracting applicants.
One ancient Chinese proverb says, "It takes one grain of rice to tip the scale"; a small tool, like a a candidate experience survey, can make a tremendous impact in attracting candidates and improving brand image. Make the difference by creating a short survey now.
Companies like BMW and Lufthansa, leverage Retorio's AI to support their own talent management teams. Our video-based AI was featured in TechCrunch and Süddeutsche Zeitung.
Popular Posts You May Like: